Get Your First Look At Tom Holland In The Russo Brothers' Cherry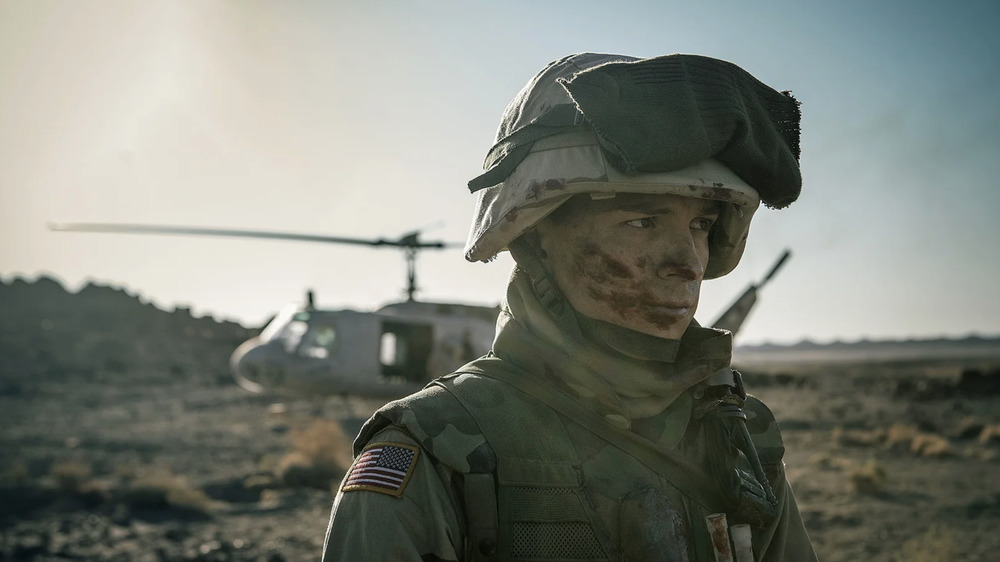 Paul Abell/Apple TV+
Spider-Man star Tom Holland is once again working with the directors of Avengers: Infinity War and Endgame, Joe and Anthony Russo. This time, he's starring in their upcoming film Cherry, an adaptation of the semi-autobiographical book of the same name by Nico Walker. The film follows Holland's Army medic as he turns to opioids and bank robbery to deal with his PTSD. The first glimpses of the film were released today and they paint a somber picture of the young man.
The movie spans a 15-year period as the aimless Cherry digs himself into a deeper and deeper hole. Already in the photos, we're seeing him grim and bloody in Iraq, lounging with his girlfriend and a couple of beers, and looking like a mess as he attempts to rob a bank. There's some sort of stain on his shirt and he's sweating profusely in a pair of shades that don't do a great job at hiding his face, all the while he holds a dollar bill with "I have a gun" written on it in red marker.
As co-director Joe Russo described it, the film seems to have some unconventional aspects in its filming style. He told Vanity Fair, "The movie's broken up into six chapters that reflect those different periods, and each one has a different tone. It's shot with different lenses, different production design. One's got magical realism. Another chapter is absurdism. Another is horror ... There's a bit of gonzo in it. It's raw in its tone. He's a character in existential crisis."
Tom Holland brings essential charisma to a dark story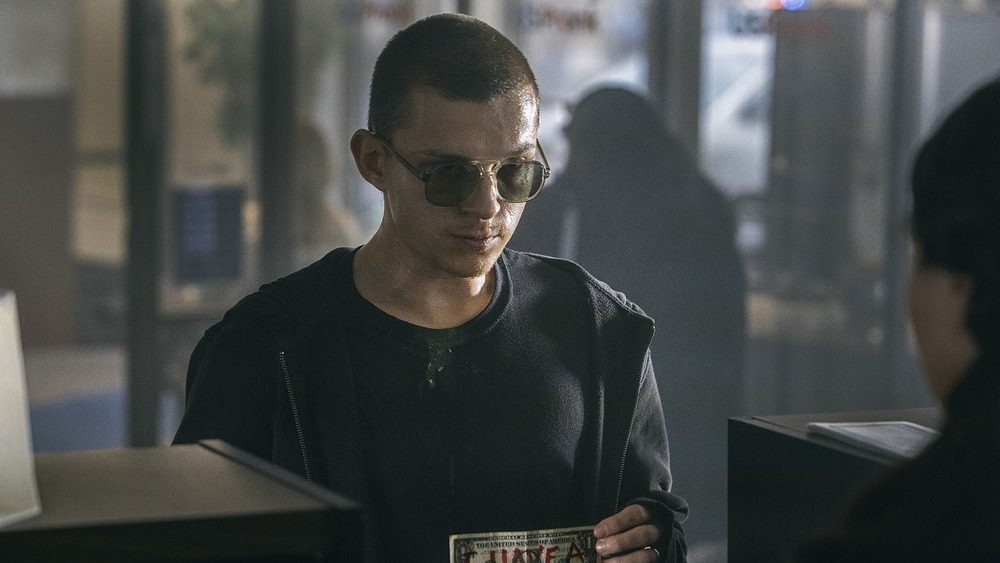 Paul Abell/Apple TV+
Ever since his Marvel Cinematic Universe debut as Spider-Man, the young actor has been in high demand. This year, he starred in Pixar's Onward, one of the last films to release in theaters pre-pandemic, and he was perfect for his role in the psychological thriller The Devil All the Time, which hit some theaters, but went to Netflix days later.
Next year, he's starring in three action-adventure films: The as-yet-untitled sequel to Spider-Man: Far From Home, the film adaptation of the video game Uncharted, and the film adaptation of the sci-fi Chaos Walking book trilogy. Alongside all those adventures is the darker, though still epic, Cherry.
"We knew for this part we were going to need someone of Tom's charisma to keep the audience from shutting down during the darker parts of the film," co-director Anthony Russo told Vanity Fair. "The darkest, most difficult sides of that character, he really embraced them and ran at them and tried to give them life within himself in a way that not a lot of people could pull off."
Through it all, Holland's performance is meant to generate empathy, not disdain, for his character's hardships. Joe Russo said, "It was critical that you empathize with his struggle and his journey because a lot of people are going through this, and they're having a very human experience. I think empathy is in incredibly short supply right now in the world. And it's a tragedy."
Cherry will be premiering in theaters on February 26, and will be available for streaming on Apple TV+ on March 12.