Why Swanee From Fargo Season 4 Looks So Familiar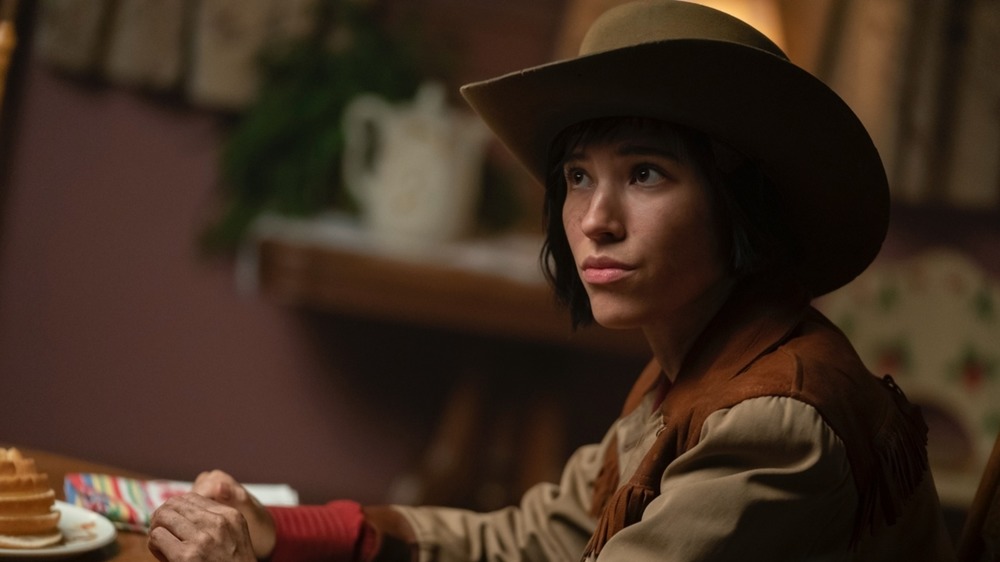 FX
Her hair is shorter than usual and she's got a cowboy hat on, but Swanee Capps of Fargo season 4 should be a familiar face to Disney fans, drama lovers, and film connoisseurs alike. While actress Kelsey Asbille got her start early on Disney Channel, she has since teamed up with Academy Award-nominated screenwriter Taylor Sheridan in exploring the American frontier.
On Fargo, Asbille plays the Native American lesbian outlaw Swanee Capps, who recently broke out of jail with her partner in both crime and love, Zelmare Roulette (Karen Aldridge). This isn't the first time Asbille has been cast in a Native American role, which has garnered controversy in the past. Asbille has said that she's of Chinese, English, and Cherokee descent, though the Eastern Band of Cherokee has stated that she's not enrolled with them and they have no evidence to support her heritage claim.
The 29-year-old has been acting on screen since she was 14, in a variety of roles from sitcoms to high budget dramas. Here's where you might have seen her before.
Kelsey Asbille plays Monica on Yellowstone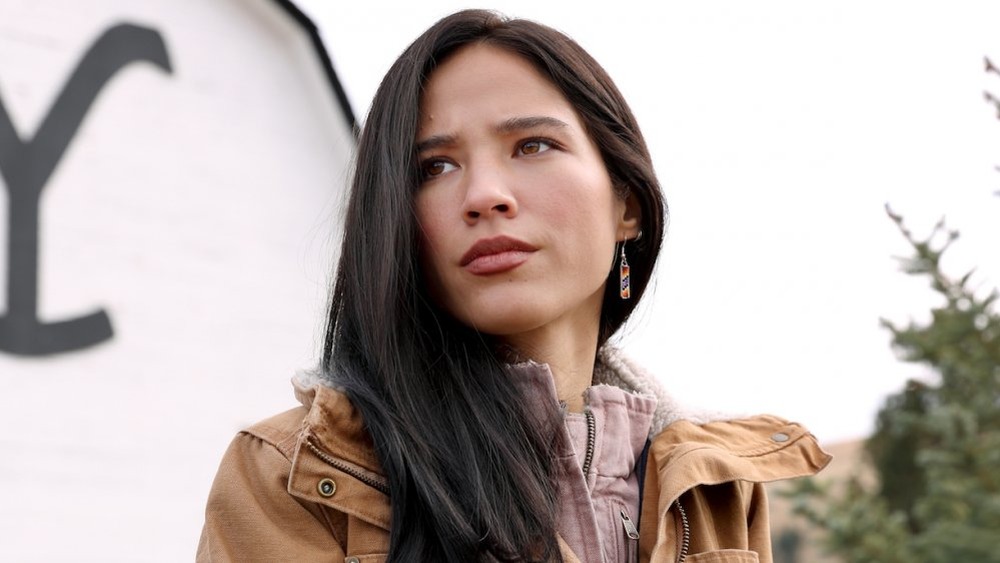 Paramount Network
Given Fargo's anthology nature, Kelsey Asbille's role will only last one season, but she's a regular on another current show: Yellowstone. The Paramount series centers on a wealthy cattle ranching family in Montana, the Duttons, as they try to keep their way of life from slipping through their fingers.
Asbille plays mother and teacher Monica Dutton, the young Native American wife of Kayce Dutton. Their relationship is reminiscent of Romeo and Juliet, due to the friction between the wider Dutton family and the nearby Native Americans. Asbille told Schön! Magazine, "Yellowstone is about family. Specifically, for my character Monica, it's about a woman trying to keep her family together." The third season of Yellowstone recently ended on a cliffhanger, leaving fans eager to see what becomes of the Dutton clan in season 4.
This is Asbille's second time working with Yellowstone co-creator Taylor Sheridan, who's known for his writing credits on Hell or High Water, Sicario, and his directorial debut Wind River.
Asbille was the victim in Wind River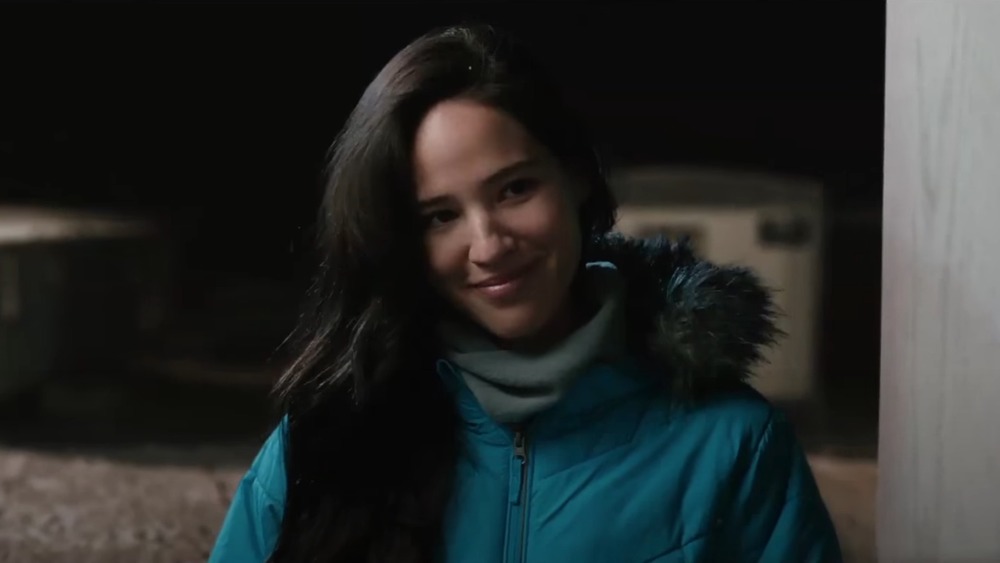 Lionsgate
Most of Asbille's experience has been on TV, but in 2017 she played murder victim Natalie in the mystery Wind River. The film stars Jeremy Renner and Elizabeth Olsen as a U.S. Fish and Wildlife Service officer and an FBI agent, respectively, as they investigate Natalie's murder. She is found frozen to death on the Wind River Indian Reservation in Wyoming, which leads Renner's character Cory Lambert to wonder what she was running from.
Generally, the film received positive reviews, though it didn't quite receive the same level of success as Sheridan's writing efforts on Hell or High Water or Sicario. As Owen Gleiberman wrote in Variety, "Wind River adds up, and skillfully, but in the end it's not all that exciting. It's a vision of the new American despair — not an inner-city movie, but an inner-wilderness movie — and it could have used another twist or two."
Regardless, this central role in a big-screen thriller represented a huge step in Kelsey Asbille's career.
She was a chimera on Teen Wolf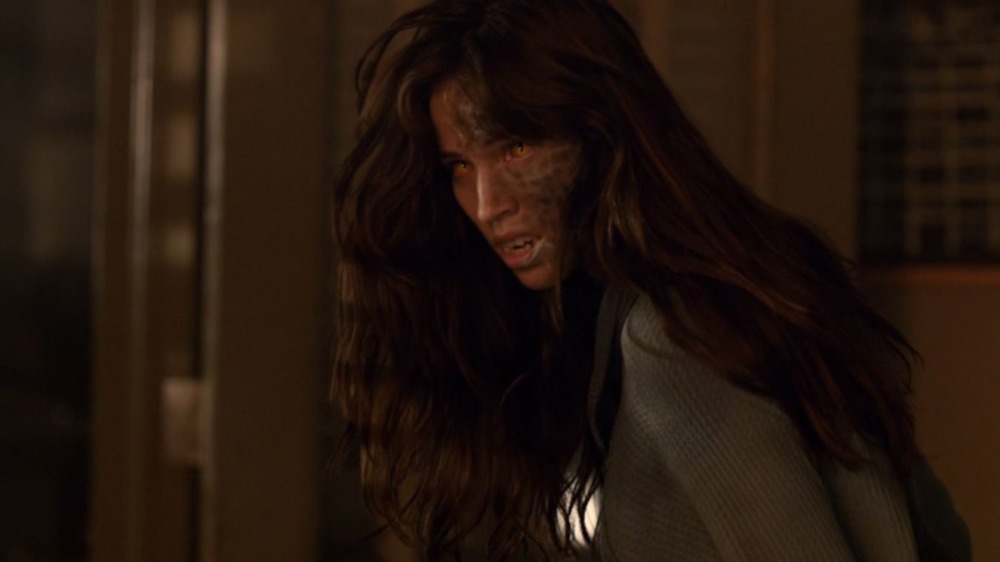 MTV
In the fifth season of MTV's high school monster show Teen Wolf, Asbille played the tormented student Tracy Stewart. The series follows high schooler Scott McCall (Tyler Posey) as he deals with his new life as a werewolf. The change aids him in sports and brings him closer to his crush, but of course comes with a string of enemies and conflicts. He faces it all with his best friend, the charming Stiles Stilinski (Dylan O'Brien).
By the time Asbille's character entered the show during season 5, the lead teens had already met a slew of supernatural threats. After suffering from night terrors, Tracy learns that she's a chimera hybrid between a werewolf and the reptilian shapeshifter creature called a kanima. Unfortunately, the character didn't live to see the show's sixth and final season.
On Pair of Kings, Kelsey Asbille wielded a machete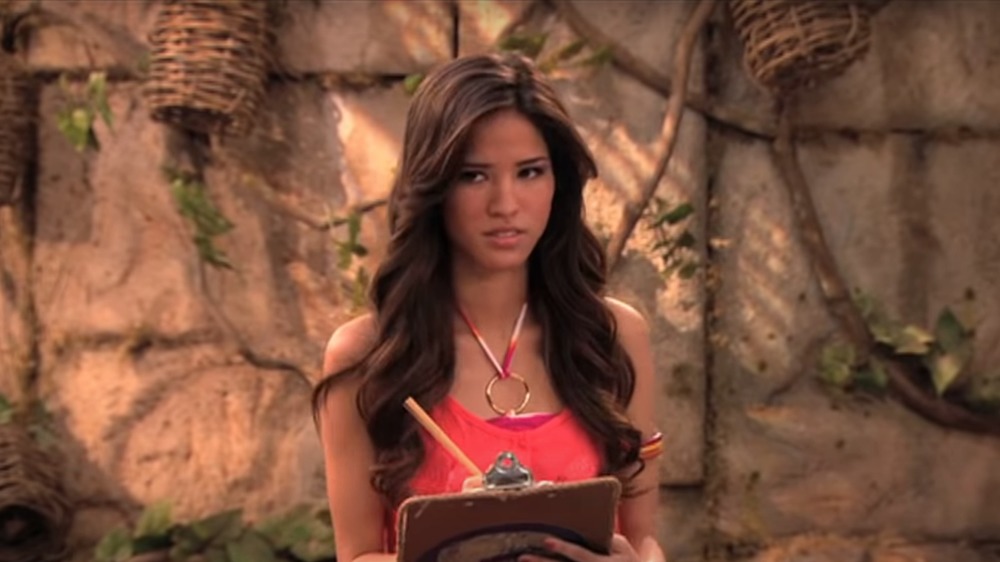 Disney
Kelsey Asbille was one of the main cast members on Disney XD's fantastical sitcom Pair of Kings. The show centers on the absurd premise that a pair of teenage twins (Mitchel Musso and Larramie Doc Shaw) from Chicago learn that they're kings of a (fictional) island nation. They leave their old life behind to rule their new kingdom, though their cousin Lanny (Ryan Ochoa) works against them in pursuit of their power.
Asbille plays the machete-wielding Mikayla, daughter of the royal adviser and love interest to twin Brady. The show only ran for three seasons from 2010 to 2013, though multiple members of the cast have expressed interest in bringing it back for a movie. Its silliness is a far cry from Asbille's more recent roles, but maybe that would make it a pleasant respite from the violence and drama she's entrenched in now.
Asbille had a brief cameo in The Amazing Spider-Man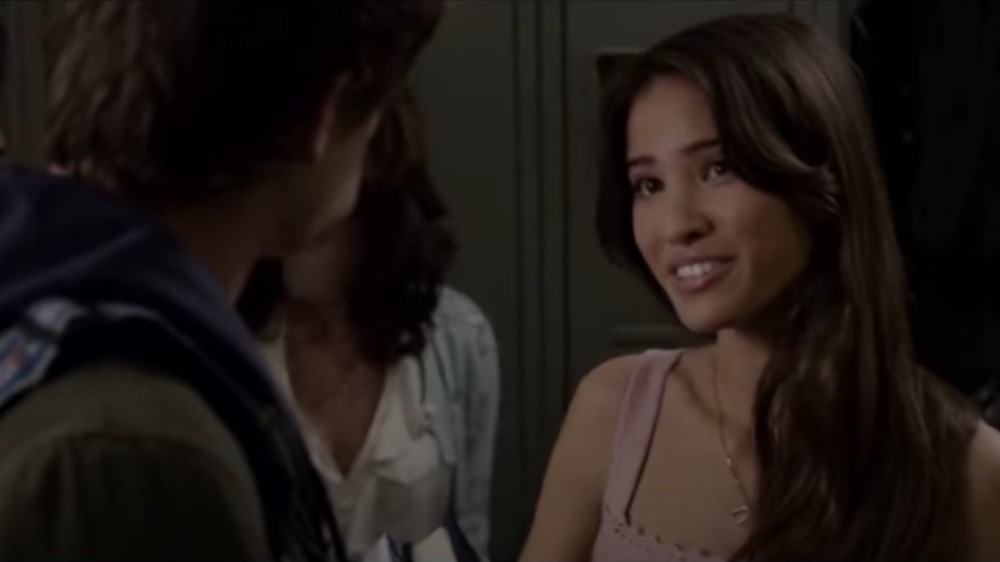 Sony Pictures
Andrew Garfield's star turn in The Amazing Spider-Man was one of several iterations of the webslinger we've already gotten this millennium, so it's understandable if you've forgotten Kelsey Asbille's brief cameo in the 2012 film. She plays a fellow student of Peter Parker who's credited only as "Hot Girl."
Her short scene takes place before Peter battles the Lizard and gets together with Gwen Stacy, when he's still an awkward high school student who gets flustered by the Hot Girl in question talking to him. She approaches Peter in the school hallway and compliments his photography. At first, it seems like she's asking him out, until it's revealed that she's actually asking him to take photos of her boyfriend's car for a present.
Will Smith mentored her on The Suite Life of Zack and Cody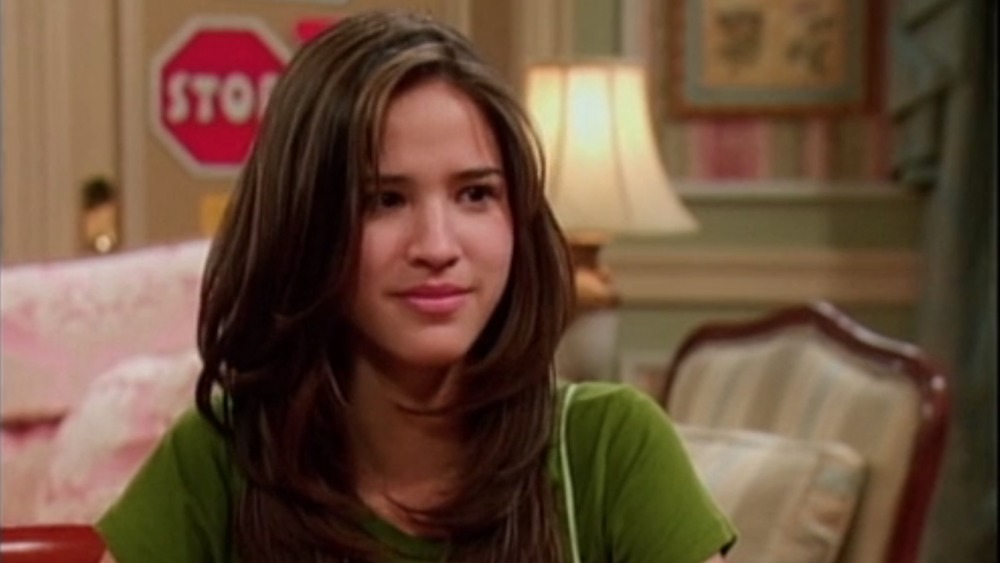 Disney
One of Absille's earliest roles was on the Disney Channel sitcom The Suite Life of Zack and Cody. The series follows preteen twins Zack (Dylan Sprouse) and Cody (Cole Sprouse) on their myriad adventures that arise from living in a fancy hotel. Asbille plays Zack's love interest and study partner Dakota in the season 3 episode "Romancing the Phone."
In the episode, Zack attempts to win her over after she initially turns him down. He gets his friend Travis (Jaden Smith) to make a meal for her, all while passing it off like he'd cooked it. She figures it out, but is more impressed with Zack's efforts than she is angry about his lying and decides to go on a date with him. In the end, Travis takes out both of the twins' love interests.
While it was only her second onscreen role, she was mentored on set by Jaden's legendary dad, Will Smith, she told W Magazine. It's perhaps a surprising origin story for the actress who's gone on to star in such heavy dramas, but it certainly shows her enthusiasm and willingness to play a variety of roles.
Her first role was on One Tree Hill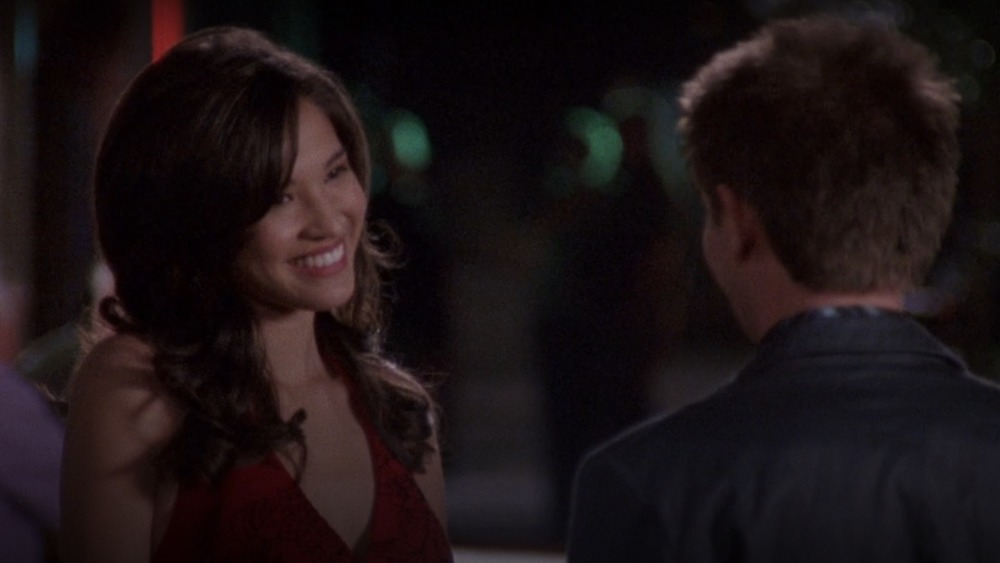 The CW/Warner Bros.
Kelsey Asbille's first onscreen role was Gigi Silveri on the teen drama One Tree Hill, which centers on the lives of basketball rivals and half-brothers Lucas (Chad Michael Murray) and Nathan Scott (James Lafferty). Much of the series revolves around the romantic drama ensuing among the cast of characters, including Asbille's Gigi.
Gigi makes her first appearance in season 3 as a new sports announcer for the high school games. She becomes a love interest for fellow announcer Marvin "Mouth" McFadden (Lee Norris), though the transition to college eventually breaks them up. She reappears in season 6 and attempts to break up Mouth and his girlfriend Millicent "Millie" Huxtable (Lisa Goldstein Kirsch). Asbille appeared in a total of 18 episodes over the course of four seasons.
Kelsey Asbille may have started out as a token Hot Girl and love interest, but she has come a long way since then, as her chaotic outlaw on Fargo shows.