Jason Momoa's Heartwarming Surprise For An Aquaman Superfan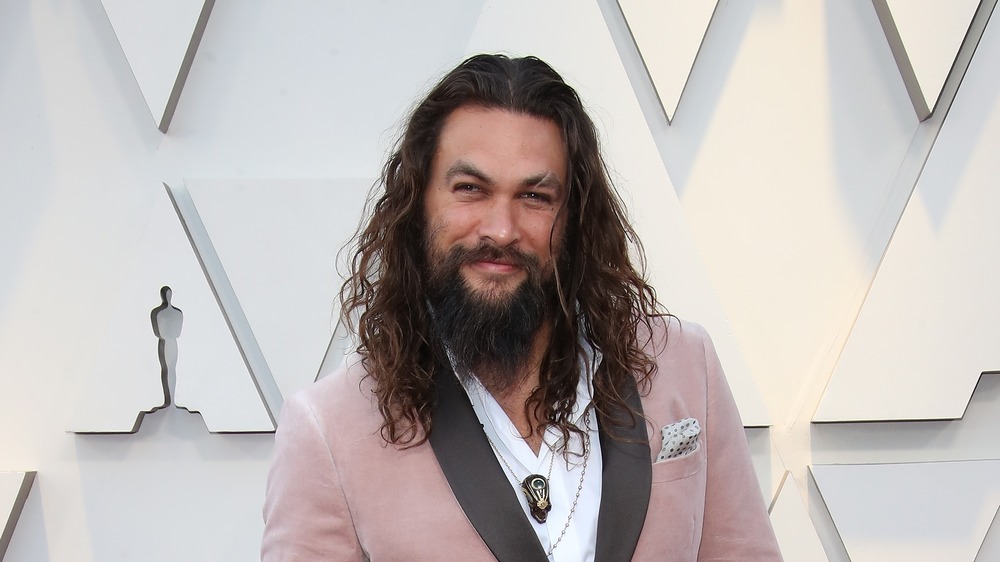 Dan Macmedan/Getty Images
On the heels of uplifting personal messages sent from the young and adult Diana Prince (a.k.a. Wonder Woman) to one young fan, Jason Momoa — DC's Aquaman — has connected with a megafan of his own.
In a series of videos posted to the actor's Instagram, Momoa can be seen reaching out to the 7-year-old Danny Sheehan, a passionate superhero lover diagnosed with Pineoblastoma, a rare form of brain cancer, in January 2017. The Boston-area boy became famous after a video of him — in which he excitedly opens an Aquaman toy while proclaiming, "Oh my God! My favorite one! I love Aquaman!" — went viral.
In the caption of his social media post, Momoa revealed how he and Danny's paths ultimately crossed. "So I just wanted to say thank you to the community, friends and family on Instagram for reaching out and showing me this beautiful boy Danny who is going through chemo and has cancer," Momoa wrote. "I saw his video online that made me want to get in touch and FaceTime him and spend some time talking to him."
"Hi, Aquaman!" Danny said, after answering Momoa's call. The actor quickly returned the greeting, calling Danny a "beautiful boy." Both relayed their excitement about virtually meeting each other and took time to discuss their shared love for Momoa's character, among other things. While chatting about their mutual love for underwater animals, Momoa even raised the possibility of him and Danny riding dolphins and swimming with sharks.
"Would you ever swim with sharks with me?" Momoa asks.
Along with the videos, the Aquaman 2 star called on Warner Bros. to gift Danny a trident while also encouraging followers and watchers to donate to Danny's Go Fund Me.
Danny's love of Aquaman came as a heartwarming surprise to his parents
Originally launched in 2017, Danny's Go Fund Me campaign has raised more than $123,000 to cover his medical care costs. That includes the slew of donations that have come in since Momoa shared Danny's story with his 15 million Instagram followers — including a top gift of $5,000 given the same day the DC Universe star posted the video chat.
Danny's mother, Natalie Sheehan, took to her son's Facebook page, 4TheLoveofDanny, to offer Momoa her public thanks.
"Thank you for making this call and for making Danny the happiest little boy ever – he can't wait to ride dolphins with #AQUAMAN!!" she wrote. "And a huge thank you to everyone who shared D's video and made the seemingly impossible of him meeting his superhero hero totally possible! My mom heart is bursting with joy, thankfulness, and love."
In an interview with Boston's CBS affiliate, Sheehan detailed her son's journey over several years. "It was a hard, hard, diagnosis. But he's been amazing through it all," Sheehan told WBZ-TV. "We've been in consistent treatment without any form of break, of more than a week, since January 2017. Chemo multiple times, radiation, surgery, stem cell transplant, the list goes on and on."
While it's clear from the video how much Danny loves the protector of the deep, Danny's parents say they were initially surprised by his excited response when they first gifted him the action figure. "When Danny had that reaction to Aquaman, I think myself and my husband were just shocked because it was so guttural and pure. It was so great to have Danny's spirit captured so succinctly, it was just a true gift," Natalie Sheehan said.
Looks like Jason Momoa can add himself to the ever-growing list of on-screen superheroes performing some real-life heroics for fans.