Young Wonder Woman Sends Heartwarming Video Message To Fan With Rare Condition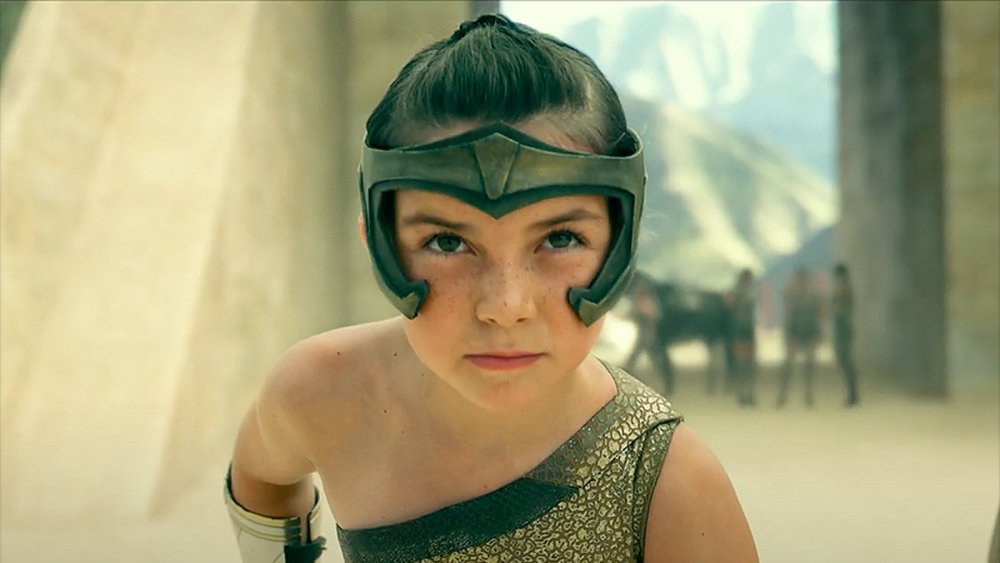 Warner Bros.
Lilly Aspell, the 12-year-old actress who portrays young Diana Prince in Wonder Woman and Wonder Woman 1984, is celebrating the work of one young fan in support of the non-profit organization Muscular Dystrophy UK.
As part of her personal fundraising challenge, a six-year-old girl named Carmela Chillery-Watson has been steadily making the journey between her home in Devizes, Wiltshire, England to Ravello, Italy — the location where the Wonder Woman crew recreated Themyscira for the big screen — with the help of friends and family. She's been traveling since September 1, 2020, dressed as her favorite superhero and one-third of DC's golden trio, Wonder Woman. 
Chillery-Watson (alongside her family) will cover 300 kilometers of the distance with her crutches and wheelchair, while her "sidekicks" pitch in virtually for the rest of the distance. The funds raised by the young girl, who was diagnosed with the rare deteriorative muscle condition LMNA Congenital Muscular Dystrophy in 2017, will go towards research into treatments and cures for "the 70,000 people who live with muscle-wasting conditions," as Catherine Woodhead, Muscular Dystrophy CEO, noted in a press release.
Chillery-Watson's effort to raise awareness and support her community caught Aspell's attention, who shared an encouraging message with the little Wonder Woman fan. In the brief video posted to Twitter, the young actress told Chillery-Watson that she was "amazing."
"You are a Wonder Woman, and you are so inspirational to every single girl in the world," said Aspell. "It's people like you who we made Wonder Woman for. You are the definition of [a] Wonder Woman. I'm so sorry I couldn't walk with you today, I'm filming, but I would have loved to."
In a statement, Carmela's mother Lucy Chillery-Watson shared that the message to her daughter, who can walk about five to 10 minutes daily, had made the young girl's day.
"Carmela loves Wonder Woman, the movies, the strength and kindness she portrays as the superhero and the strength the actresses give Carmela to fight to stay mobile," she stated. "So thank you, from the bottom of my heart, for taking time out to message my own little Wonder Girl."
Wonder Woman star Gal Gadot has also supported Carmela Chillery-Watson's campaign
Aspell's message comes not long after her adult counterpart, Wonder Woman 1984 star Gal Gadot, expressed support for Chillery-Watson's fundraising effort on social media. Gadot, who once called playing the superhero her dream role, got wind of Chillery-Watson's challenge after news of it was posted to Twitter.
"My real wonder girl!" Gadot tweeted on September 9. "Wow, this video blew my mind. You're a true hero. So inspiring and strong. I hope one day we get to meet each other. Until then I'm sending you lots of love and a big big hug!!!"
Since launching her fundraising campaign through JustGiving, Chillery-Watson has raised over $13,000 USD (£10,800). Almost $4,400 was donated by the Wonder Woman and Justice League actress just hours after posting her support on Twitter. That's near twice the original campaign goal of £6,000 — or $7,646 USD — set by the Chillary-Watson family.
Amid the current global health crisis, many charities have seen donations dip as individuals direct funds towards initiatives and efforts addressing the pandemic. "It has been wonderful to receive this support from the Wonder Woman cast during Chillery-Watson's challenge," Woodhead said in a statement.
With just a few days left of the fundraiser, Wonder Woman fans won't have to wait long to see the final donation of Carmela Chillery-Watson's month-long campaign, but they will have to wait December 25 to see Wonder Woman 1984 in theaters.