The Romantic Karen And Jim Scene We Never Got To See On The Office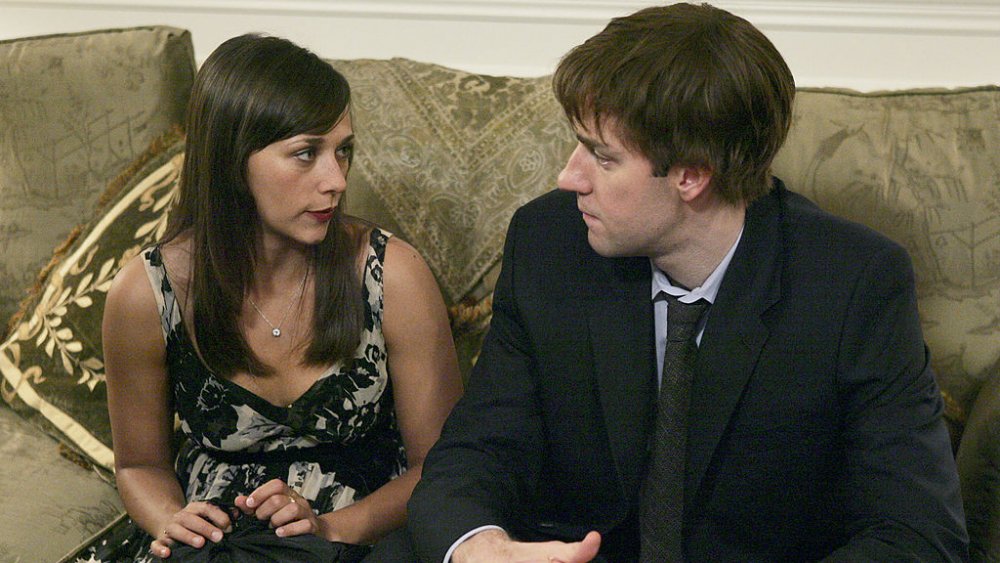 NBC
Everyone knows that The Office's Jim Halpert (John Krasinski) and Pam Beesly (Jenna Fischer) are the ultimate couple goal, which is why fans were so miffed when Karen Filippelli (Rashida Jones) prevented Jim and Pam from finally getting together in the show's third season. However, one scene between Jim and Karen would have made fans furious... but it never made it into the final cut of the show.
In a recent episode of Office Ladies, Fischer and co-star Angela Kinsey's recap podcast that focuses on The Office, Fischer, Kinsey, and writer and co-star Mindy Kaling discussed the season 3 episode "Diwali," reminiscing about a steamy scene between Jim and Karen that was written, but may or may not have even been shot — and definitely didn't end up on screen.
Back when the third season aired, Jones knew exactly how poorly her character might be received; as she told The Hollywood Reporter, "I had anxiety and insomnia for the three weeks before my season aired because I was sure people would come and egg my house for getting in between Pam and Jim." Now, Showbiz Cheat Sheet reports that, per the Office Ladies podcast, one scene could have made fans even angrier at Karen. Here's the full details of a romantic moment between Jim and Karen that we never got to see on The Office.
This scene between Jim and Karen definitely never aired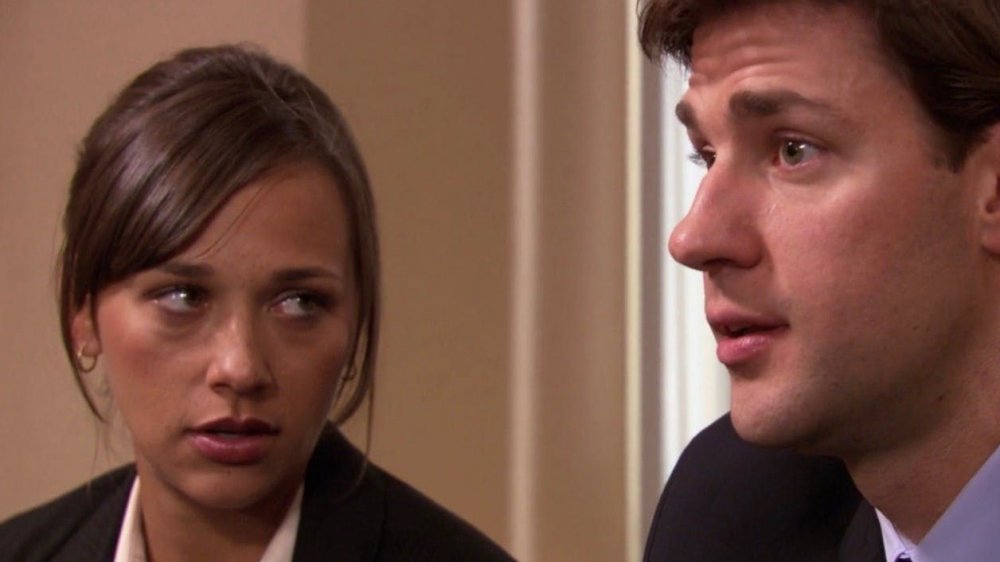 NBC
While reminiscing about "Diwali" — which centers around Dunder-Mifflin Scranton's Diwali celebration while Jim and Karen are still working at the branch in Stamford, Connecticut — Kaling, Fischer, and Kinsey discussed a scene missing from the episode, which apparently featured a drunken romantic moment between Jim and Karen.
As Kinsey recalled, "I was texting with Rashida and she was like, 'This was the episode I was so worried everyone was going to hate me because Jim and Karen have this sloppy makeout out in the parking lot. Like a tipsy makeout. It's not in the deleted scenes. It didn't even make that cut." In the episode's final version, Jim gets extremely drunk working late one night at Dunder-Mifflin's Stamford branch, and Karen drives him home; apparently, it was supposed to be way more than just a ride home.
Though Fischer confirmed the scene's existence at the script stage, she wasn't sure it was ever filmed: "It was in the shooting draft. Did Rashida end up shooting that? I have the shooting draft from this episode. I went back and I read it and I was like, 'Wait, Jim and Karen kiss? They're kissing? Why are they making out?' But then it's nowhere in the episode and it's not in the deleted scenes."
As one of the writers, Kaling said she "[had] zero memory of that," but went on to explain why it may have been cut. "But I will say that one thing we used to do a lot was to write scripts that advanced story," Kaling said. And then, when we noticed we only had 21-and-a-half minutes to air an episode, a little went such a long way."
The Office — without that steamy scene — is currently streaming on Netflix.