Logan: First Look At Old Man Wolverine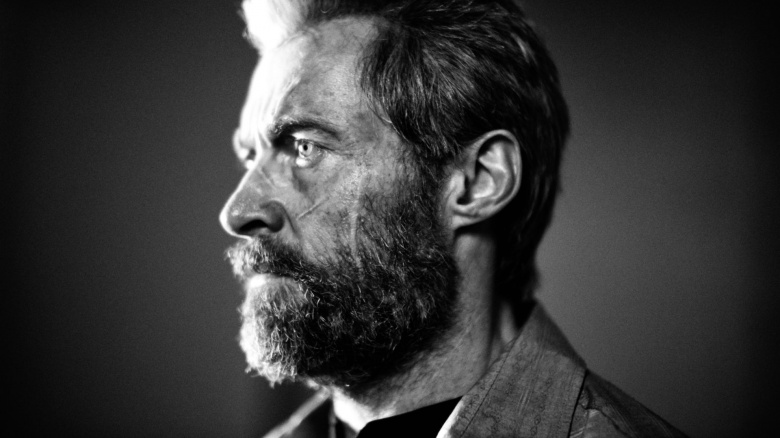 If Logan isn't based on the comic book storyline Old Man Logan, nobody must have told Hugh Jackman.
After a string of cryptic teasers, director James Mangold finally offered up our first glimpse at Wolverine in the upcoming X-Men spinoff. Like the other photos Mangold has shared, it's an artsy, black and white portrait that wouldn't be out of place in a modern art museum. But this one depicts Wolverine like we've never seen him before.
Paired with the image Mangold previously shared of a much older-looking Professor X (Patrick Stewart), it looks like the duo have gone through a lot since we last saw them. And that lines right up with the storyline of Mark Millar's Old Man Logan, which ran for eight issues between 2008 and 2009. In that book, Wolverine is much older and struggling with his diminished abilities.
Logan reportedly takes place in 2024, and we know from a script page Mangold shared (via CBM) that it will find Wolverine and Professor X in a bad way. Logan has turned to booze to deal with his constant pain, while Charles Xavier is very frail and not all there. Based on all the teasers, it seems like the pair reunite for one last adventure: to rescue a young mutant girl (who will probably turn out to be the Wolverine clone X-23) from the clutches of Transigen, a secret organization that's been capturing mutant kids and turning them into killing machines.
Richard E. Grant will play Dr. Zander Rice, the man in charge of Transigen, and Boyd Holbrook will play his head of security, the mutant-hating cyborg Donald Pierce. Other photos confirmed that Holbrook's Pierce will also bring along his team of super-soldiers the Reavers, while Stephen Merchant will enter the fray as Caliban.
Logan is set for release March 3, 2017. We're sure more details will surface soon. Meanwhile, check out the actor who was originally supposed to play Wolverine in the first X-Men movie.