The Reavers Will Definitely Be In Logan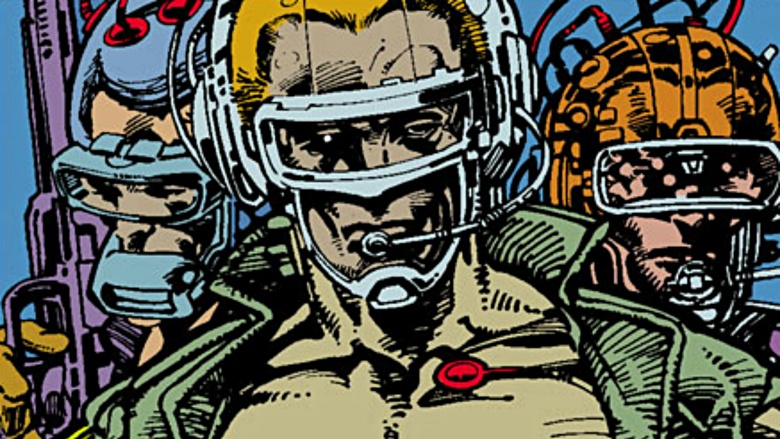 Marvel
Although there's been no official word about the plot of Logan, all the clues revealed during the past few weeks are beginning to paint a pretty vivid picture of the third Wolverine solo flick.
After posting a string of cryptic photos of rest stops and bathroom stalls, the movie's official Instagram offers one of the clearest hints yet. The new pic features one of the Reavers, a gang of criminals who have a long history with Wolverine in the comics. But they're even more closely tied to Donald Pierce, the mutant-killing cyborg played by Boyd Holbrook in the movie. In the comics, Pierce is their leader.The Reavers first appeared on the pages of The Uncanny X-Men in 1988, but they've been driven by different motivations over the years, and they've been portrayed both as cyborgs and humans in different books.
The new photo seems to feature Logan cast member David Kallaway (The Magnificent Seven), and the caption hints that the Reavers will definitely give Wolverine some trouble. Bonebreaker, Lady Deathstrike, Pretty Boy, and Skullbuster were members of the team, but it's still not clear if any of those characters will be featured, or if the Reavers will actually be humans or cyborgs in the flick.
But, as ScreenRant points out, the Reavers didn't appear in the Old Man Logan comic that Logan is believed to be based on. This would indicate that the movie won't stick all that closely to just one comic book storyline.
The plot will reportedly center around a government-type program called Transigen that converts mutant kids into killing machines. Richard E. Grant will play Dr. Zander Rice, the man in charge of Transigen, and Holbrook's Donald Pierce will serve as his head of security. Stephen Merchant will play the mutant hunter Caliban, and it sure seems like we'll see the origin story of X-23. Professor X will be around, but he's looking a little worse for wear.
Logan is set for release March 3, 2017. While we wait for more clues, check out the dark side of X-Men you never knew about.