The Behind-The-Scenes Dune Moment That Shocked Jason Momoa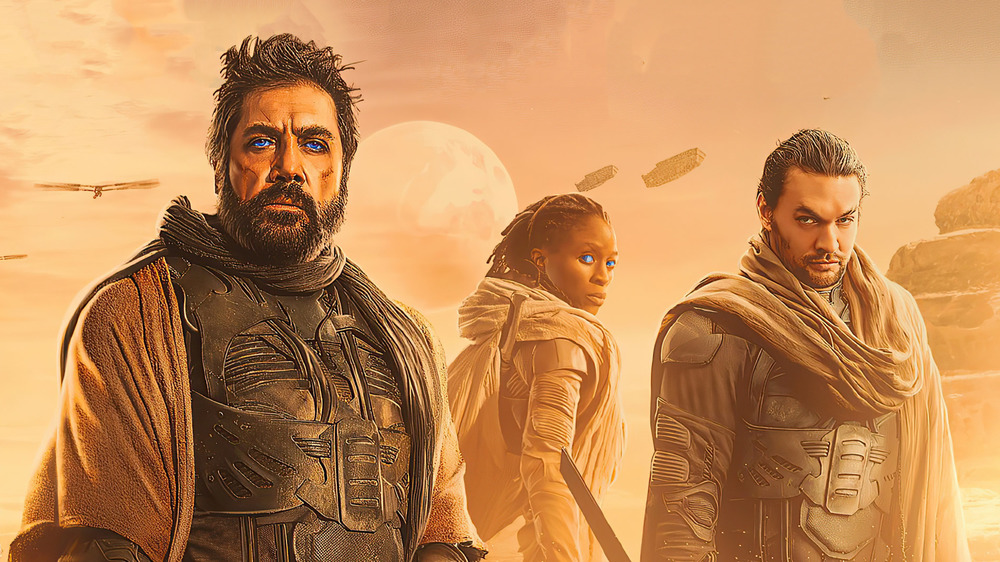 Legendary Pictures
When the first half of Dune hits theaters in 2021, the success of director Denis Villeneuve's highly anticipated imagining of Frank Herbert's epic science fiction novel will finally be decided. Both by movie critics and, perhaps more importantly, the story's longtime fans. 
When it comes to the audience, having a built-in fanbase can be a box office benefit — as some of the work getting people into theater seats is already done. But it also adds pressure on top of any one might already have about the film's potential critical response. That means Villeneuve and Dune's A-list cast were all likely quite conscious of how well they were delivering on both the vision of Herbert and that of the film's co-writers, Villeneuve, Jon Spaihts, and Eric Roth during filming.
For Aquaman 2 star Jason Momoa, there were added jitters about working with the big-budget adaptation's star-studded cast. In an interview with Men's Health, the Dune actor opened up about a moment during production that left him so happy it almost brought him to tears. The experience involved shooting a scene wherein Momoa's character Duncan Idaho, a swordmaster of House Atreides and a mentor to Timothée Chalamet's Paul Atreides, has a run-in with Javier Bardem's Stilgar, the leader of Sietch Tabr's Fremen community.  
"We were sitting at this table, and the scene is all about Javier walking into the room. I've never seen someone strut into a room like such a boss," Momoa said of his co-star. "He just comes right up to this table and stares everybody down. He's glaring at everyone else but giving me a little bit of a twinkle, and I'm just giggling inside because I can't believe I'm at this table right now. So then he delivers his lines and just kills it." 
The Dune scene gave Jason Momoa confidence in his own acting abilites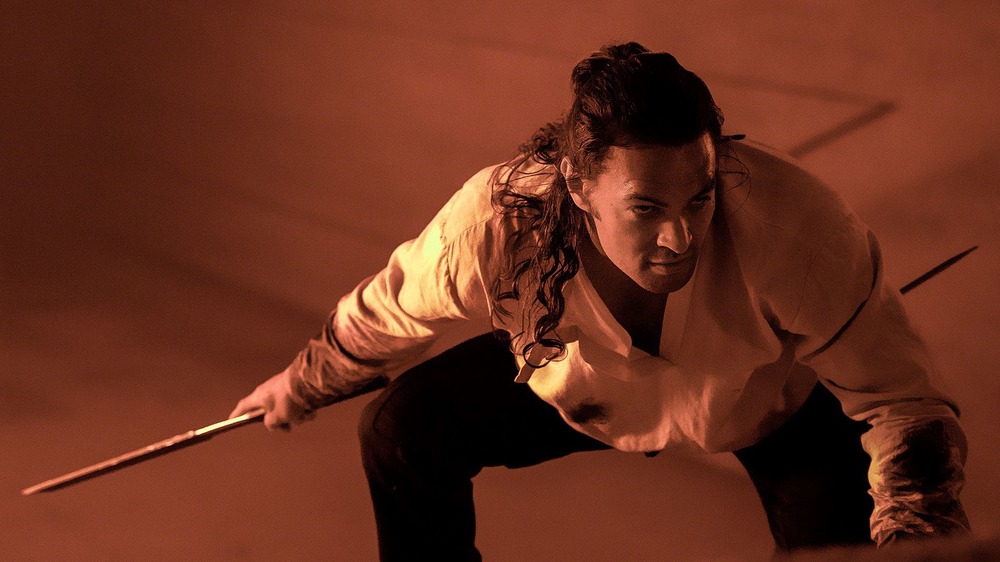 Legendary Pictures
Watching an acting idol nail a scene right before his eyes wasn't ultimately the most awing part about the moment for Momoa, the actor revealed. He went on to tell Men's Health that it's what happened next between Bardem and Denis Villeneuve — and then what didn't happen between Momoa and the Dune director — that really shocked him. 
"[R]ight after that, Denis goes up to him and starts giving him notes. I'm shocked, like, 'What the hell could you possibly be giving him notes on?'" Momoa confesses. "So I'm standing there absolutely terrified because I had to deliver all this sci-fi exposition, which is not my bag at all. And then I did it and I did not get any notes at all."
Momoa took that as a sign he had delivered on what the scene demanded of him and his character. With nothing to tweak in a sequence acting opposite an actor he describes as "like a god to me," Momoa told Men's Health, "I was so unbelievably happy I could have cried."
He was likely close as Momoa — described by co-star Chalamet as "someone who brings a raw joy" to set everyday — also shared that the role he seemingly nailed is one of his biggest and most nerve-wracking yet, he told the magazine. "Knowing Denis picked me to play this role, I've never been this nervous."
Fans of Momoa and Dune will get to see whether any of those nerves came through while portraying Idaho when the film hits theaters on its delayed release date of October 1, 2021.