The Walking Dead Cameos You Missed In World Beyond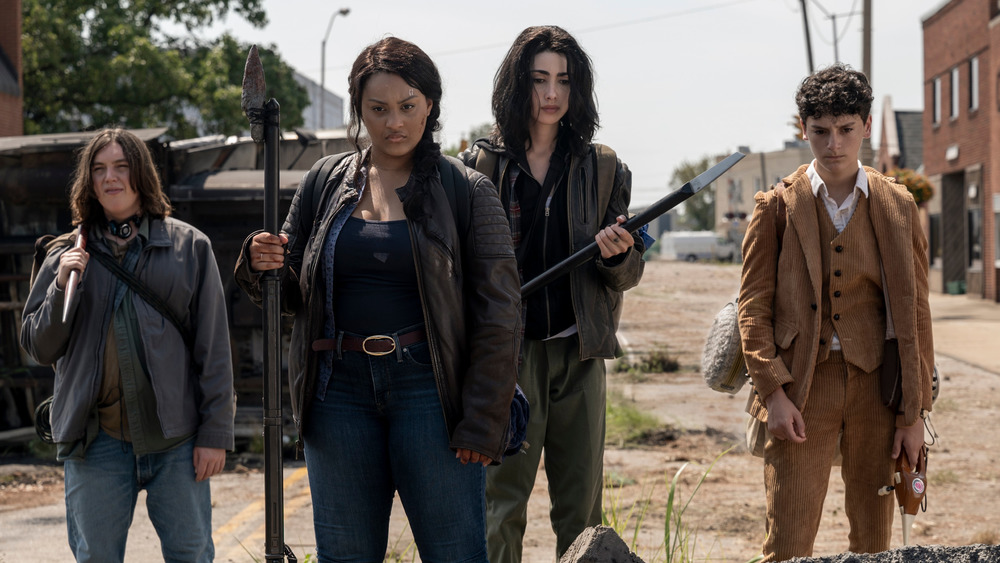 AMC
Contains minor spoilers for The Walking Dead: World Beyond
The Walking Dead: World Beyond, AMC's young adult-themed The Walking Dead spin-off, struggled with its early reviews. However, the two-season limited series seems to be finding its footing, with the latest episode being arguably the show's best yet. The adventures of the Bennett sisters Iris (Aaliyah Royale) and Hope (Alexa Mansour) and their friends Silas (Hal Cumpston) and Elton (Nicolas Cantu) have all the potential to be as enticing as anything the Walking Dead franchise has to offer — especially with the darker undertones brought by Elizabeth Kublek (Julia Ormond) and her CMU, as well as the surprisingly complex and blood-spattered Huck (Annet Mahendru).
World Beyond makes no bones about the fact that it takes place in the Walking Dead universe, which gives eagle-eyed fans ample opportunities to spot familiar elements of the zombie apocalypse lore. Fortunately, the makers of the show are perfectly happy to include the occasional Easter egg. In fact, The Walking Dead: World Beyond has already featured a couple of sneaky Walking Dead cameos that you may very well have missed. 

Jeff Kober and a mystery name secretly return to the Walking Dead universe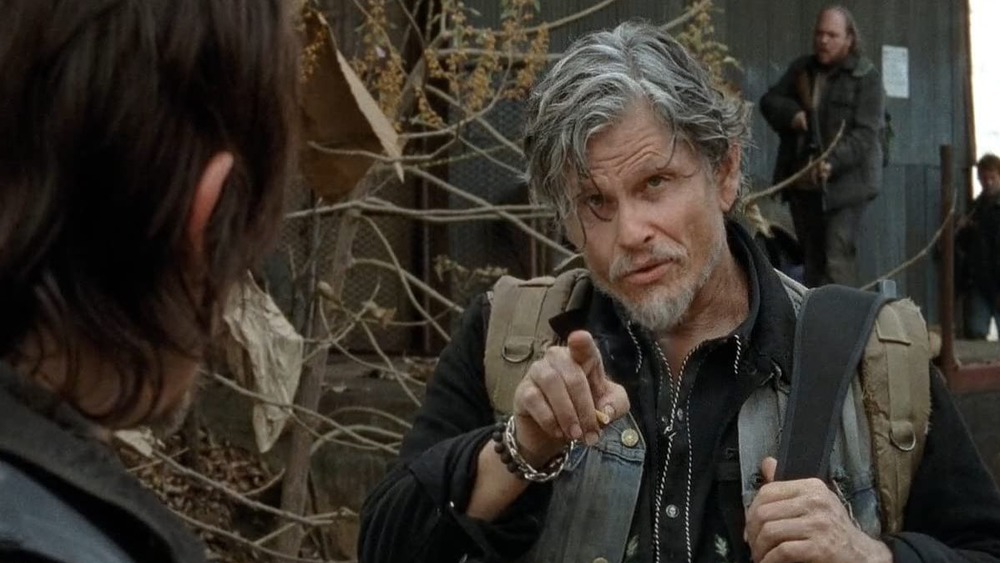 AMC
The Walking Dead: World Beyond's gentle giant Silas is fond of listening to old, comforting recordings from his grandparents, "Papi" and "Grammy." The actors behind the voices are uncredited, but sharp-eared Twitter user @Rejekt67 thought that Papi sounded familiar and asked showrunner Matthew Negrete, "Is Jeff Kober in World Beyond as the voice of Silas' Papi?" 
While Negrete didn't directly answer the question, he did like the tweet. This prompted @Rejekt67 to jokingly ask whether that could be considered an "uncredited answer," at which point Negrete replied with a thumbs-up emoji and some exciting new information. "His grandmother is also someone from the Walking Dead universe," the showrunner revealed.
This is pretty stealthy cameo work, considering that Kober's character, the sadistic Claimer leader Joe, only appeared in four episodes of The Walking Dead, as well as The Walking Dead: Red Machete digital miniseries. The identity of Grammy could be an equally deep cut, seeing as @Rejekt67 theorized that the voice could belong to Denise Crosby, who appeared on The Walking Dead as Mary, a high-ranking Terminus cannibal. However, Negrete hasn't confirmed this — and until we find out more, it's anyone's guess whether Papi and Grammy are completely new characters, or if the villainous Joe and the yet-to-be-revealed other character just had a surprisingly soft spot when it comes to grandchildren. 
Either way, it's cool that The Walking Dead: World Beyond is happy to include these neat, hidden surprises.