Space Force Fans Just Got The Best News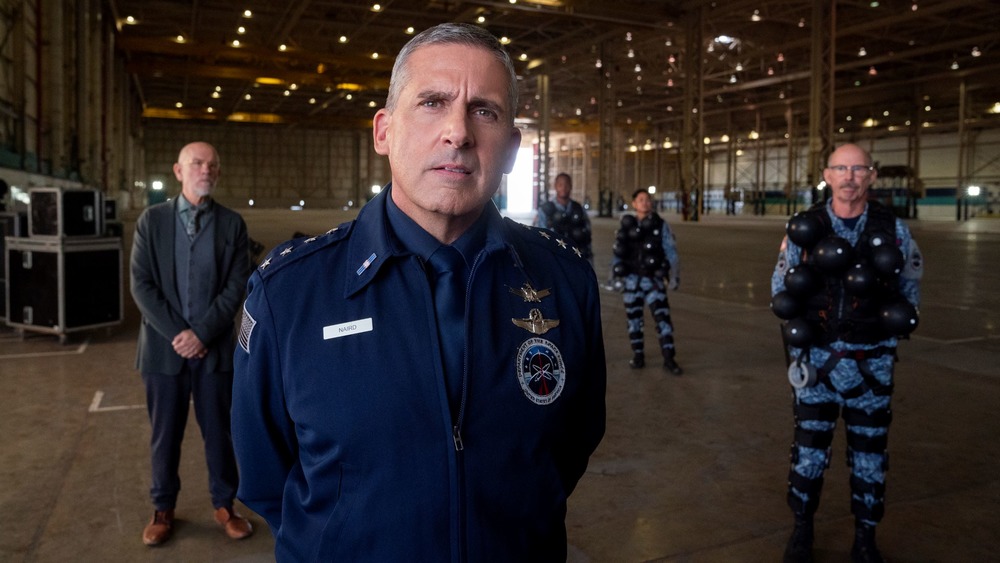 Aaron Epstein/Netflix
Netflix is finally committing to launching a second season of the Steve Carell-led Space Force. Nearly seven months after the comedy's season 1 premiere in May, the streamer gave Space Force the greenlight for season 2, ensuring fans will get some closure on that moon-based cliffhanger in the first season finale, according to The Hollywood Reporter. Additionally, most of the cast is confirmed to return including Carell, John Malkovich, Ben Schwartz, Tawny Newsome, Diana Silvers, and Jimmy O. Yang.
Despite hailing from The Office series creator Greg Daniels, Space Force got off to a bumpy start with critics. The show's first season has an abysmal 38% score from critics on Rotten Tomatoes, but viewers were kinder with the average audience score standing at 75%. Even though Carell's return to comedy TV wasn't an immediate home run there are still plenty of reasons to be excited for Season 2.
Space Force has a terrific cast, and Daniels' shows tend to take at least one season to become truly great. Remember, The Office was fine in season 1, but it became one of the best shows on TV in season 2. There's no guarantee that will happen with Carell and Daniels' second collaboration, but it does give viewers a reason to hope. More importantly, Netflix and Daniels are taking steps behind-the-scenes to ensure the show has the best chance to continue its space missions for a long time to come.
Space Force season 2 is going to look a little different thanks to a big move for the Netflix show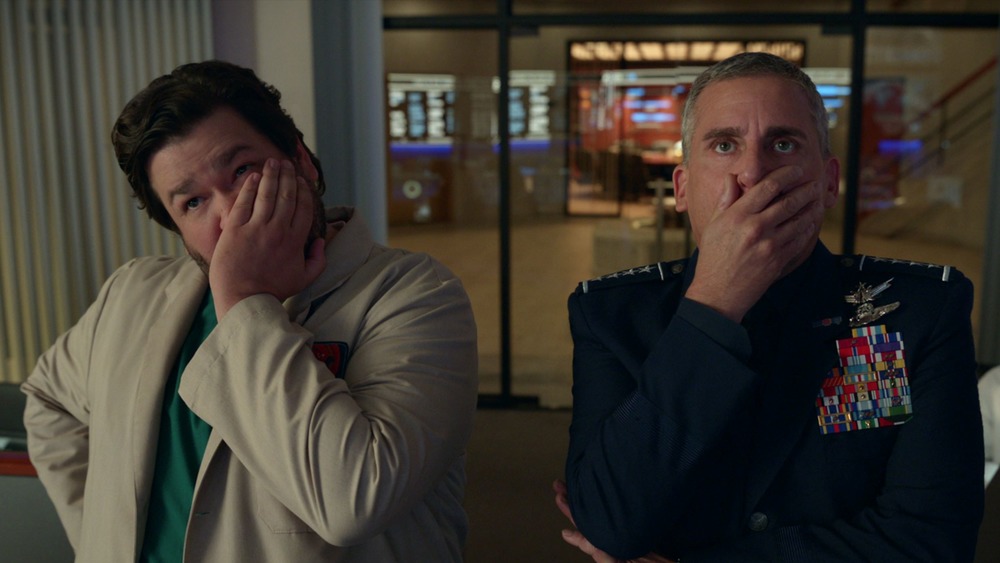 Netflix
According to THR, Netflix's season 2 renewal came with a few budget saving tweaks that could actually benefit Space Force in the long run. The comedy is a Netflix show being made with a Netflix-sized budget, which led Yang to tell THR the show is "shot like a $100 million Marvel [movie]" in May 2020. But a big budget isn't the key ingredient of a good sitcom, a good cast is.
Thankfully, Daniels and company may find themselves forced to rely less on the show's sleek visuals and more on its stellar ensemble in season 2. Production on the series is set to move from Los Angeles to Vancouver in order to reduce the season 2 budget a bit. In turn, this could lead to a slightly different look and feel next season, which will be aided by some key creative changes behind the scenes, too.
In addition to the show's relocation, Norm Hiscock is joining Daniels as the co-showrunner. Hiscock and Daniels previously collaborated on The Office and King of the Hill, and he's written for Parks & Recreation, Brooklyn Nine-Nine, and Saturday Night Live. Additionally, standout cast-member Yang will not only star in season 2, he'll also be joining the writing staff, as well. Both of these developments are exciting given the sheer comedic talent that Yang and Hiscock will bring to table.
Filming on the new season isn't set to start until sometime in 2021, but these key changes and Daniels' proven track record when it comes to turning good shows into great ones in their second seasons are reason enough to get excited about where Space Force might boldly go next.