The Star-Studded Hulu Christmas Movie Everyone's Eager To Watch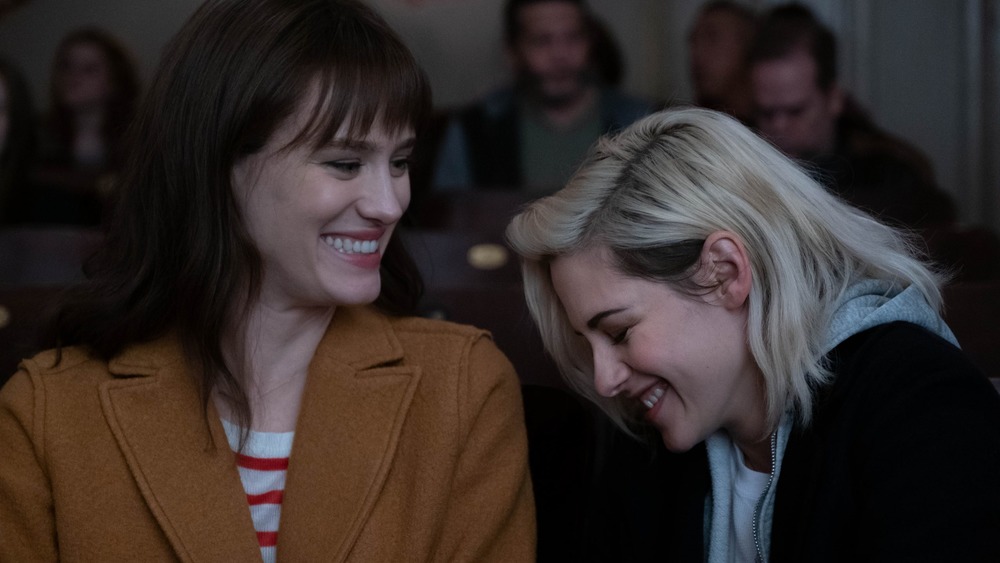 Hulu
Hulu's newest holiday movie is a fresh new take on a festive romantic comedy.
Happiest Season, which drops on the streaming platform on November 25, will make its mark as a big-budget, classic romantic comedy focused exclusively on a queer couple. Written and directed by Clea DuVall (and co-written by comedian Mary Holland), Happiest Season tells the story of a blissfully happy couple, Abby (Kristen Stewart) and Harper (MacKenzie Davis), who are approaching the holiday season and discussing a serious future together. However, their plans are derailed somewhat when they go home to see Harper's family for the holidays. As it happens, Harper hasn't told her parents — played by Victor Garber and Mary Steenburgen — that she's gay, and so she asks a relatively unwilling Abby to pretend that they're "just friends" until Harper is ready to come out.
With an outstanding supporting cast that includes co-writer Holland, Aubrey Plaza, Schitt's Creek wunderkind Dan Levy, and more, Happiest Season is shaping up to be one of the most exciting movies of the holiday season. Here's why everyone is excited to check out Happiest Season.
Happiest Season is changing up an extremely conventional genre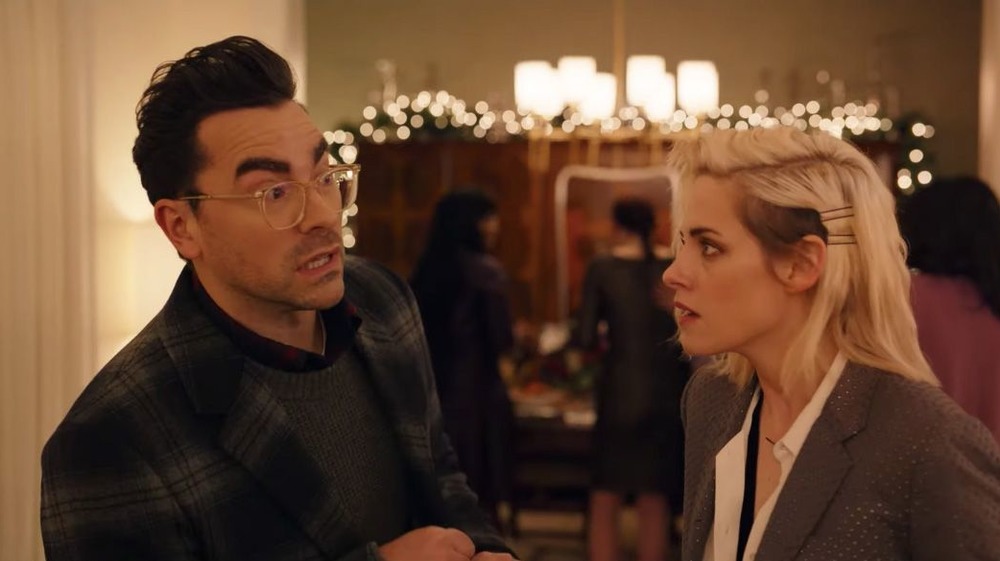 Hulu
In a feature in Variety, DuVall revealed why she wanted to make this film — and why now — explaining that the LGBTQ+ community rarely gets to star in traditional romantic comedies. "I had never seen a movie that really represented my experience," DuVall, who is openly gay, told Variety. "Any LGBTQ+ characters were, if they were there at all, side characters." However, Happiest Season turns the convention on its head.
To that end, everyone involved with Happiest Season is clear that the film will follow the comforting conventions of the romantic comedy genre while still paving the way for a new generation of LGBTQ+ stories. It'll even have a third-act twist that keeps the lovers apart; as Stewart told Variety, "The audience should be afraid that they might not get together, but it's a rom-com — they're going to get back together!"
Though DuVall admitted she was disappointed that Happiest Season wouldn't hit theaters as planned, she was happy that the movie would still find an audience while COVID-19 cases see an uptick, telling Variety she was relieved Hulu was an option. "I don't want [audiences] to risk the most important thing they have to see it," DuVall wisely told the publication.
If you're a fan of holiday flicks, romantic comedies, or both, you'll definitely want to check out Happiest Season, which debuts on Hulu on November 25, 2020.