How The 2020 Emmys Really Felt For Schitt's Creek Phenom Dan Levy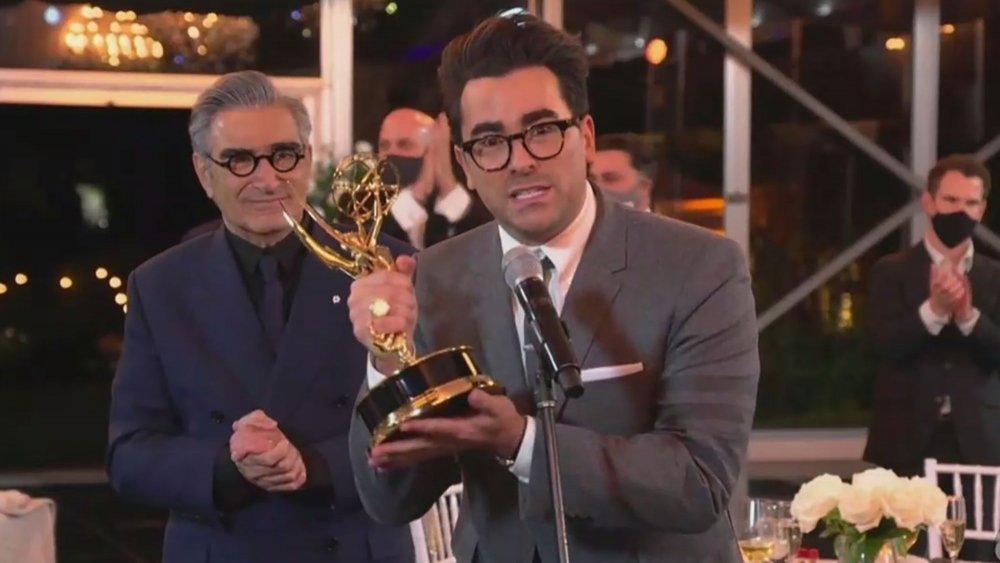 ABC
On Sunday, September 20, 2020, the COVID-era, mostly virtual Emmys were dominated by an unlikely force. Schitt's Creek, the little Canadian series that could, swept the entire comedy category and took home seven trophies for its sixth and final season. For a show that went overlooked for so long — it didn't even crack the Emmy nominations until 2019 — this was a huge night for creator and star Dan Levy and his cast mates.
Levy — who created the show alongside his father, comedy legend Eugene Levy — ended up taking home awards for writing and directing as well as Supporting Actor in a Comedy Series for his portrayal of the snippy-yet-sweet David Rose. Eugene Levy also won his first Emmy for Outstanding Lead Actor in a Comedy for playing Rose patriarch Johnny — and their co-stars Annie Murphy and Catherine O'Hara, who play the diva daughter Alexis Rose and the theatrical matriarch Moira Rose, won both comedic Actress categories.
As Schitt's Creek continued its unbelievable sweep, Dan Levy got more and more emotional, watching his on-screen and real-life father take home his first-ever Emmy and leaping up from the table to celebrate with his collaborators. (The cast and crew Schitt's Creek hosted a socially distanced party for the Emmys with its own live feed.) 
In an interview with Vulture after the fact, the younger Levy opened up about what that night was like. Here's how the 2020 Emmys really felt for Dan Levy.
Dan Levy's Emmys ceremony was pretty crazy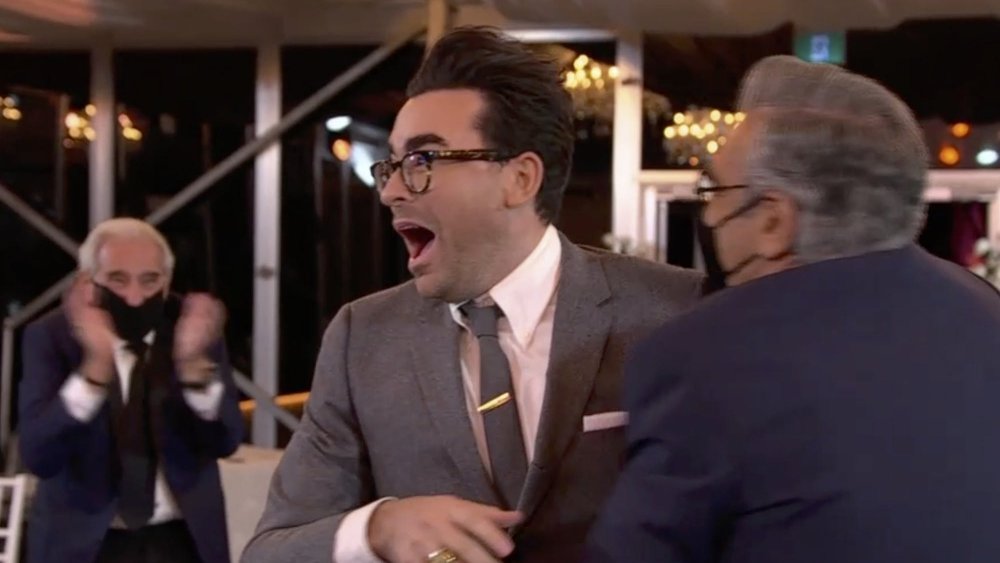 ABC
As Levy told Vulture writer E. Alex Jung, the cast started to get excited when O'Hara, the first winner of the night, took home her first-ever Emmy. 
"I have been hoping for many years that she would be recognized, and when she won, I was beside myself. It was just such an emotional night," said Levy. "Everybody's entire bodies are in this hyper state of tension, so when you experience joy like that, it's incredible how much of a release comes out of that experience."
Naturally, Levy sounded incredibly proud when discussing his father, who won shortly after his longtime collaborator O'Hara. 
"And then my dad was up next, and I thought, 'This category could go a bunch of different ways,'" Levy said. "Obviously for him to be in his 70s and to have never been nominated for an Emmy as an actor, it felt like, 'What a lovely time for him to win.' I was just so proud. I was proud of our relationship. I was proud of the work that he did. At that point, I thought, 'Well, maybe we have a chance at Best Show, not really thinking anything else of the other categories.'"
However, throughout the evening, Levy felt like the entire thing completely removed from reality, saying, "The whole process just felt oddly not real. Catherine and I were like, 'It almost felt like a game of How to Host a Murder,' where we all just got dressed up and the scene was awards night, and then the spin at the end was everyone got to take one home. It was just this game that eventually we'd have to give them all back."
When all was said and done, Levy said he was proudest of Murphy, a first-time nominee who took home the big prize: "To watch Annie win, I think that was my biggest excitement of the night. It was so deserved. She's done such unbelievable work on the show and for so long has kind of been underestimated because she makes it look so easy. I know that she didn't see that coming. I just remember screaming into her face."
Dan Levy has a bright future ahead of him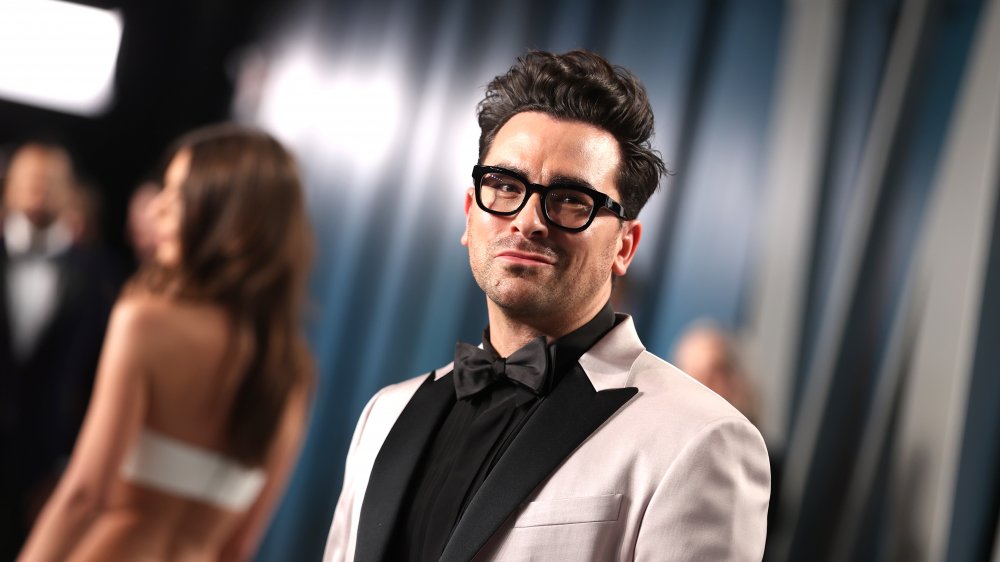 Rich Fury/vf20/Getty Images
This young writer and creator already had a bright future ahead of him before sweeping the Emmys, and now, there's no stopping him. As Schitt's Creek came to a close, Levy started making his next steps — and following a bidding war, the creator signed a three-year deal with ABC Studios, which was confirmed by The Hollywood Reporter in September 2019.
"I'm thrilled to be partnering with ABC Studios in this exciting next chapter," Levy said at the time. "As I say a bittersweet goodbye to Schitt's Creek, I look forward to the opportunity and privilege to continue to tell inclusive and meaningful stories that shine a positive light out there."
Meanwhile, Levy left behind a storied legacy with Schitt's Creek – a show that prized inclusivity, love, and strong family relationships above all else, and which depicted what a world without any close-minded attitudes or bigotry could look like. In fact, Levy was honored with a prestigious achievement award at the 2019 GLAAD Gala, and the cast of Schitt's Creek helped lead the 2018 Toronto Pride Parade.
Newly minted Emmy darling Schitt's Creek is available to watch on Netflix, and the sixth and final season will hit the streaming service on October 7.