Things Only Adults Notice In Eight Crazy Nights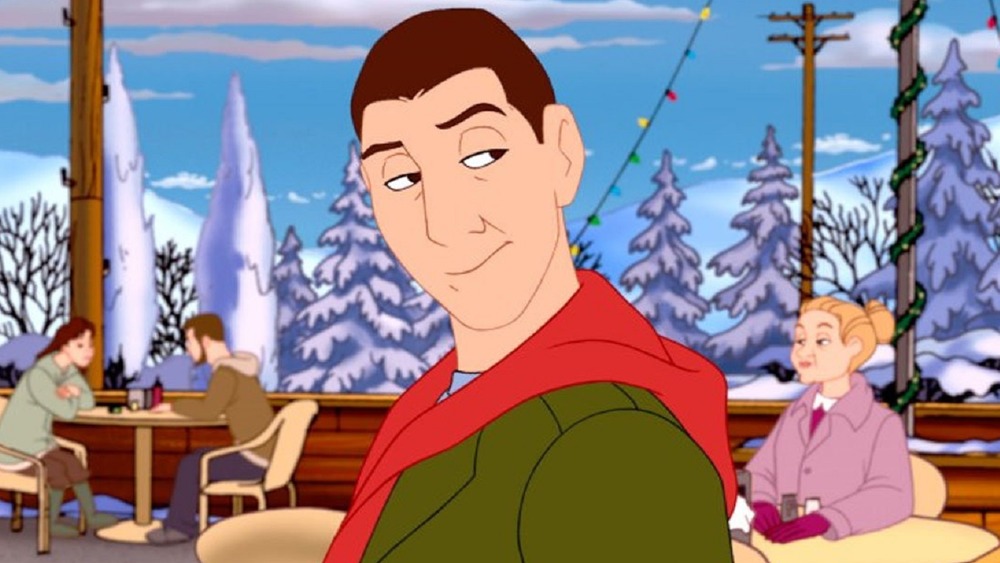 The holidays are commonly characterized as time spent with loved ones, listening to festive music, replaying annual traditions, and of course, watching movies that celebrate the season. Okay, so the holidays tend to be a little more chaotic than that, and Adam Sandler's Eight Crazy Nights reminds viewers of that lesson. Plus, this holiday flick makes it clear that redemption, no matter how naughty or nice one has been, is always achievable. 
This animated musical film follows Davey Stone (voiced by Adam Sandler), a 33-year-old alcoholic with a criminal record. He's given one last shot to do right by the law, and if he breaks the rules again, he'll face a harsh sentencing. During the most wonderful time of the year, Davey is sentenced to community service under the supervision of an elderly basketball referee named Whitey Duvall, and Davey must come to terms with his cynical lifestyle, bad behavior, and poor treatment of others, including himself. 
Unlike many mainstream holiday flicks, Sandler's movie centers on Jewish characters during the Hanukkah season, although aspects of Christmas reside. Sure, this comedy musical isn't everyone's cup of eggnog, but it's a holiday film that attempts to spread laughter and cheer. On top of all that, Eight Crazy Nights gifts older audience members with situations (both in the film and behind the scenes) that might easily go over the head of younger viewers. From the voice cast to unusual plot developments, here are things only adults notice in Eight Crazy Nights.
Adam Sandler's SNL co-stars have roles in Eight Crazy Nights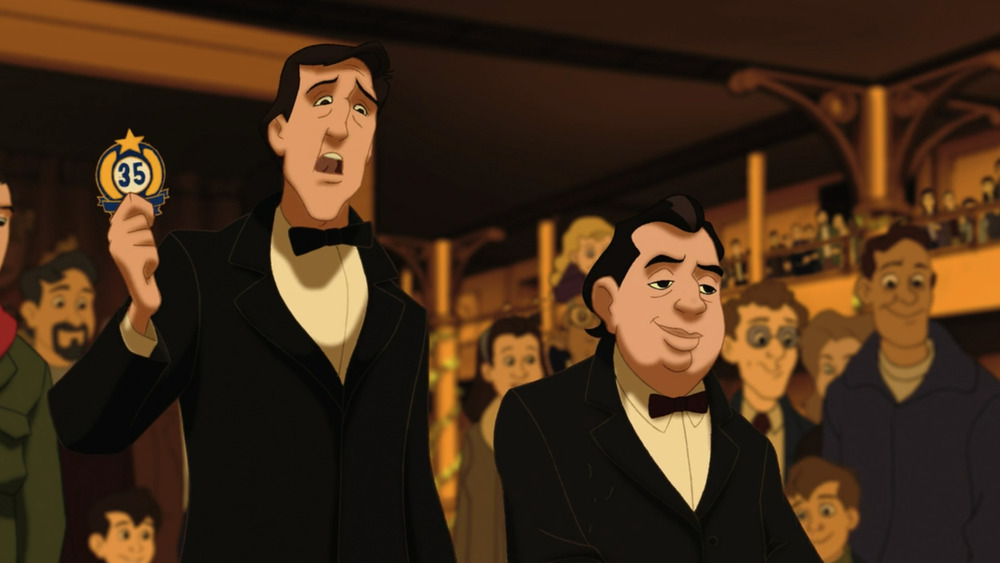 Before Adam Sandler founded his own film and television production company, Happy Madison Productions, in 1999, he was a member on Saturday Night Live from 1990 to 1995. During that time, Sandler harnessed his comedic and singing abilities to create original tunes such as "The Thanksgiving Song" and "The Chanukah Song." In fact, Eight Crazy Nights can actually be found in "The Chanukah Song." Comparing the gift-giving traditions of Hanukkah and Christmas, there's a line in the song that goes, "Instead of one day of presents, we have eight crazy nights!"
Appearing on SNL also led to many future work relationships, carving out a group of Happy Madison veterans who would go on to appear in Sandler-created movies, including Eight Crazy Nights. Fellow SNL co-stars Kevin Nealon, Jon Lovitz, and Rob Schneider all have roles in the film. Nealon plays the voice of Mayor Dewey, the mayor of Dukesberry. Lovitz voices Tom Baltezor, the original 35th annual patch winner in the All-Star Banquet. And Schneider narrates the movie and voices Mr. Chang, a Chinese restaurant manager. 
Sandler's wife, Jackie Titone, also appears in the movie as the voice of Jennifer Friedman. Of course, all of this would be hard for a younger audience member to spot as SNL isn't always age-appropriate. Eight Crazy Nights was also released in 2002, seven years after Sandler's last appearance on SNL — until he hosted the show in 2019, that is.
Sandler voices quite a few characters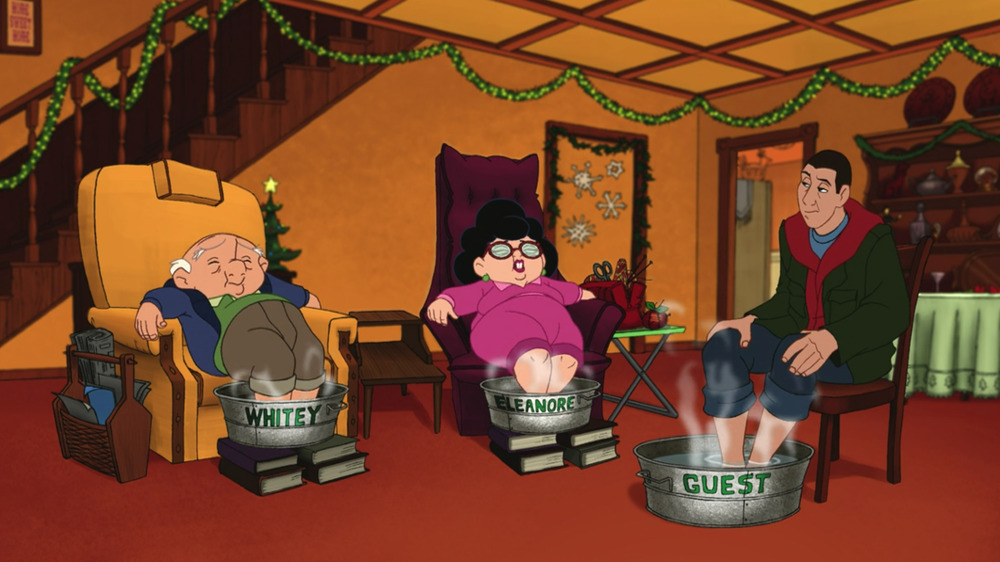 Although Adam Sandler has a distinct voice, it's not always easy to recognize the voices of actors in animated films. For proof, listen no further than Eight Crazy Nights. Sandler noticeably plays the character of Davey, and not only does he use his "normal" voice, but the character is drawn in the likeness of Sandler himself. However, it's a bit tougher to notice that Sandler voices multiple characters throughout the film.
For one, Sandler plays the part of Whitey Duvall, the highly underappreciated town resident who takes Davey in as a community service project. On top of that, Sandler also provides the dialogue for Eleanore Duvall, Whitey's diabetic fraternal twin sister. Shades of Sandler's voice are easier to spot in Whitey, but Eleanore's voice is much harder to decipher. However, the Sandler roles don't stop there. Throughout the film, there's a group of deer that appear as almost magical creatures. In one scene, they even form themselves into a cheerleader-style pyramid to hide Davey from the cops. And as it turns out, Sandler is playing the deer, too.
There's product placement galore in Eight Crazy Nights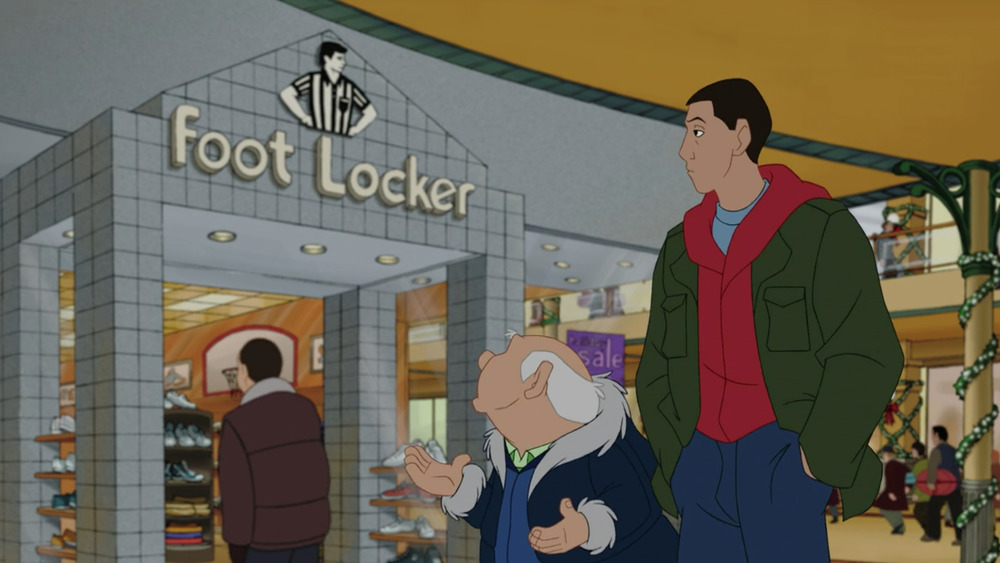 Whether it's Captain America visiting an Apple Store or Eggos showing up in Stranger Things, product placement is everywhere. Granted, sometimes the act is subtle. Eight Crazy Nights, however, is flooding with product placement, and the creators didn't seem to take any measures to hide this marketing technique.
Need proof? Then check out the mall that Davey and Whitey visit in the film. The mall uses actual names and logos of real-world businesses, and quite a few of these logos — as well as a few products — act as characters during a big musical performance. For example, we're treated to singing versions of a Radio Shack walkie-talkie, a Foot Locker referee, and even a Sharper Image chair. Plus, Sandler brought in some notable names to play these musical bits of merchandise, including Kevin Farley as the Panda Express panda, Carl Weathers as a GNC bottle, and Tyra Banks as a Victoria's Secret gown. 
Other restaurant logos, such as Dunkin' Donuts, are also present in the mall. In other words, while some films and TV series will try to conceal a logo (for example, covering up the Apple logo on the back of a MacBook) or at least gracefully work this stuff into the story, that's far from the case in Eight Crazy Nights. 
It's Adam Sandler's first animated film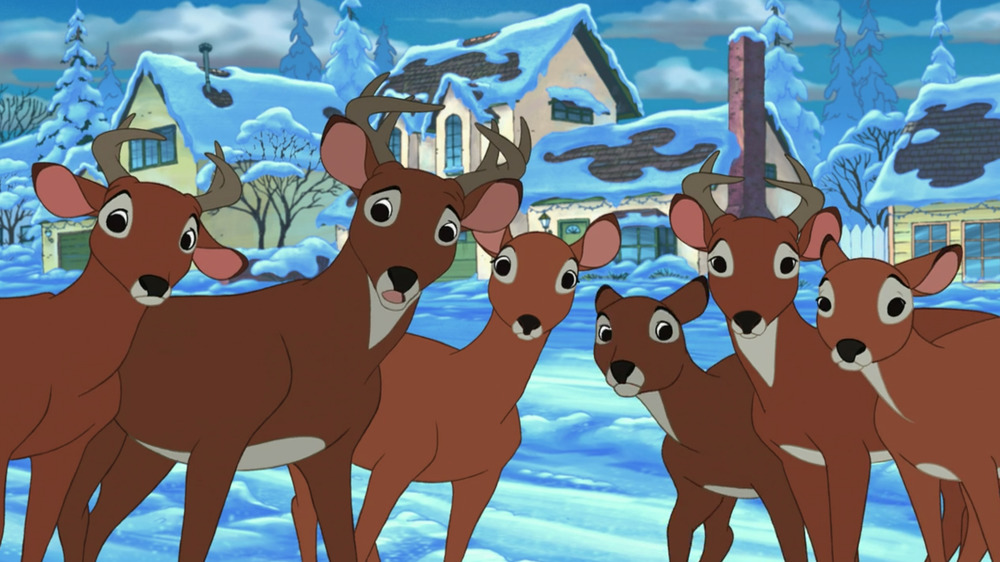 Adam Sandler has been in a lot of movies. That tends to be the case when you own your own production company, and said production company greenlights your best ideas. For example, Eight Crazy Nights is a Happy Madison production, but believe it or not, it was also Sandler's first animated film.
Eight Crazy Nights isn't a critically acclaimed movie, and a 12% approval rating on Rotten Tomatoes is proof of that. But despite many people not liking the nature of Sandler's jokes — a common theme throughout his career — the actual animated aspects of Eight Crazy Nights can be viewed as a success. After all, hand-drawn animation is a rarity these days, and even if the movie doesn't work for you, you've got to admit it looks pretty great.
Still, with his cartoonish, over-the-top comedic style, it's hard to believe that Eight Crazy Nights was the first animated film that Sandler was involved in. Of course, he would later make up for that fact by playing Dracula in the Hotel Transylvania franchise.
Only adults will understand Davey's downward spiral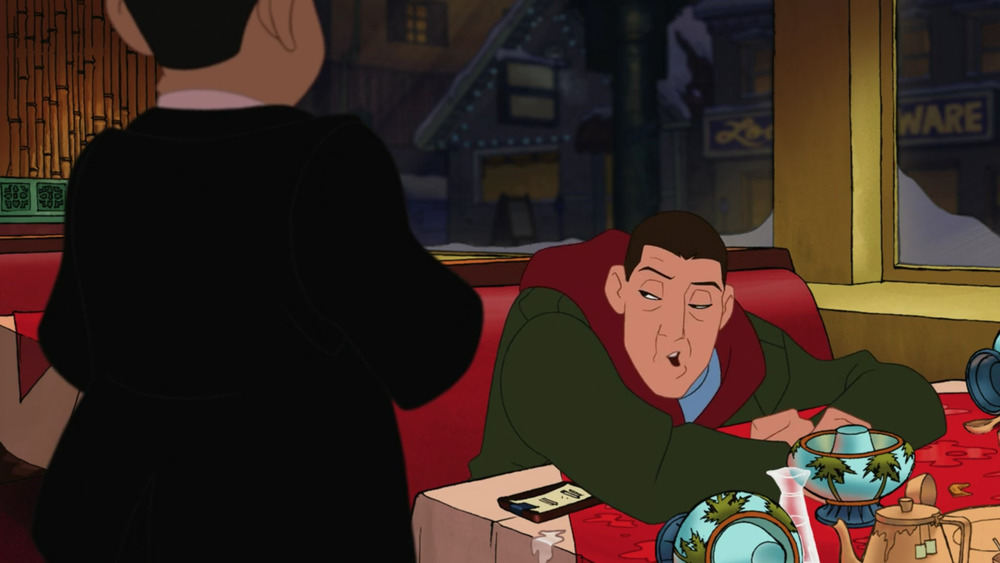 To a younger audience member, Davey might seem like a goofball and someone who likes to break the rules. At the beginning of the film, Davey runs from the cops and sleds on a trash can lid, which is supposed to come off as entertaining and comical. However, younger viewers might not totally understand the depths of Davey's drinking problem. However, his alcoholism is hard not to notice for more seasoned audience members. 
See, a really bad thing happened to Davey when he was young. His parents died in a freak car accident. Afterward, the kid went from foster home to foster home, and eventually, he started numbing the pain with alcohol and petty crimes. Soon enough, Davey found himself in a downward spiral of being drunk and hungover. 
Sadly, this downward spiral led to Davey losing everyone close to him, such as his childhood sweetheart, Jennifer. And perhaps worst of all, he began to lose himself. As a result, he wakes up most mornings hungover, and to counter the debilitating blow, he wallows in self-pity and even more alcohol. Sure, all this might make kids a bit sad, but the tragedy hits a whole lot harder for adults.
The whole fire situation is kinda weird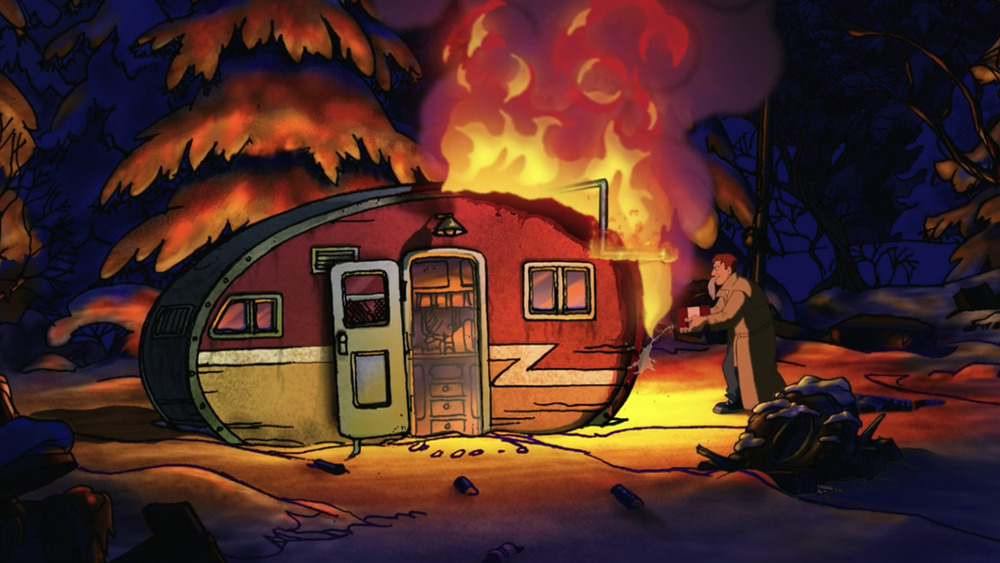 Davey isn't a saint by any definition of the word, but just because someone doesn't have the best morals, that doesn't mean people should do bad things to that person — especially arson.
In this case, Davey's house is set on fire as a result of winning a pick-up basketball game against some adult gym rats. As Davey returns home, his trailer is set ablaze by the same guy he played in basketball that night, the man who was forced to chew on a jockstrap after losing. Of course, the man didn't have to chow down on a jockstrap if he didn't want to, and he surely didn't have to burn down Davey's home and belongings in retaliation.
Even worse, Davey doesn't report the fire to the police, and he loses everything ... all because of a basketball game. Fortunately, Davey was able to retrieve a Hanukkah card from his late parents. This event happens so Davey will have to stay with Whitey and his sister, but nevertheless, two facts remain. Davey didn't deserve to have his home burned down for this particular reason, and not a single person, including Whitey, reports the fire. Yeah, that's kinda weird.
This isn't Whitey's first Sandlerverse appearance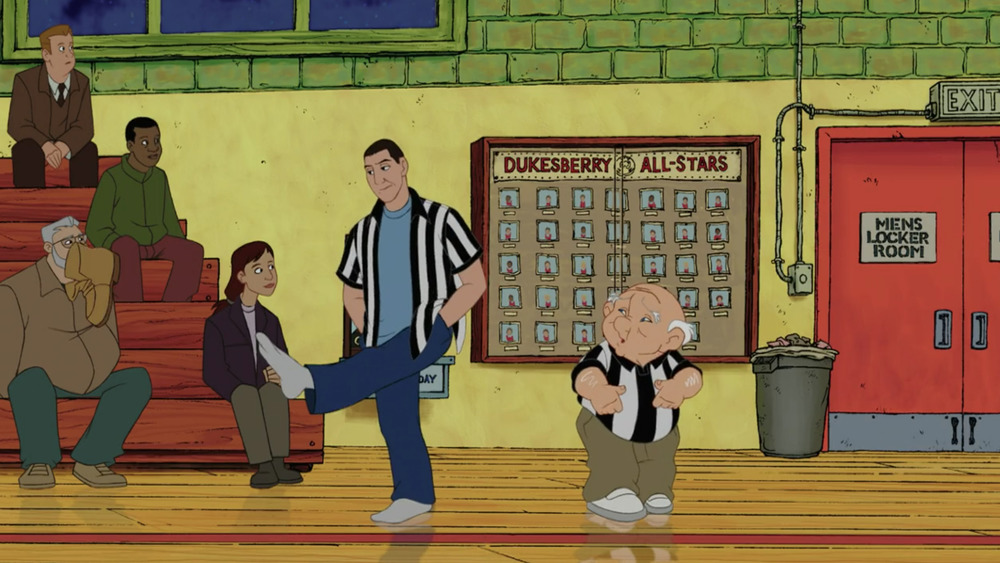 Whitey Duvall is, without a doubt, a unique character. Sure, his high-pitched voice can come off as annoying, but the man, unlike Davey, is a saint. Whitey puts every single person in Dukesberry first. He takes on odd jobs around the town to make money when he's not coaching the youth out on the basketball court, and more importantly, he usually performs these blue-collar duties for $1 a pop ... as a 70-year-old man.
Surprisingly, this isn't Whitey's first rodeo in the Sandlerverse. The Whitey Duvall character first appeared in human form (played by Dana Carvey) in Little Nicky. In the 2000 comedy, Whitey is also portrayed as an older ref with white hair. The characters aren't entirely the same, though, as Whitey is possessed in Little Nicky and serves as a false antagonist. In Eight Crazy Nights, however, Whitey is considered one of the nicest people in town. Because these Whitey characters are pretty different when it comes to their personalities, Whitey's second Sandlerverse appearance is easy to miss.
Why does Davey start to change?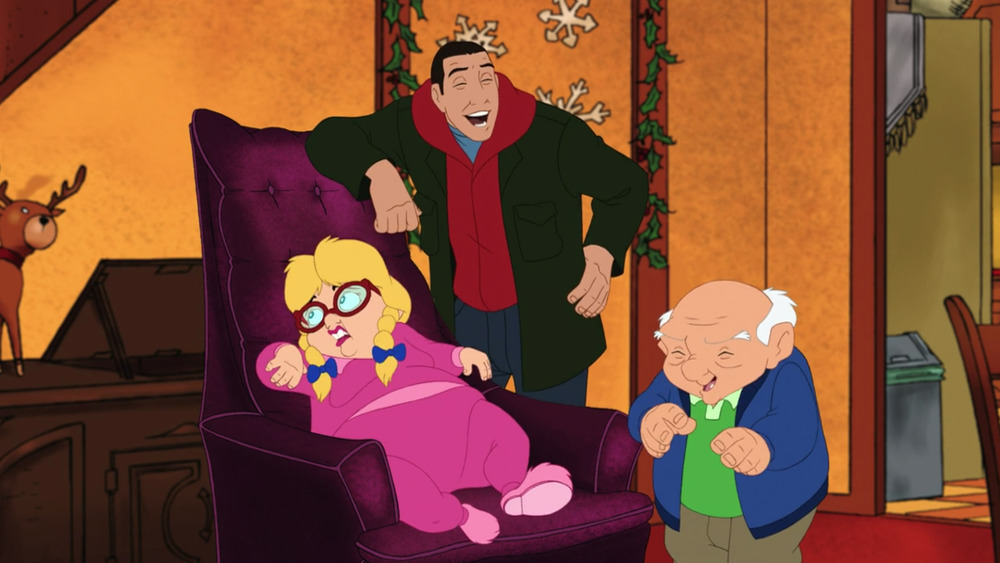 People don't typically stop their bad habits out of nowhere, especially if they've been occurring for years and addiction is involved. So, why does Davey get better throughout the movie? Well, he starts to heal and treat people better after moving into the Duvall household. See, Whitey and Eleanore have strict rules that they refer to as "technical fouls." These rules contradict Davey's behavior, making them impossible to break if he wants a place to live. Eleanore and Whitey are also positive people, and it can be argued that their light-hearted and caring mindsets rub off on Davey.
Davey presumably gets better before his final mistake because he stops drinking, or at least he decreases his intake. He turns in the bottle and begins to care for others. This is harder to spot for younger viewers because they might not yet understand the ramifications of alcoholism, a disorder that makes it hard for people like Davey to change. But alas, Whitey pushes Davey into talking about what happened to his parents when he was a kid ... and Davey loses his temper, returns to drinking, and breaks more laws.
The ending of Eight Crazy Nights doesn't really make sense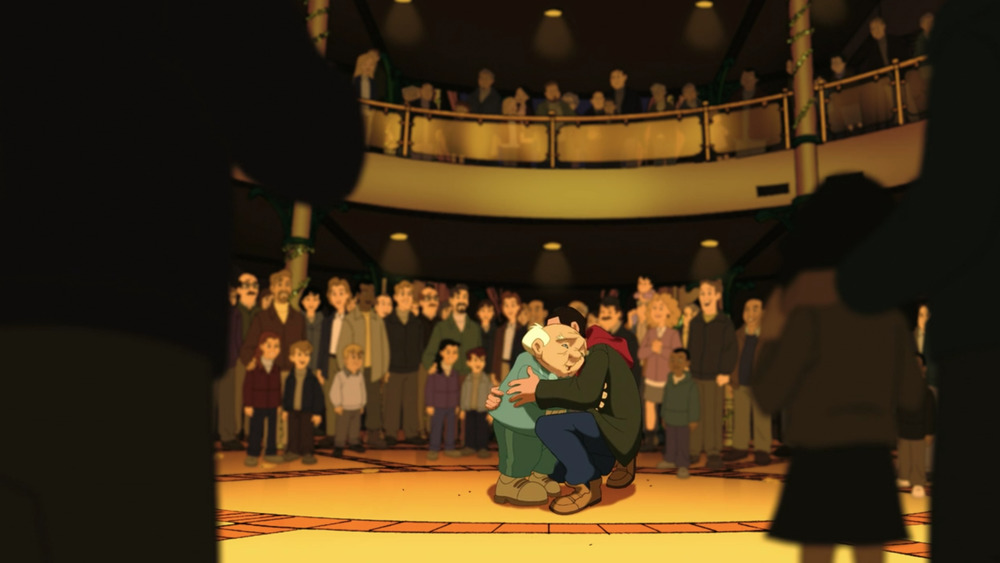 After losing his temper and insulting Whitey and Eleanore, Davey is kicked out of the house. As a result, he instantly reverts to his old vices and spends the day binge-drinking. That night, he drunkenly breaks into the mall, where he imagines the store logos coming to life and confronting him about his alcohol. And it's here that he finally opens his parents' Hanukkah card, which contains a heartfelt message that Davey needed to hear years ago, helping the man to finally grieve for his mom and dad.
That's when the police arrive to arrest Davey, yet he escapes and boards a bus to New York City. Of course, thanks to the miracle of Hanukkah and his guilt for what he said to Whitey, Davey eventually heads back to town. And when he shows up at the All-Star Banquet, he tears into the townspeople for their treatment of Whitey. Davey's speech makes everyone realize their wrongdoings, and they thank Whitey for all his hard work by awarding him the Dukesberry All-Star Patch. In fact, all 34 previous winners hand him their patches, as well.
Needless to say, Whitey forgives Davey, and it's a happy ending for everyone ... but legally speaking, it shouldn't be. After all, Davey just broke into the mall, resisted arrest, and whiffed on obeying the legal system once again. Despite defying a judge's orders, the plot skips right over the fact that Davey was supposed to serve ten years in the state penitentiary if he committed another crime. Instead, Davey saves the day and reconciles with Jennifer. Now, that's Hollywood, baby.
Eight Crazy Nights doesn't have traditional holiday elements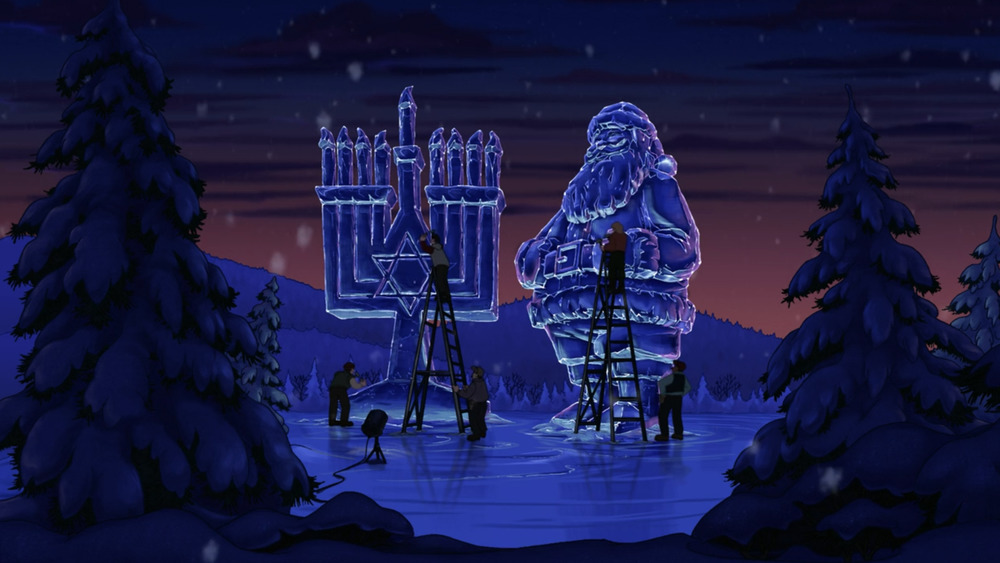 Eight Crazy Nights is unlike most mainstream holiday films, especially when comparing it to other holiday movies released around 2002, as it centers on Jewish characters during the Hanukkah season. But outside of decorations, the movie doesn't contain any distinct Jewish content relating to Hanukkah traditions. Sure, there are celebrations and decorations of Christmas, but Eight Crazy Nights isn't supposed to be about Santa or Jesus.
Regardless of the decorations and time of year, this isn't a movie about celebrating the holidays. Eight Crazy Nights is a redemption story that just so happens to have holiday-themed decorations in the background. Holiday movies don't need to have a big scene that portrays the characters celebrating a holiday while chestnuts roast on an open fire and people open presents. Instead, Eight Crazy Nights, despite being labeled as a holiday comedy, is about tragedy, painful childhoods, and a man's road to recovery. It's not necessarily finding the meaning of the holiday season that changes Davey, which is typical for the main character in a holiday movie. Davey changes because of Whitey and Eleanore's compassion, a trait that can be rightfully infectious during the holidays.
Luckily, Davey finds his way, Whitey is honored for his services, the movie ends with the characters living happily ever after, and these realizations ultimately don't take anything away from Eight Crazy Nights.