First Look At The Spin-Off Series American Horror Stories Has Fans Freaking Out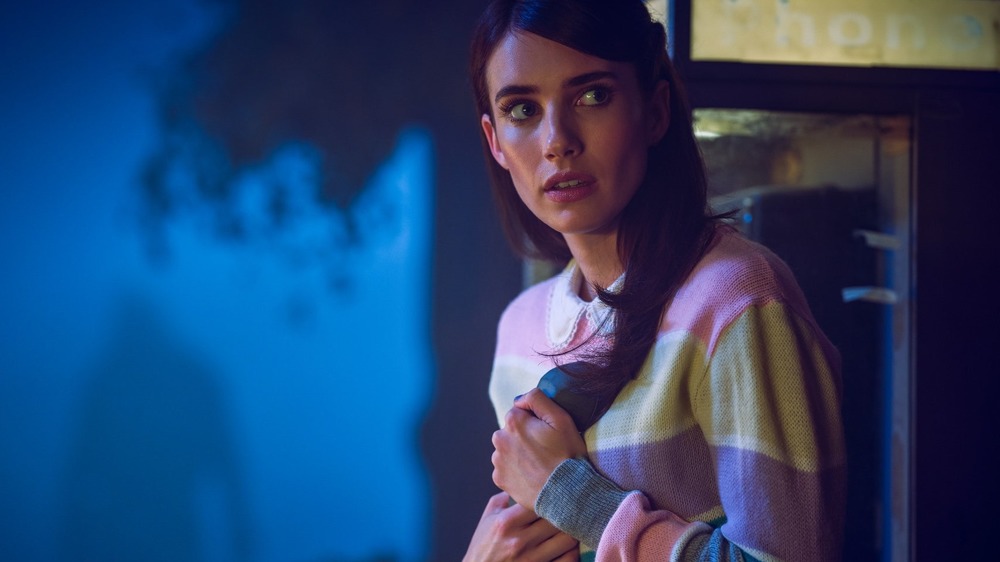 FX
Back in May 2020, TV veteran Ryan Murphy made an intriguing announcement: His anthology series American Horror Story is getting a spin-off. Now, as the flagship series heads into its tenth season (with three more to come after that), Murphy and company have finally shared a teaser poster for American Horror Stories – and it already looks to have all the spine-tingling gruesomeness we've come to expect from Murphy.
Murphy first revealed American Horror Stories when he posted to his Instagram in May a screengrab from a Zoom reunion with some of the mothership franchise's regular players. In the caption, he wrote, "American Horror Story cast zoom call...where we reminisced about the good times...the spin off we're doing called 'American Horror Stories' (one hour contained episodes)...when we will start filming the next season of the mothership...and other stuff I cannot print. It was so much fun and I'm glad we caught up. I miss everyone!"
When Murphy dropped the new promo image for the upcoming series on November 11, he also gave a few more morsels of information. In a tweet, Murphy declared, "It's the AHS spin off. We are doing 16 one hour stand alone episodes delving into horror myths, legends and lore ... many of these episodes will feature AHS stars you know and love. More to follow."
As expected, the Twitter replies to Murphy's tweet sharing the first look at American Horror Stories are filled with fans' giddy reactions. Along with posting photos and GIFs of TV characters screaming, dancing, crying, and cheering, AHS enthusiasts wrote things like "CAN'T WAIT," "OH MY F******* GOD," and "SO EXCITED FOR WHATEVER IT IS."
Though the teaser poster is predictably vague, given Murphy's love of leaving visual clues for his audience to follow, there may still be some details we can glean from it.
What the teaser image might tell us about American Horror Stories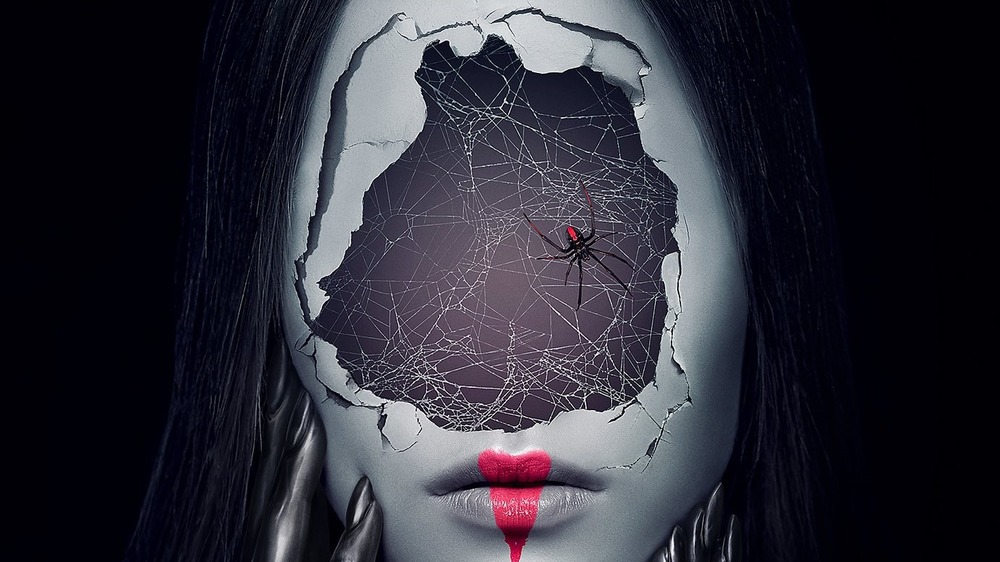 FX
Each season of American Horror Story has been marked by striking marketing campaigns that rely on evocative imagery to give viewers a visual tease of what's in store for the season ahead. American Horror Stories is no different. In the poster that Murphy shared, we see a woman's face, which she's gently touching with her hands (or which someone else's hands are touching) that appear to have been dipped in black paint or oil. Here, we use the term "face" lightly — where her nose and eyes would normally be, there's instead a hole cracked into her flesh. Inside is a warren of cobwebs and a large spider with a pinkish-red marking that matches the one on the woman's lips.
As Murphy said, American Horror Stories will be inspired by "myths, legends, and lore," and there's one story that the image immediately brings to mind. Fans of Scary Stories to Tell in the Dark (both the books and the movie adaptation, which is getting a sequel) will remember a particularly repulsive tale about a woman whose stubborn pimple turns out to be a spider's egg sac, which eventually bursts and releases a flood of baby spiders across her face. Of course, it's also entirely possible that this face full of spider webs will have some other significance, or that it was always meant to be an abstract image. We'll have to wait and see.
There's still no word on exactly when American Horror Stories is set to release, but based on the first tease, it looks like it will be upholding the nightmarish traditions of its parent series.