The Rick And Morty Dungeons & Dragons Adventure You Didn't Know You Needed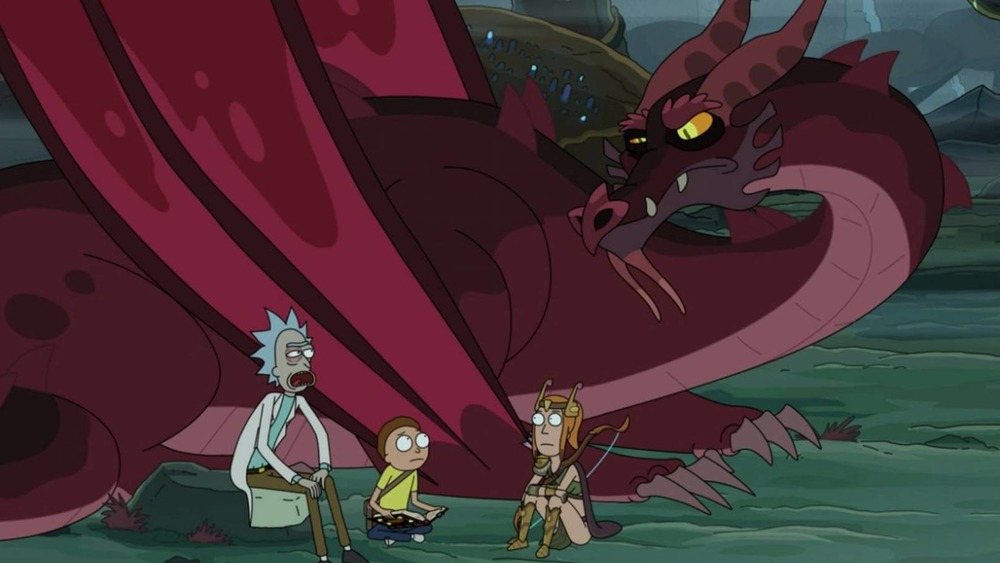 Adult Swim
Rick and Morty has grown from a series about the space-faring animated adventures of an alcoholic scientist and his naive grandson into a cultural phenomenon. You walk into practically any Hot Topic in the world, and you're bound to find a plethora of Rick and Morty merchandise. People lost their minds when McDonald's brought back the mythical Szechuan sauce that Rick raved about in a single episode. And it's hard to imagine a world in which the words "pickle Rick" weren't immediately recognizable as a Rick and Morty reference.
As we wait for season 5 of Rick and Morty to come out, which could be a while, there certainly won't be a shortage of content based on the show for people to pass the time — specifically gears and games. Fans have gotten their hands on Rick and Morty versions of classic games like Monopoly, Operation, and Clue, but there's one that's flown under the radar despite being around for almost a year now. 
In November 2019, Dungeons & Dragons came out with a Rick and Morty-themed tabletop game. If you and your friends have always wanted to explore strange, hilarious worlds, then it's essential you add this game to your collection.

How this Rick and Morty-themed D&D adventure can be yours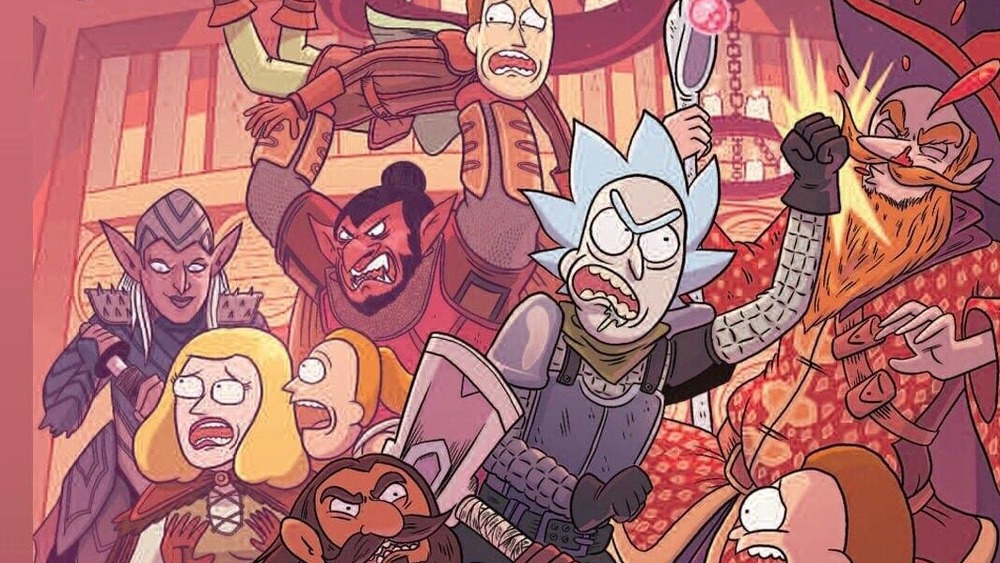 Marc Ellerby/IDW Publishing
Since 2018, Adult Swim and IDW Publishing have released issues of the appropriately titled Rick and Morty vs. Dungeons & Dragon series of comic books, centered on Rick and Morty getting into D&D-themed adventures. The basis of this series is that Morty wants to learn how to play D&D, so Rick teaches him the only way he knows how: by bringing him into madcap adventures featuring monsters and magic. 
Now, you can live out one of these missions with your friends by playing the Dungeons & Dragons vs. Rick and Morty game.
When looking at the D&D website, the description for the tabletop game is as follows: "The world's greatest roleplaying game meets television's most dysfunctional family! What could possibly go wrong? D&D has partnered with Adult Swim to bring this boxed set blending the world of Dungeons & Dragons with the mad narcissistic genius of Rick Sanchez's power-gaming sensibilities, and it includes everything a Dungeon Master needs to channel their inner mad scientist and run a rickrolling adventure for up to 5 players, levels 1 to 3." 
Those who purchase the game will receive a rulebook "annotated" by Rick himself, an adventure guideline that spans 32 pages, a four-panel Dungeon Master screen "featuring new, foldable artwork," 11 dice, and five character sheets.
The game is available for purchase only in North America, and you can find it from numerous outlets. You can check your local game and book stores to see if they have it for sale, and it's also available for purchase through Amazon, Books-a-Million, and Steam. Dungeons & Dragons vs. Rick and Morty retails for $29.99, and it's suitable for people new to D&D who have never played a game before. As you're waiting for new Rick and Morty episodes, you can create your own story lines with this fun game.