The Once Upon A Time In Hollywood Deleted Scene We Wish They Kept In The Movie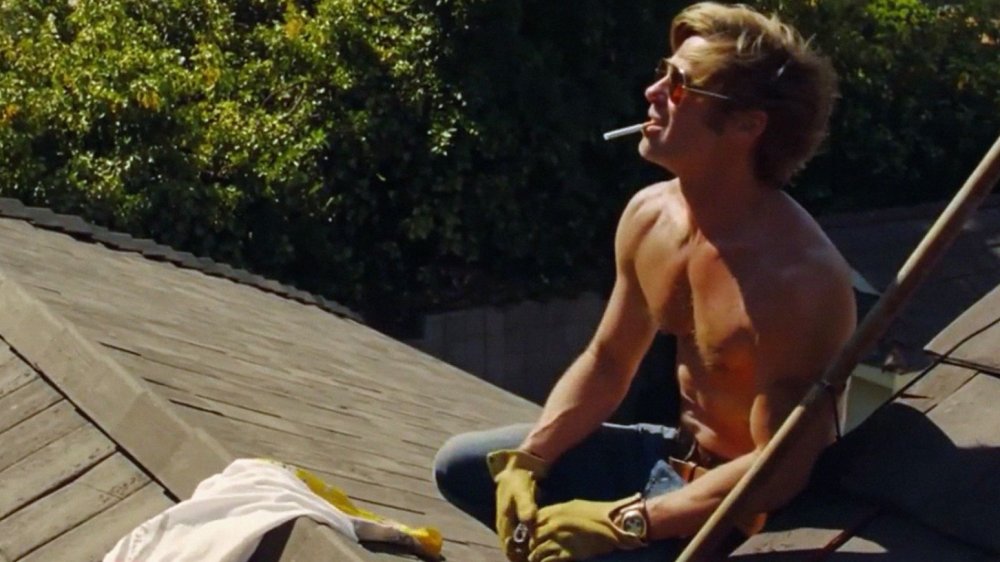 Sony Pictures
Quentin Tarantino's '60s revisionist history Once Upon a Time in Hollywood is perfect for rewatching, especially after you've seen its surprise ending. But there's one deleted scene you probably haven't seen that would have fit perfectly in its theatrical release.
The film centers around a fictional former Western TV actor named Rick Dalton (Leonardo DiCaprio) and his stunt double Cliff Booth (Brad Pitt). Dalton happens to live next door to actress Sharon Tate (Margot Robbie), who in real life was the Manson family's most known victim in the 1969 Tate–LaBianca murders.
Though Charles Manson (Damon Herriman) makes very few appearances in the movie, the notorious killer looms over the film. Audiences experience a constant build-up of tension, wondering when the Manson family will inevitably strike. We first see Manson when he scopes out Tate's Hollywood Hills home, but aside from that brief scene, he's rarely on screen. The audience instead becomes more acquainted with Manson's associates on Spahn Ranch. But in an earlier cut, audiences would've seen more of him.
Charles Manson had a deleted dance scene in Once Upon a Time in Hollywood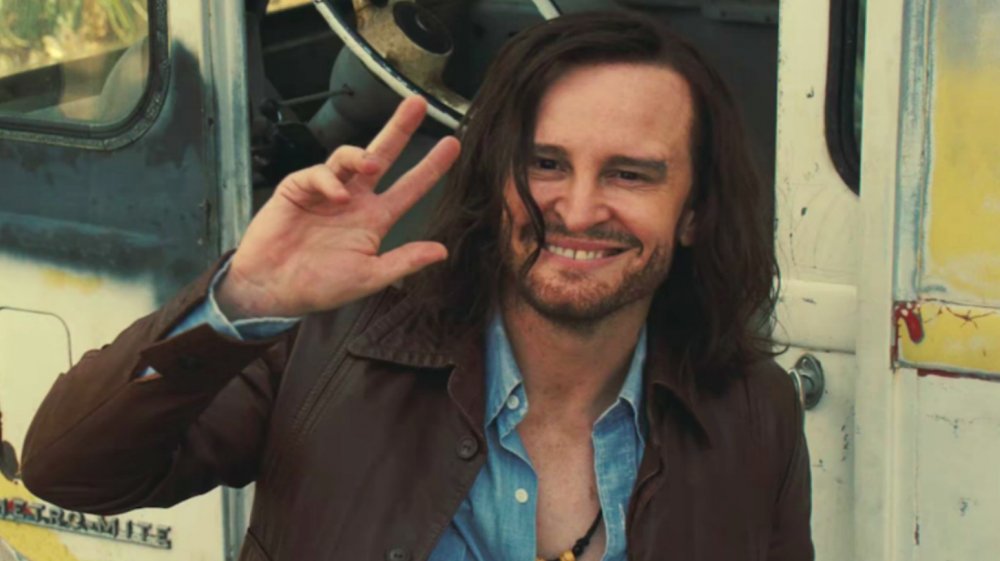 Sony Pictures
The Blu-ray release of the film includes a scene in which Manson, before stepping back into his Twinkies van, turns and notices a shirtless Booth on Dalton's roof, fixing the latter's TV antenna. Manson smiles and waves to Booth, but Booth just stares, prompting Manson to break out into a dance and subsequently flip off and curse out Booth. As Manson drives away, Booth mutters to himself in his cool-as-a-cucumber manner, "What the f**k was that?"
A portion of the deleted scene was featured in the trailer, but was cut out of the film. Herriman, who has also played Manson on the Netflix series Mindhunter, told Collider last year that he understood many scenes in the film wouldn't make it in because "it was a four hour and 20 minute first cut, there was obviously a lot that was shot that is not in it."
The Australian actor went on to say, "Everybody lost a bit of stuff in the there, including some Manson stuff. Maybe it will see the light of day."
While the film garnered critical acclaim, struck box office gold, and gave Brad Pitt his first Academy Award, fans still wish the deleted scene could have made the cut. One YouTube user, Jacob Flores, wrote about the deleted Manson dance scene, "I swear to god if this made it into the movie it would've been a huge meme."