How Ryan Reynolds Reacted To The Death Of Alex Trebek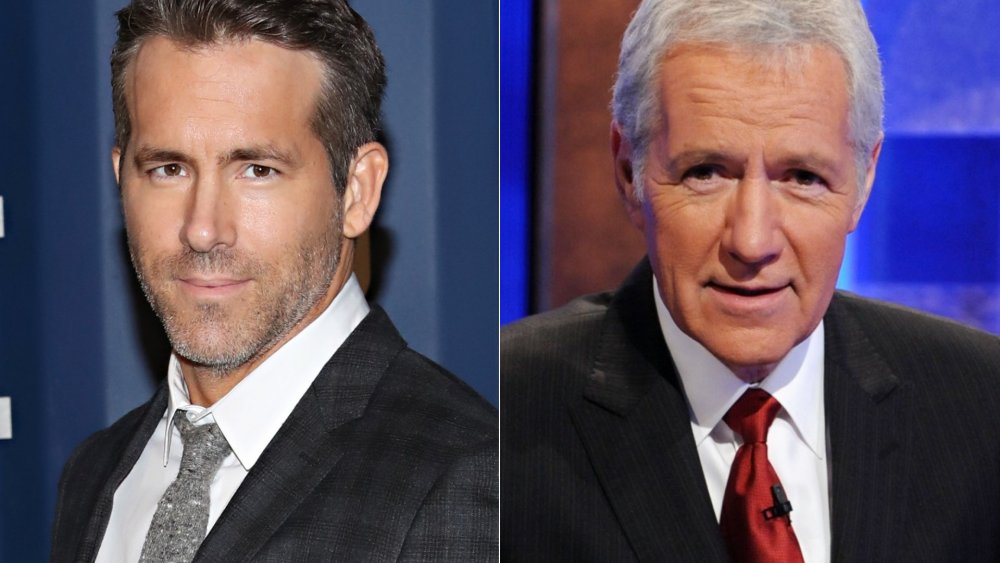 Cindy Ord/Getty Images, Amanda Edwards/Getty Images
As the world mourns the death of longtime Jeopardy! host Alex Trebek, who passed away from pancreatic cancer on November 8, many around the world are remembering not only Trebek's work on his day job, but also the numerous appearances he made in other projects.
Trebek was a pop culture icon due to his calm and collected presence on the quiz game show he hosted for more than three and a half decades, as well as for how generous he was in sharing that presence. His cameos on sitcoms — which often saw him helping unexpected characters demonstrate their intelligence, or using his dry Canadian wit to deflate egos — became a sitcom staple for a time. He wasn't just a TV game show host — he also played a game show host on TV.
That was work Trebek continued to do even after his cancer diagnosis, as revealed by fellow Canadian Ryan Reynolds. Taking to Twitter on Sunday, November 8, Reynolds
shared that Trebek's cameo in the upcoming movie Free Guy was filmed after the host had been diagnosed with cancer. The actor also expressed grief over Trebek's passing and thanked him for appearing in the movie despite his illness and the difficult medical treatment he was undergoing. 
"Alex Trebek was kind enough to film a cameo for our film Free Guy last year despite his battle. He was gracious and funny," wrote Reynolds. "In addition to being curious, stalwart, generous, reassuring and of course, Canadian. We love you, Alex. And always will."
Alex Trebek has cameoed in all sorts of projects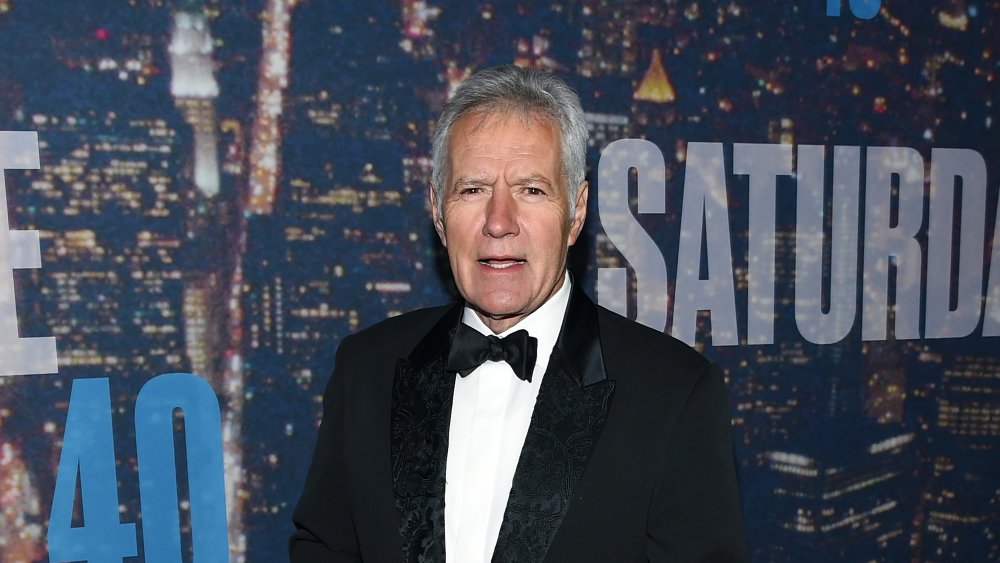 Larry Busacca/Getty Images
In March 2019, Trebek revealed he had been diagnosed with stage IV pancreatic cancer but continued to work on Jeopardy! until less than two weeks before his death. His last day in the studio was October 29, according to Variety. New episodes of Jeopardy! with Trebek as host are expected to air until Christmas Day.
As far as his side gigs go, Trebek appeared on dozens of television series and movies during his hosting career — playing himself, or a thinly-disguised version of himself, in everything from Cheers, Golden Girls, and How I Met Your Mother to White Men Can't Jump, Rugrats, and Wrestlemania VII. Even on the rare occasion when he wasn't listed in the credits as "Self" or "Alex Trebek" or "Alan Quebec," such as his appearance as "Man in Black #2" on a season 3 episode of The X-Files, the joke was based largely on the fact that everyone in the world would know it was Alex Trebek giving others the run-around.
What is Alex Trebek doing in Free Guy?
Trebek's cameo in Free Guy can be viewed at least in part in movie's second trailer, released in October 2020. He plays — big surprise — the host of Jeopardy!, seemingly in the real world and not the open-world video game of Free City that Guy (Reynolds) exists in. He puts the answer to contestants, "This character, in the video game Free City, has been turning heads by being the good guy." A contestant rings in and answers, "Who is Blue Shirt Guy?" Whatever Guy is up to in his video game universe, it's making big waves in the real world if it's filtered all the way up to the bastion of institutional knowledge represented by Jeopardy!
"You're absolutely right," Trebek answers. "Who is he, or she, indeed?" he adds, hinting at the mystery that Taika Waititi's character Antoine confirms shortly after: Guy's actions are in many ways unexplainable even by the game's creators. After all, if Trebek doesn't know the answer, then it's likely no one does.
When will we see Alex Trebek in Free Guy?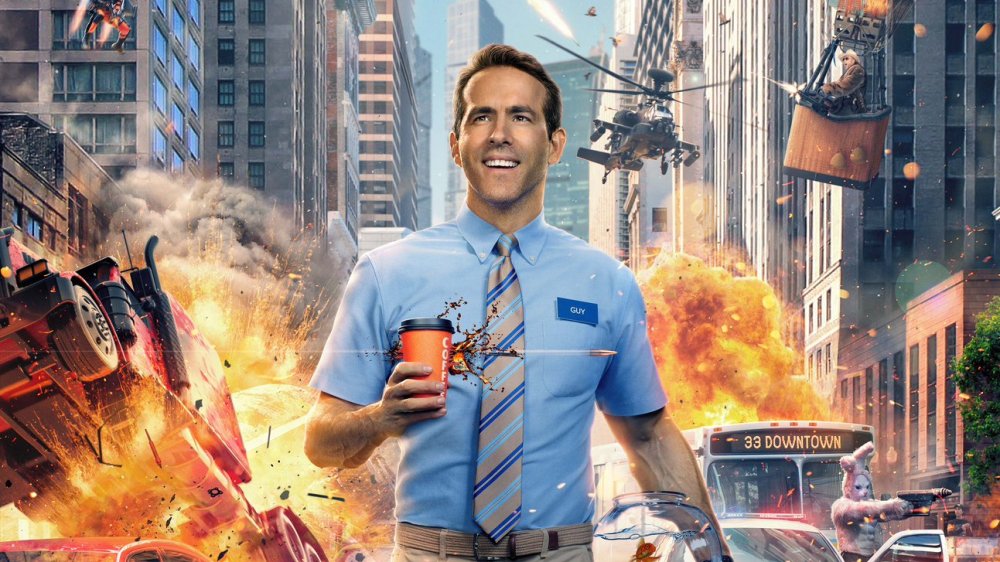 20th Century Studios
What audiences in our world know about Free Guy is that it stars Reynolds as a non-player character in an open-world video game who becomes self-aware. Realizing that his job as a bank teller has no point, Guy sets out to make himself the hero of his game, eventually leading to a race against time to save Free City and the world he knows before the developers can shut it down.
In addition to Reynolds, Waititi, and Trebek, Free Guy also features Jodie Comer as real-world programmer Milly and her in-game avatar Molotov Girl, Joe Keery as Milly's friend and fellow programmer Keys, Lil Rel Howery as Guy's in-game friend Buddy, and Utkarsh Ambudkar as Mouser. 
Originally scheduled for release July 3, 2020, Free Guy was postponed to December 11, 2020 due to the COVID-19 pandemic. In November, it became one of the last big films to abandon the possibility of theatrical release during 2020 when Disney pulled it and Kenneth Branagh's Death on the Nile off the calendar. A new release date, or information on streaming availability, has not yet been announced.