A Terrible Kevin James Comedy Is Defying The Odds And Killing It On Netflix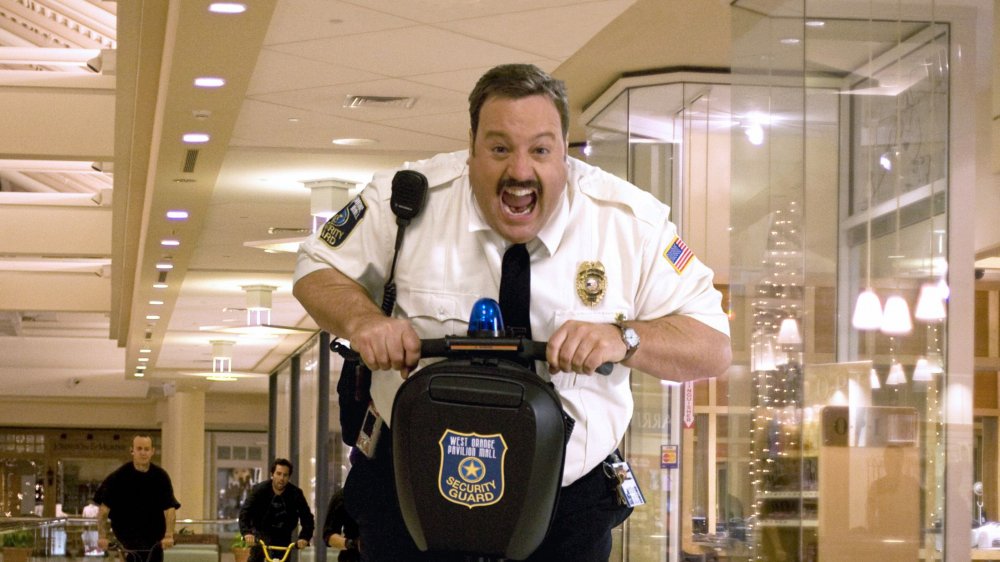 Happy Madison Productions
Netflix's content catalog is filled with great films, from Academy Award nominees to outstanding Netflix originals, but somehow, this maligned film is crushing it on the streaming platform.
Kevin James' 2009 comedy Paul Blart: Mall Cop — directed by Daddy Day Care's Steve Carr — which follows James' bumbling title character as he tries to maintain order in a typical American mall, has unexpectedly risen to the top of the Netflix charts over a decade after its initial release. As Paul Blart, James plays an ineffective, hypoglycemic New Jersey man who dreams of becoming a police officer, though his lack of physical prowess and unfortunate condition have long prevented him from enrolling at the academy. However, Paul soon finds himself in a particularly tricky situation when the West Orange Pavilion Mall, which finds itself at the center of a bank heist and hostage situation. Ultimately, Paul saves the day, gets married to his dream girl Amy (Jayma Mays), and turns down a police job, staying at the mall instead.
In the end, the film, which also featured stars like Bobby Cannavale, flopped with critics. On Rotten Tomatoes, the consensus is that the movie "has some laughs, but its plot is flimsy and lacking in any sustained comic momentum." However, thanks to a solid box office draw, Paul Blart: Mall Cop endured... and even spawned a sequel.
Paul Blart 2 carried on the Mall Cop's questionable legacy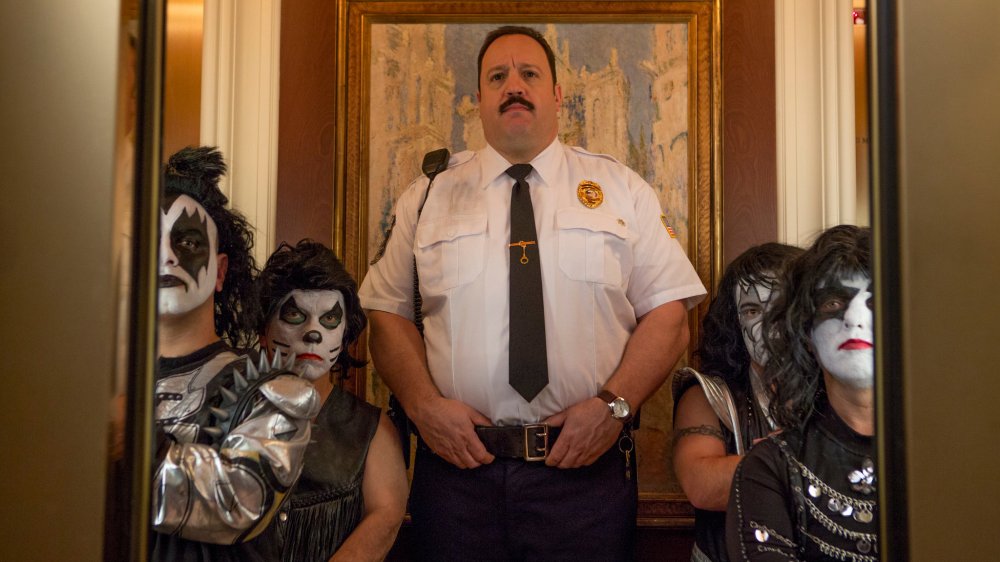 Happy Madison Productions
Not content with introducing one Paul Blart film to the masses, Happy Madison Productions (run by Adam Sandler, who produced the first movie) recruited director Andy Fickman (She's the Man, You Again) for a follow-up, Paul Blart: Mall Cop 2, in 2015. This time, Paul is in a tough spot; his wife, Amy, left him just six days into their marriage, and his life could use some serious improvement. When he gets invited to a security officer convention, Paul thinks he may be able to turn things around, and ends up discovering yet another heist plot.
Named one of the worst films of the entire decade, Paul Blart 2 didn't do this would-be franchise any favors. Reviewers, as Rotten Tomatoes notes, called it everything from "uniformly unfunny" to "tacky, numbingly inane," concluding that the film was "bathed in flop sweat and bereft of purpose." To make matters worse, it provided diminishing returns at the box office as well, proving that audiences were pretty much done with Paul after his first outing. However, years later, Paul and his antics have resurfaced on Netflix, gaining a new audience.
There's no question that 2020 has been a difficult year, and maybe the inexplicable nostalgia for Paul Blart: Mall Cop simply reminds viewers of a simpler time and serves as a distraction from the fraught state of affairs around the world. In any case, Paul Blart: Mall Cop is available to stream on Netflix now.