Uncle Ben And Aunt Jemima Got Fired Last Night On SNL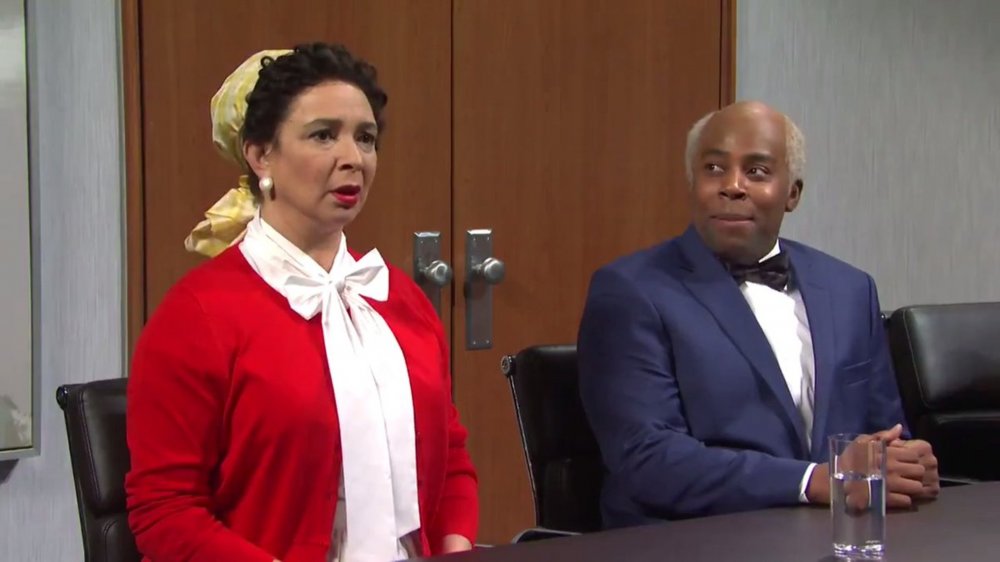 NBC
It's not at all uncommon for actors to break during Saturday Night Live sketches, but when a comedian of Dave Chappelle's caliber can't stop himself from laughing, you know the joke is good. That's exactly what happened on the Saturday, Nov. 7 episode of SNL in the midst of a skit about the firing of Uncle Ben and Aunt Jemima.
Quaker Oats (the brand behind the Aunt Jemima pancake products) and Mars Inc. (the owner of Uncle Ben's Rice) announced in June 2020 that the companies would be reimagining the brands in the wake of the nation's reckoning with its history of racism. At the time, Quaker issued a statement that read, "We recognize Aunt Jemima's origins are based on a racial stereotype. As we work to make progress toward racial equality through several initiatives, we also must take a hard look at our portfolio of brands and ensure they reflect our values and meet our consumers' expectations." Meanwhile, Mars Inc. added that "now was the right time to evolve" the Uncle Ben brand.
Both of these decisions were long overdue, which is exactly why SNL's sketch was a hit on social media. Well, that and the sheer joy of seeing Chappelle make Pete Davidson laugh so hard he spit out his Count Chocula teeth.
SNL's Aunt Jemima and Uncle Ben sketch could become an instant classic
The sketch kicks off with Chappelle offering a solemn message about Black Americans losing their jobs amid the "new social climate," but it ends with the Allstate Guy arguing with Count Chocula. In between, Maya Rudolph fights for Aunt Jemima's pancakes, and calls out Uncle Ben (Kenan Thompson), because if she's going down, he's going down with her. When Alec Baldwin's CEO character reveals that Uncle Ben is getting fired too, the mascot argues that he won't be able to find another job, because "all he knows is rice."
But the sketch becomes a true standout once Chappelle enters the picture as the Allstate Guy (better known as "The guy from Waiting to Exhale," or, you know, acclaimed actor Dennis Haysbert). When both Uncle Ben and Aunt Jemima argue he should be fired too, Chappelle stands up and begins laughing before he can even say one word with Haysbert's trademark deep voice. "I sell security," Chappelle says once he gains his composure. "My deep Black voice makes white people feel safe. Like they are in good hands... If anything, why don't you fire Count Chocula, why is he still working?"
Things only got more absurd from there, leading some Twitter users to declare the sketch an instant classic. "This Uncle Ben/Aunt Jemima sketch is an instant classic," tweeted @TooCloseToTheTV. Twitter user @viequesdynamo added, "The Aunt Jemima, Uncle Ben, All-State and Count Chocula skit is an instant classic. Tonight's #SNL is batting 1,000 right now."
One thing was clear by the end of the sketch: Uncle Ben and Aunt Jemima may be out of job, but the Allstate Guy is forever.