The Hilarious Emma Stone Comedy Everyone's Loving On Netflix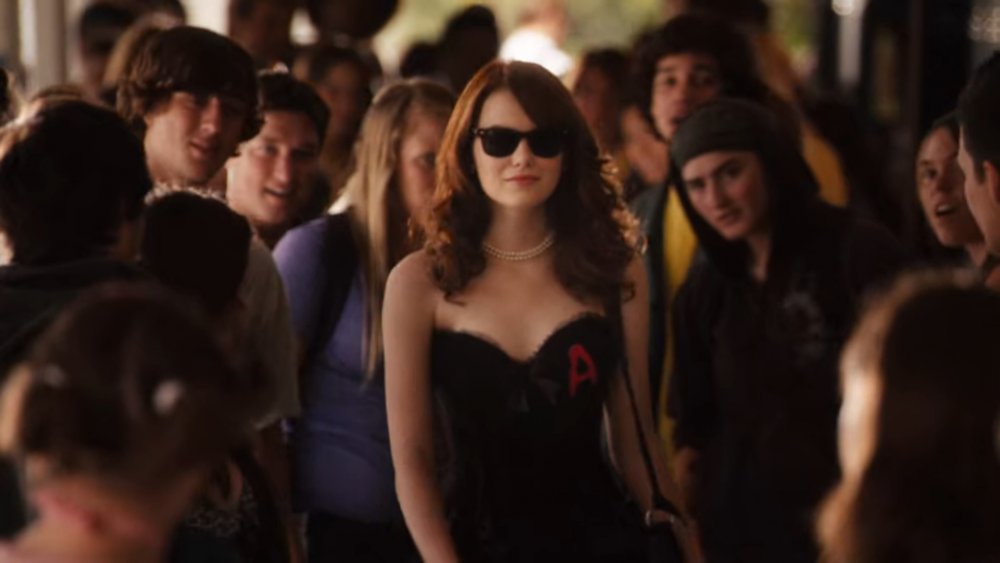 Screen Gems
Listen, 2020 has been a wild year, and sometimes you just need to log into Netflix and find some escapist entertainment. That could be a nervy Keanu Reeves starring thriller, or a gripping biographical drama, or just something that makes you laugh. A lot of Netflix viewers seem to be in the mood for the latter at the moment, as the current list of the top ten most-watched movies on the platform contains one of the best teen comedies of the 2010s.
Easy A was originally released in 2010 and quickly established itself as a financial success, a hit with critics, and a smart new addition to the "teen comedy vaguely inspired by a classic American novel" genre. The movie stars Emma Stone as Olive Penderghast, a high schooler who finds herself the topic of conversation after she tells a little white lie to a friend about losing her virginity. The rumors spiral out of control, and Olive is branded as promiscuous, which is ironic because she still has never had sex. Instead of running from the stigma, she decides to take a stand and make a point of not being shamed for her perceived promiscuity. In the process, she also must confront her actual feelings about her relationship to sex.
With an all-star supporting cast (Stanley Tucci! Patricia Clarkson! Lisa Kudrow! Fred Armisen! Amanda Bynes!) and a smart script, Easy A is a perfect slice of comedy goodness. There are enough poignant moments so that the film feels substantial, but the tone is light and the humor is uproarious. Here's what else you need to know about this high school comedy gem that has Netflix viewers watching in droves.
Easy A draws inspiration from one of the most famous American novels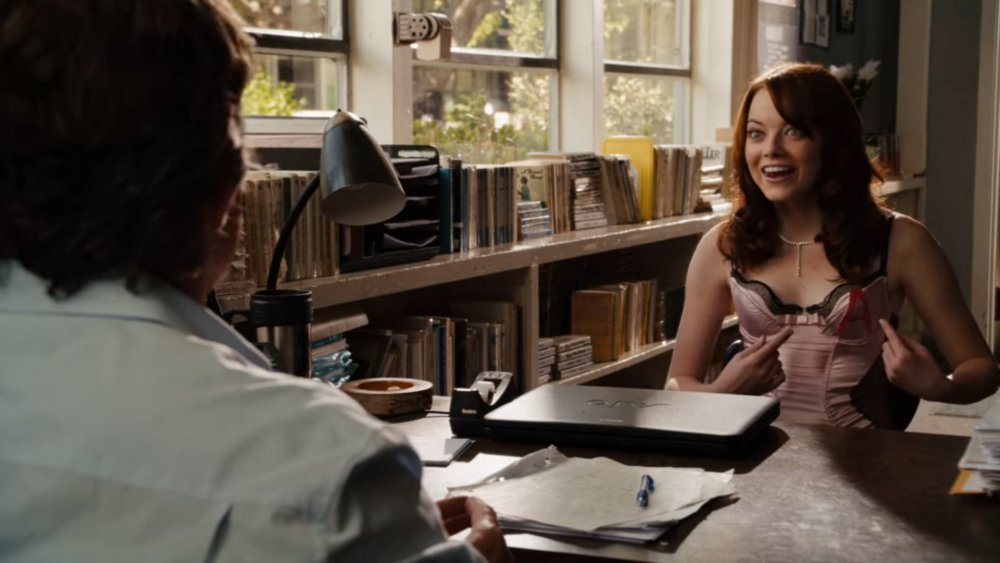 Screen Gems
If you paid attention in your high school literature class, you might notice some clear connections between Easy A and the 19th-century novel The Scarlet Letter by Nathaniel Hawthorne. Unlike Easy A's 21st century California setting, The Scarlet Letter takes place in a puritan colony in 17th century Massachusettes during the early days of European colonization of the Americas. However, despite their difference in setting, both works deal with themes of societal shaming of women.
Easy A makes no attempt to hide its The Scarlet Letter inspiration. Olive is reading the book for school during the events of the film, and when rumors that she's promiscuous begin to spread, she shows up at school in a bustier with a big "A" affixed to the front. This a direct nod to the novel, where protagonist Hester Prynne is punished for having a child out of wedlock by being forced to wear a scarlet "A" on her clothing as a way of branding her as an adulterer.
Easy A has some obvious parallels to The Scarlet Letter, but according to the film's director, the movie isn't so much a modern retelling as it is a story wherein a character sees similarities between the book and her own life. He told Film School Rejects, "Going back to The Scarlet Letter point, people are saying it's based off The Scarlet Letter. It's not even close. The reason why we did that is that, it's the same thing with references. We live our lives and we read a book or see a TV show that parallels our lives, we're going to talk about it."
Emma Stone's performance in Easy A launched her from supporting player to leading lady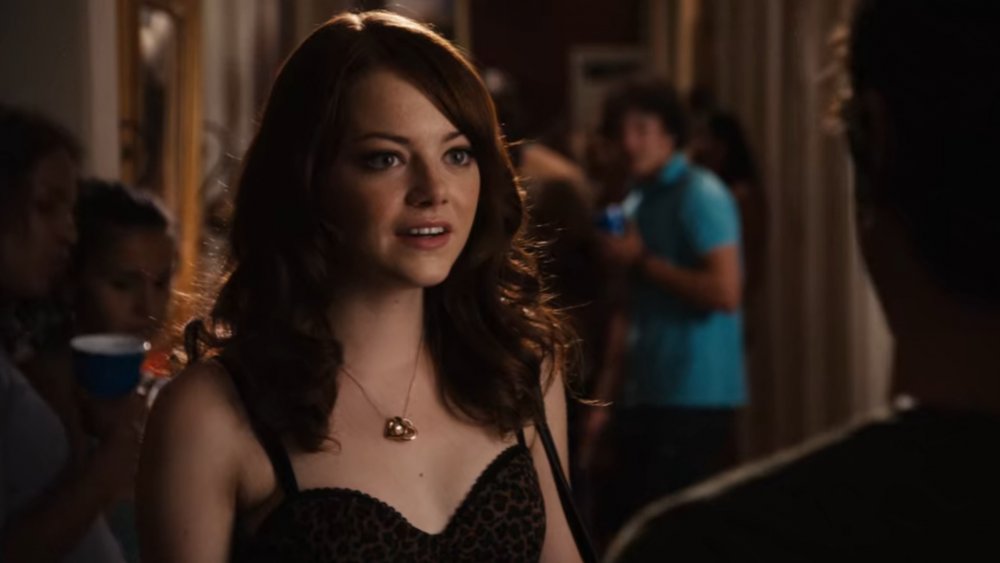 Screen Gems
Unless you haven't been to the movies at all in the last few years, you're likely very familiar with the filmography of Stone. The actress has established herself as one of the leading talents of her generation with an Oscar (and two additional nominations), a Golden Globe, and multiple Screen Actor's Guild awards to her name. But everyone's superstar career has to start somewhere, and for Stone, that place was Easy A.
Before Easy A, Stone had played supporting parts in comedies like Superbad, House Bunny, and Zombieland. The film was her first major leading role, and according to critics reviews at the time, she nailed it.
In his review for The Wall Street Journal, Joe Morgenstern said the film, "catapults Emma Stone into a higher place reserved for American actors who can handle elevated language with casually dazzling aplomb." Meanwhile, Claudia Puig of USA Today lavished praise on Stone's breakthrough performance, writing, "With her first starring role, she proves she can carry a movie and render screenwriter Bert V. Royal's dialogue thoroughly believable."
The performance also garnered Stone multiple awards nominations, including one for a Golden Globe, and other accolades, such as a spot on Time's list of the top 10 movie performances of 2010.
Despite all the accolades it brought her, Stone has since admitted that she's never actually seen the movie. During a conversation between herself and actor Timothée Chalamet for Variety, Stone revealed, "I haven't seen it ... But I went to a friends and family screening to see it and I had to get up and walk out. Who wants to watch themselves for that long?"
Stone might not want to watch herself for very long, but Netflix viewers clearly do! Now, we'll have to see if that Easy A spinoff film ever materializes ...