The Disturbing Keanu Reeves Thriller That's Killing It On Netflix
Keanu Reeves is killing it in 2020. In a year that's been far less than excellent, the beloved veteran actor has gifted us the third Bill and Ted movie, Bill and Ted Face the Music; shared exciting news about the fourth Matrix film, which he says is "ambitious"; continued being the internet's favorite wholesome movie star; and offered us all a fresh chance to watch an older thriller of his — that's now dominating Netflix.
The film in question is Knock Knock, written and directed by Hostel's Eli Roth. Released in 2015, Knock Knock didn't wow critics when it touched down in theaters, but things have totally changed for the film, which is currently burning up the charts on everyone's go-to streaming platform. As of November 5, 2020 — just a few days after Knock Knock arrived to Netflix's library alongside a wave of news additions on November 1 — the flick is the number-one most popular movie in the U.S.
The plot and inspiration behind Knock Knock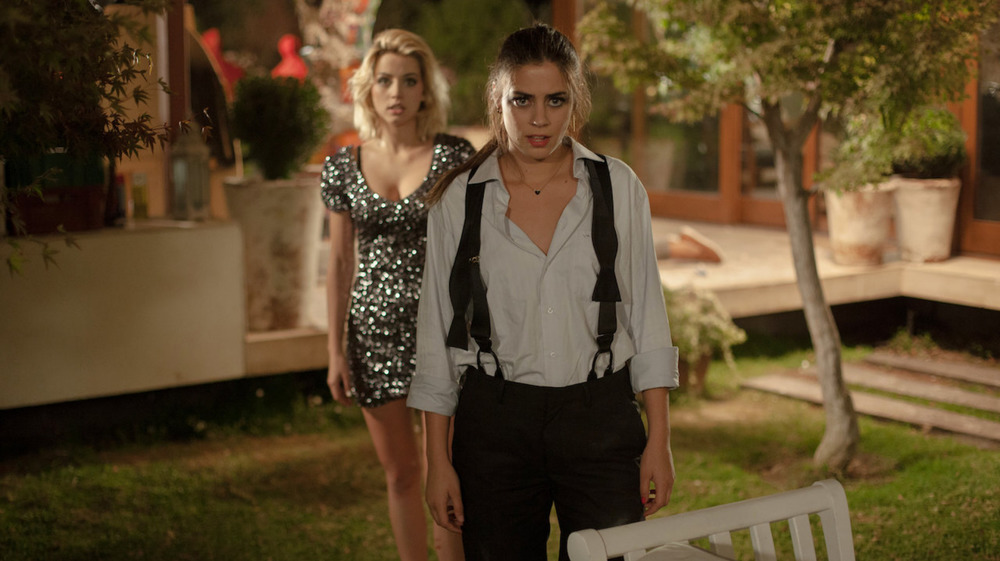 Netflix/Lionsgate
In Knock Knock, Reeves plays a happily married architect named Evan Webber. It's Father's Day weekend, and Evan has the house to himself for the holiday; loose ends at work and an important physical therapy appointment keep him home, while his wife Karen (Ignacia Allamand) and their kids head to the beach for a mini family vacation. Evan has a few tasks to keep him occupied and his dog, Monkey, to keep him company — but would have been a relatively uneventful weekend takes a dark turn when two young women (Lorenza Izzo and Knives Out star Ana de Armas) knock on Evan's front door. 
Genesis (Izzo) and Bel (de Armas) claim to be looking for a party in the neighborhood, and Evan invites them inside so they can hop on his computer and try to get in touch with the host of the party they're planning to attend. When the driver meant to take Genesis and Bel to the party arrives, the women sneak off into a bathroom inside Evan's home — clearly planning to stay there. Evan makes an attempt to kick the women out of his house, but they begin seducing him. When Evan eventually gives in, he realizes he's living through a nightmare.
If the basic premise of Knock Knock sounds familiar, it's because the feature is a modern adaptation of the 1977 film Death Game. Similar to its remake, Death Game stumbled at the box office and received poor reviews from the critics, but over the years has acquired a growing fan base. That included Knock Knock director Roth, who revealed to Collider in August 2015 that he "wanted to do kind of an updated version" of a '70s erotic thriller. He first looked to films from other directors, but when he came across Death Game, it was too good to resist.
"I really wanted to do a film like a modern Fatal Attraction that felt like something that was a tense psychosexual thriller, like the old films that [Roman] Polanski used to make or Paul Verhoeven," Roth explained. "But we just felt like the story and the setup were so good that we could do an amazing update of it."
Netflix subscribers have a lot of opinions about Knock Knock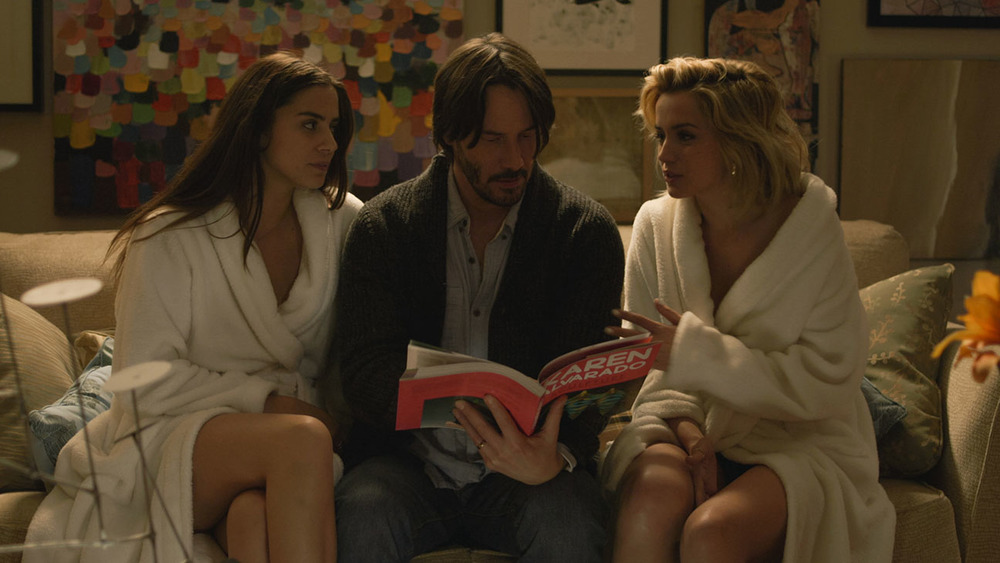 Netflix/Lionsgate
At the time of Knock Knock's release in October 2015, critics knocked it down as "repetitive" and "campy." But now, five years later, it seems that some Netflix subscribers are drawn to Knock Knock for just how over-the-top it is. "Mannnnn if yall want a movie suggestion PLEASE go watch Knock Knock on netflix," one Twitter user wrote. Another added, "The movie Knock Knock on Netflix... just watch it."
Still, some have harsher things to say about Knock Knock — specifically that its ending isn't satisfying, that it's a rollercoaster of anxiety throughout, and that it's super messed-up overall — so it isn't as if everyone who watched the film on Netflix liked it.
On the flip side, another Twitter user praised Knock Knock as being the sort of film any horror-lover should watch. "Horror twitter: they added knock, knock (2015) to netflix. it's eli roth's best work (imo), and one of ana de armas' earliest english speaking roles. she also basically set the tone for the whole movie that everyone needed to bring their range with them," tweeted user @tashakaminsky.
At the end of the day, there has to be a reason why Knock Knock is the current most popular movie on Netflix in the States. This streaming success should comes as no surprise to fans of Reeves, who managed to snag a summer hit with Bill & Ted Face the Music and who is bound to break the box office with upcoming sequels to John Wick and The Matrix in production. Reeves' costars have also scored major box office wins over the last year, with Izzo playing Leonardo DiCaprio's Italian starlet wife in Once Upon a Time in Hollywood and de Armas starring as murder suspect Marta in Knives Out.
Even though 2020 has been a mess, at least we have some more Keanu to help us escape.