Easy A Spin-Off In Development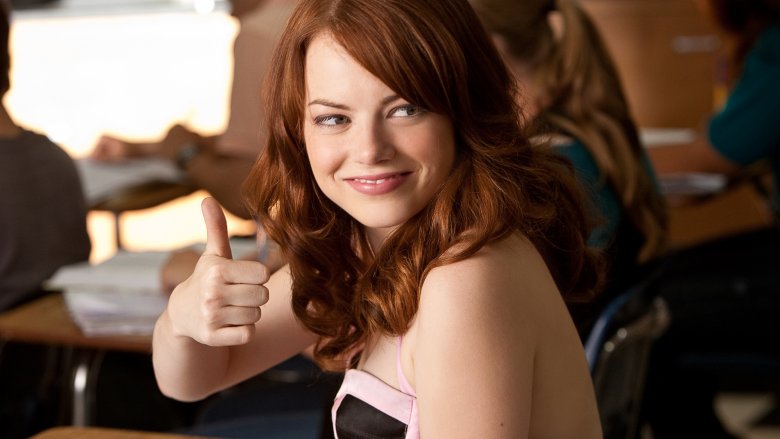 Just when you finally got the bouncy lyrics of Natasha Bedingfield's "Pocketful of Sunshine" out of your head after a decade of trying, Screen Gems announces that it's taking viewers back to Ojai North High School and the world of Easy A. 
Ten years after the Emma Stone-starring coming-of-age comedy hit theaters, where it became a box office success and a hit with audiences, the studio is getting development going on a spin-off to the original flick. Variety confirms that Bert Royal, who wrote Easy A, is attached to write and direct the yet-untitled spin-off. The upcoming film marks his feature directorial debut. 
Hardly anything is known about the Easy A spin-off, though insiders have told Variety that the pic will "explore many of the same themes" as its predecessor and will take place at Ojai North High School where "Olive Penderghast" became the name on every student and teacher's lips. Sadly, we can't expect Stone to make a return as a now-grown-up Olive or even as a different character altogether, since the spin-off is said to center around new students and faculty members.  
Sources with knowledge of the project have indicated that things are very much in the early stages of development, with Royal having not yet completed the screenplay as of this writing. Royal infused the first Easy A film with plenty of humor, quotable one-liners, relatable moments, and scenes that still play in our heads (don't even get us started on the iconic hallway walk punctuated with that impeccable, "Oooh, burn!"). That said, his story for the spin-off movie should be just as enjoyable — if time has been kind to his creativity, that is. 
It stands to reason that where Easy A saw Stone's Olive reinvent herself and take control over a rumor after reading The Scarlet Letter, perhaps the spin-off will follow another student as she uses her class readings to help her navigate the strange and unique social hierarchy of high school. There's a market for stories like that – Easy A brought in $75 million against an $8 million budget — and there has been a strong desire for coming-of-age films focused on female characters in recent years. Following in the footsteps of this year's critically adored but seriously underappreciated Booksmart and continuing what the original film set up, the Easy A spin-off could help kick off a new wave of witty teen films that breaks up the standard cinematic slate of superhero movies, sequels, reboots, and remakes. 
Or it could go out with a fizzle instead of a bang, and then we'd feel quite silly. We're hoping the former ends up true. 
Check back for updates on the Easy A spin-off as more information becomes available.