What You Don't Know About Patsy's Pies In Shameless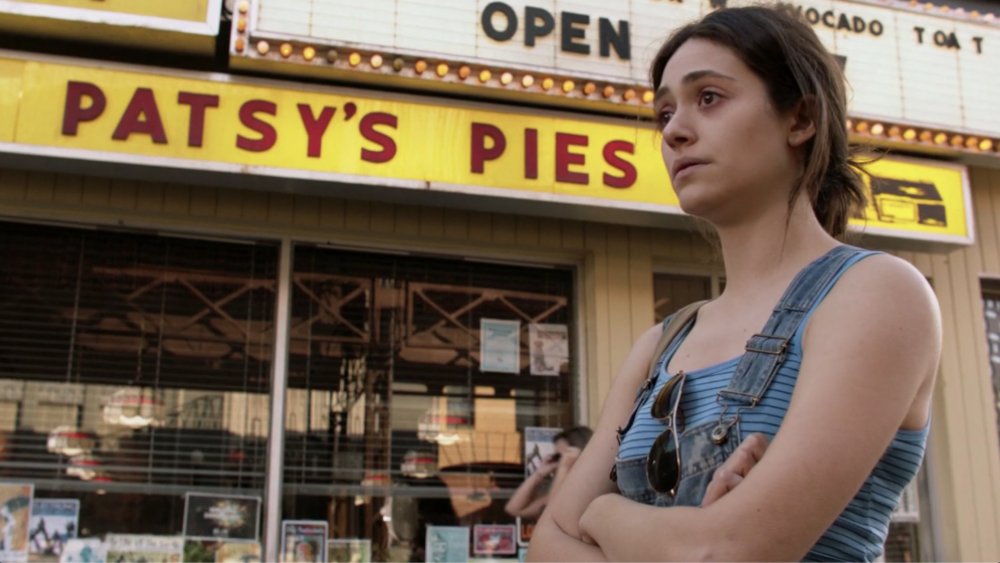 Showtime
Hard as it might be to believe, but when the hilarious and heartbreaking family dramedy known as Shameless ends its run on Showtime, it will have aired a whopping 134-episodes over 11 full seasons. While common knowledge would seem to dictate that the members of the Gallagher Clan will leave the series in dramatically different places (emotionally, economically, and possibly even physically) than they began, well, there's no guarantee of that. This is the Gallaghers, after all. And if 10 seasons of Shameless shenanigans have taught us anything, it's that fortunes tend to turn on a dime for Chicago's notorious band of South Side swindlers. Those pendulum-like swings of fate are certain to continue in the upcoming 11th season, and they may well lead one of more of the crew out of the Windy City for good.
As is the case with most long-running shows, character departures have become a regular part of the Shameless narrative. While series producers have miraculously kept the core of the original cast largely in tact, they've seen some major departures too, with regulars like Joan Cusack, Justin Chatwin, Emma Greenwell, and Dermot Mulroney having left the Shameless ensemble. No departure was bigger than that of series star Emmy Rossum, though, who shocked the television world by walking away from Shameless just a season after winning an equal pay dispute with her Shameless bosses.
While Rossum's exit remains the most surprising in Shameless history, the series actually lost one of its most recognizable locations the same season. And the loss of Patsy's Pies has been noted by many long-time fans, with a savvy few taking to Reddit to drop intriguing details about the diner that once featured so prominently in the Gallagher's lives.
Patsy's Pies only exists on the Warner Bros. backlot
For most movies and TV shows, location is often key in establishing a semblance of authenticity. And as far as authenticity goes, few shows have ever felt quite as naturally in their place as Shameless, which has made insanely great use of Chicago's neighborhoods, locations, and working-class energy over the years. 
But even as uniquely Chicago as Patsy's Pies might feel, it actually isn't among the real locations utilized by Shameless' production. In fact, the facade of the building you've seen so many times in the series isn't even located in Chicago. Rather, it exists solely on the Warner Bros. backlot in Los Angeles, a fact confirmed by Redditor faargo, who responded to questions about whether Patsy's was a real restaurant by stating, "No, this is just a practical set in a backlot at Warner Bros."
Yep, the Patsy's facade is completely fake, and was featured in Warner Bros. backlot tours when it was still being used by the show, even making a notable appearance in a studio-backed behind-the-scenes video back 2017. As it happens, Patsy's first appearance in Shameless wasn't even the first time that facade was used, with faargo pointing out it doubled as the convenient store Ian (Cameron Monaghan) worked at in the show's first couple of seasons. "It was also used as the Kash & Grab in the early seasons." 
Patsy's Pies is modeled after a real Chicago diner
While Patsy's Pies itself is a completely fabricated business, it seems it was actually inspired by one of Chicago's more prominent greasy spoons, the Golden House Restaurant & Pancake House. That little nugget dropped when mwp19921 noted the similarities, "I think it was modeled after the Golden House restaurant in Uptown. The exterior and interior are almost identical." 
The fact was confirmed by faargo, who added, "You are correct! After knowing the diner would become a recurring location in the show, the backlot set was remolded to resemble the actual restaurant in Chicago."
Located in the heart of Uptown Chicago, the Golden House is actually nowhere near the South Side, so authenticity remains very much in question there. That being said, one look at the restaurant on Yelp will tell you Shameless' production crew did a marvelous job mimicking the interior and exterior of the place, right down to the old movie marquee denoting specials of the day.
As noted, the backlot facade apparently wasn't actually constructed until season 5 of Shameless. Per faargo, that means the first time we see Patsy's in the season 4 finale, the Shameless crew was indeed filming at the real Golden House Restaurant. "They filmed at the actual restaurant when Fiona goes there in the Season 4 finale."
That restaurant is nowhere near Chicago's iconic elevated subway Loop though
Showtime
It's safe to assume that, over its lengthy run on Showtime, a significant portion of Shameless viewership came from folks who don't live in Chicago, and may never have even set foot inside its city limits. While that fact makes it a little easier for producers to cheat locations in relation to where their own story is set, true blue Chicagoans are quick to point out some of these geographical falsehoods. 
Most importantly, they note that Golden House Restaurant and Pancake House is indeed located in Uptown Chicago. That means it's a long way away from Shameless' South Side setting. And as such, its considerably further north of Chicago's iconic elevated train loop. While that wouldn't seem to be much of an issue, presumed Chicagoan mwp1992 points out it greatly complicates all those exteriors shots where the elevated train tracks are clearly visible. "I used to always laugh when they left the restaurant and you can see the elevated tracks across the street. Uptown is almost 5 miles north of the Loop."
Again, that little geographical gaffe would hardly be noticeable to anyone who hasn't spent a bit of time in Chicago, but it'll likely earn a few chuckles from folks who call the Windy City home.