The Real Reason Sean Connery Stopped Playing James Bond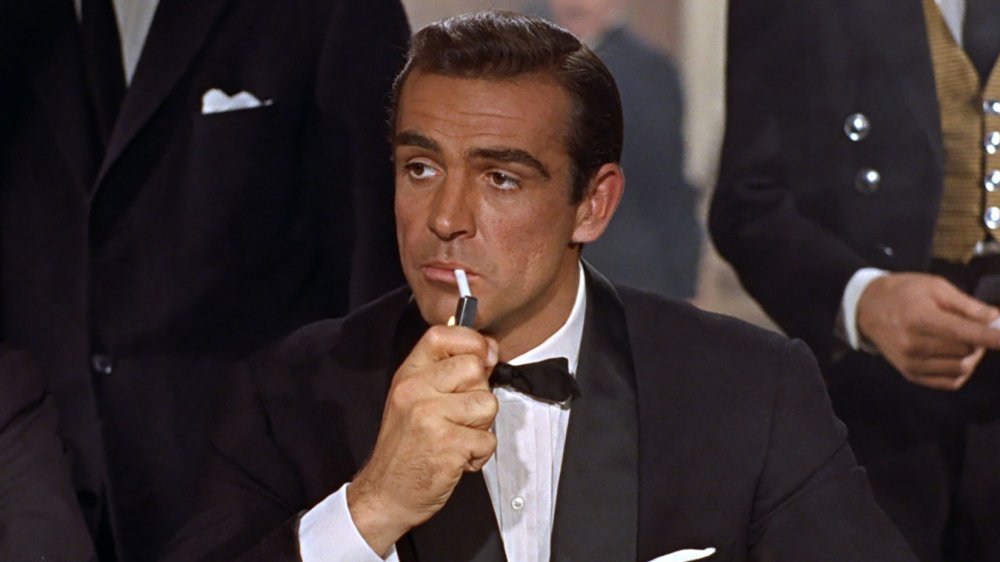 MGM
The first time the world saw a cinematic adaptation of Bond — James Bond — the charismatic Scottish actor Sir Sean Connery was the man in the center of the action. As the titular super-spy, created in 1953 by novelist Ian Fleming, Connery captivated countless movie-goers and raked in millions of dollars at the box office. Following his debut as 007 in 1962's Dr. No, Connery went on to reprise the role in 1963's From Russia with Love, 1964's Goldfinger, 1965's Thunderball, and 1967's You Only Live Twice. 
Two years later, the next entry into the James Bond franchise had a new man leading the way: George Lazenby, who brought to life double-0 in 1969's On Her Majesty's Secret Service. But Lazenby's tenure as Bond didn't last long. Connery would return to the role of Bond in 1971's Diamonds Are Forever, and then again over a decade later in 1983's Never Say Never Again — a movie not backed by original production company Eon Productions, and thus considered officially non-canonical.
Tragically, Connery passed away at the age of 90 on October 31, 2020. As the world mourns the loss of the film legend, many are looking back upon his filmography — particularly the time he spent portraying the agent who likes things shaken and not stirred. Why did he pass the proverbial martini glass on to Lazenby, only to return for Diamonds Are Forever, then bid farewell to the core franchise? Here's the real reason why Sean Connery stopped playing James Bond.
Sean Connery grew tired of Bond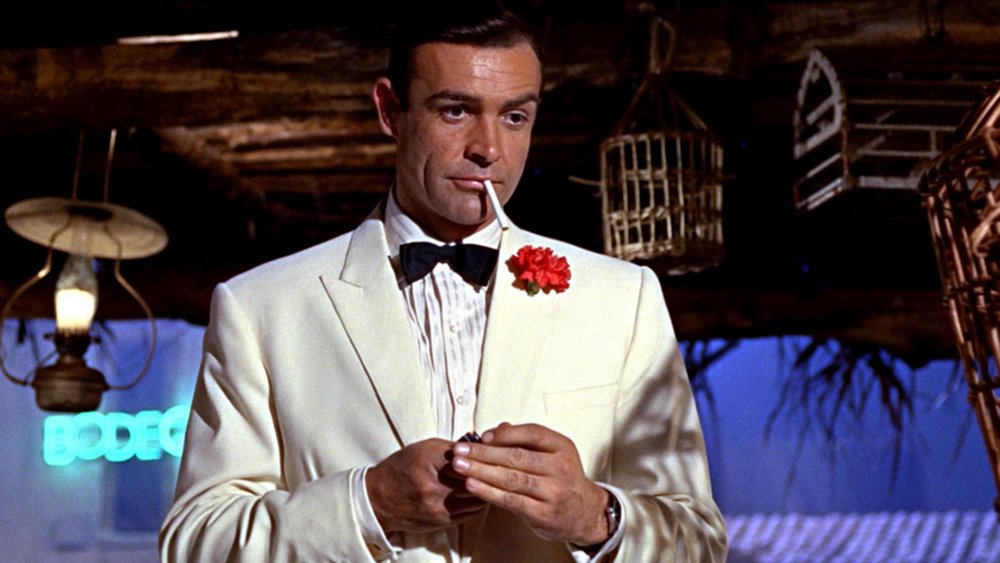 MGM
After portraying James Bond for so many years, Connery eventually grew tired of him — for a few reasons.
As detailed by Vanity Fair, in an interview held in 1964 (ahead of the release of Goldfinger), the actor offered up some choice words when describing Bond. "Remove the exotic touches and what have you got?" Connery said. "A dull, prosaic English policeman." It should be noted that Connery could have been purposely downplaying Bond's mystique in an act of humility, but many have taken those remarks as a sign he didn't think very highly of the character — at least at the time. November of that year found Connery singing a different song, telling The New York Times that he'd have an "everlasting" gratitude for James Bond.
However, a gear switched somewhere between then and November 1965, when Connery got even more candid about his feelings towards the character. "Bond's been good to me, so I shouldn't knock him," Connery reportedly told an interviewer before confessing that he was "fed up to here with the whole Bond bit." He even reportedly once said, "I have always hated that damned James Bond. I'd like to kill him" (via The Guardian).
Salary disputes reportedly factored in to Connery's unhappiness as well, as did tense discussions with executives about being properly compensated for his work in the films, according to Connery's comments during a 1971 interview with The Guardian. Adding fuel to the fire was the falling-out Connery had with producers Harry Saltzman and Albert "Cubby" R. Broccoli, again over Connery's salary.
Yet another reason Connery walked away from Bond? He was tired of the franchise not feeling grounded. "One of the reasons I stopped doing it was because I got really fed up with the space stuff and special effects. I just found it getting more and more influential in the movies," he said in 2005 (via The Irish Examiner).
One of Connery's close friends, fellow film icon Michael Caine, shed light on Connery's thoughts about Bond — revealing that the actor found it "upsetting" that so many people knew him as Bond and nothing more.
"If you were his friend in these early days, you didn't raise the subject of Bond. He was, and is, a much better actor than just playing James Bond, but he became synonymous with Bond. He'd be walking down the street and people would say, 'Look, there's James Bond,'" Caine once said (via The Wall Street Journal). "That was particularly upsetting to him."
As film fans know, Connery is indeed much more than James Bond. His diverse filmography spanned decades and featured roles in works like Murder on the Orient Express, The Man Who Would Be King, The Untouchables, Indiana Jones and the Last Crusade, The Hunt for Red October, Highlander, Highlander II: The Quickening, Rising Sun, Dragonheart, The League of Extraordinary Gentlemen, and many more.
He may be gone, but Sir Sean Connery will never be forgotten.