Why Gor Karesh From The Mandalorian Sounds So Familiar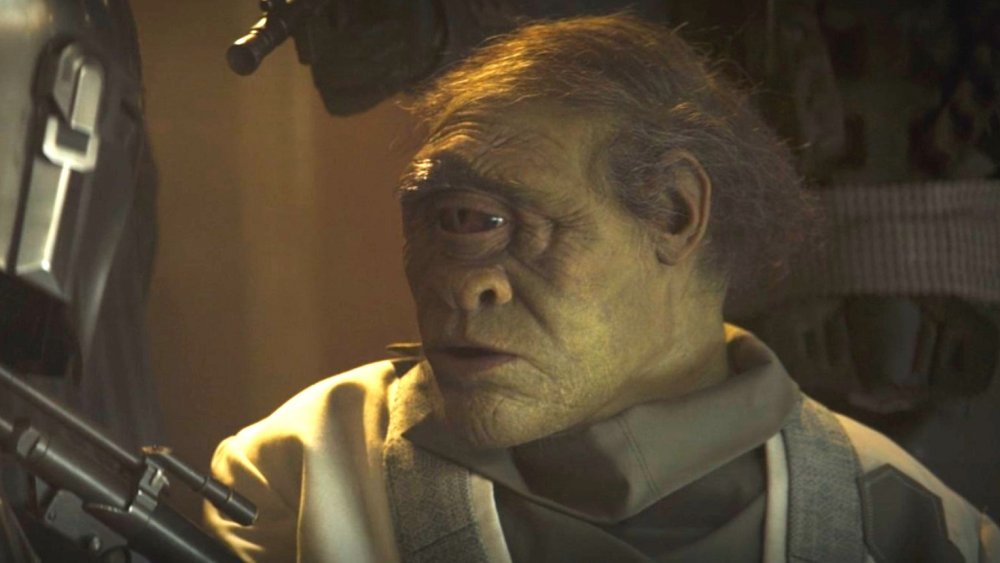 Disney/Lucasfilm
The second season of The Mandalorian has landed on Disney+. As audiences navigate through the haze of excitement surrounding a new series of space western adventures, let's take a moment to consider the important questions. Questions like, "Who was that one-eyed guy at the beginning?"
Quick recap: in the opening scene of season 2's premiere episode, Mando and his likely irreparably traumatized young ward visit a shadowy underground fight club. The aliens in The Mandalorian are varied and impressive. There's a Twi'lek at the door. There's a Zabrak chilling ringside. A pair of Gamorreans rock and sock one another in the center of the arena.
But the star of the scene is undoubtedly Gor Karesh, the cycloptic boss man that Mando goes to meet. He's a member of the Abyssin species, a race first spotted in the Mos Eisley cantina in A New Hope, distinguished by their monocular facial setup and ability to heal from almost any injury. That might come in handy — after Mando refuses to swap his trademark Mandalorian beskar armor for information, Gor sets his goons on our hero, only to watch his staff get taken out one by one. A brief chase ends with Gor hanging upside down from a streetlight like so many low-level Spider-Man villains before him, as ominous red eyes close in from the shadows. He's scared. He's enraged. And more than anything else, he is, undeniably, Luigi.
John Leguizamo messed with the wrong Mandalorian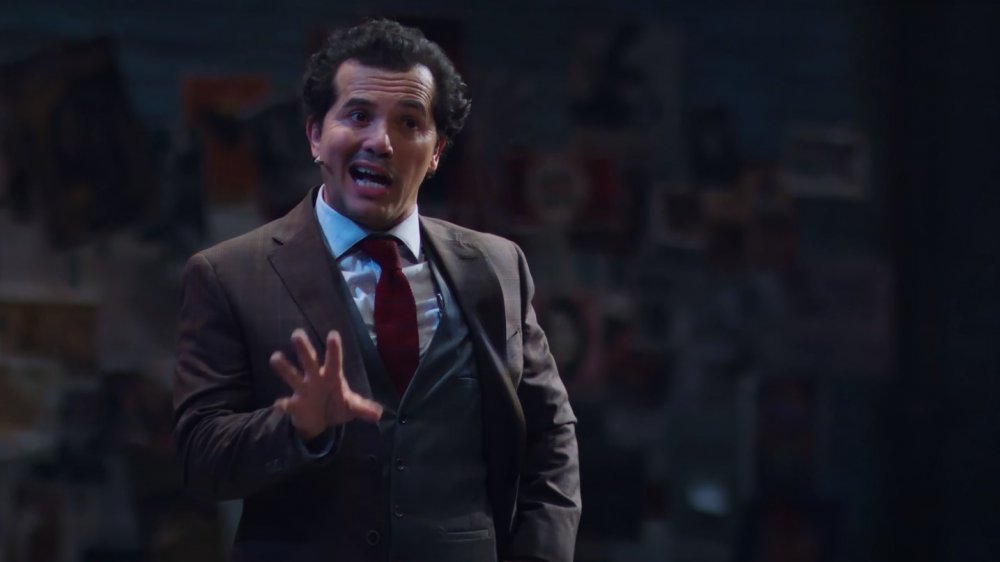 Netflix
Star Wars has become infamous for its celebrity cameos in the last few years, what with Daniel Craig and Jason Sudeikis joining the ranks of the stormtroopers and Simon Pegg taking on a role as a living, man-sized big toe. Naturally, a semi-CGI cyclops gangster is prime real estate for a sneaky movie star appearance.
The voice of Gor Karesh was provided by none other than certified non-fan of Steven Seagal John Leguizamo, a.k.a. Sid the Sloth from Ice Age, Tybalt in Romeo + Juliet, and most importantly, Luigi Mario in 1993's live action adaptation of Super Mario Bros. That's all damning with faint praise — the guy has more than 150 acting credits on his IMDb page. He rose to stardom in the early '90s thanks in large part to his role in Carlito's Way, and landed a Golden Globe nomination for his work in To Wong Foo, Thanks For Everything! Julie Newmar.
These early successes boded well for Leguizamo's career. The high-profile 1993 failure of the virtually unwatchable Super Mario Bros. aside, he went on to land roles on some of the hottest TV shows of the decade including medical drama ER and childhood staple Sesame Street, on which Leguizamo gave voice to the iconic Captain Vegetable.
Ever the restless performer, Leguizamo also took time during this phase of his career to get back to his stage roots, starring in the 1991 off-Broadway production Mambo Mouth, the 1998 Broadway run of his own one-man show Freak (later directed by Spike Lee for HBO), and the 2001 Broadway debut of his second autobiographical stage play Sexaholix... A Love Story. If you're one of those high-brow Mandalorian aficionados, it's certainly possible you recognize Leguizamo from one of those performances, as well.
It was only a matter of time before John Leguizamo joined the galaxy far, far away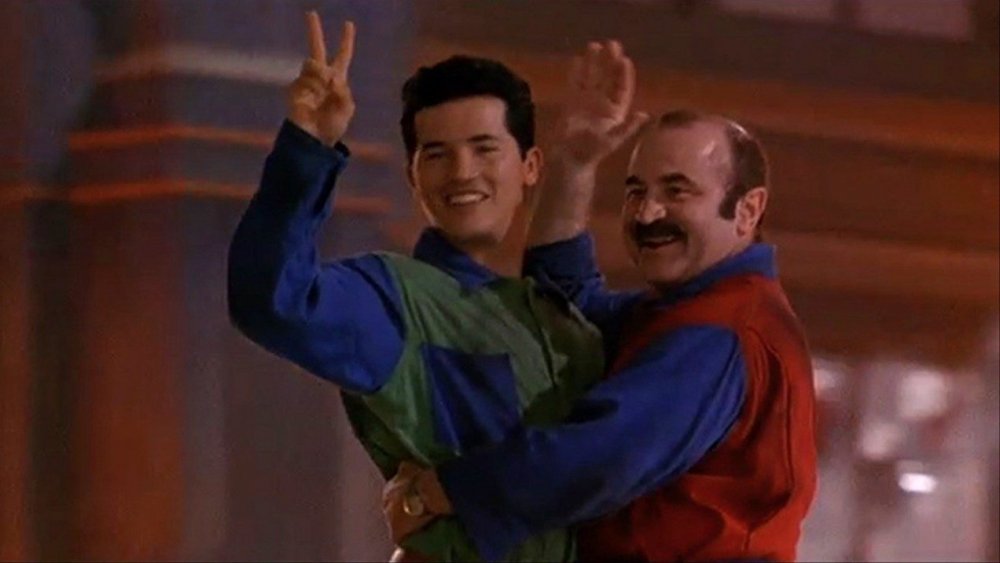 Buena Vista Pictures
Although his recent Mandalorian appearance as Gor the wooly Abyssin marks Leguizamo's debut in the ever expanding Star Wars universe, the actor has been a mainstay of genre programming for some time, so it was really only a matter of time. The storied performer and Freak author was making video game movies before video game movies were really a thing (or any good, for that matter). He played Violator in 1997's gritty adaptation of Image Comics' transgressive Spawn series, and portrayed the O.G. wish-granting genie of the lamp in 2000's Arabian Nights miniseries. Aside from lending his voice to just about every extant manifestation of the oddly fecund Ice Age CG animated franchise, he also voiced Jack Sprat on three episodes of Shrek spin-off Puss in Boots. The man clearly has no problem applying his talents to anthropomorphic creatures of every shape and size, so a towering space cyclops really isn't too far out of his wheelhouse. 
In recent years, he's been seen in the critically acclaimed miniseries Waco, for which he was nominated for a Daytime Emmy, and in the John Wick franchise. On top of that, he's continued his voice acting work on animated series like BoJack Horseman (playing Mr. Buenaventura in the episode "Planned Obsolescence") and Elena of Avalor (in the role of Tziloco) over the last few years.
While the upcoming guest cast of The Mandalorian is being kept under wraps, it seems like a sure bet that we'll see more celebrity cameos during the show's sophomore season. Be sure to check back for the latest news on the stars behind the aliens in season 2 of the series.