The Black Widow Scene That Had Its Lead Actresses Sweating Bullets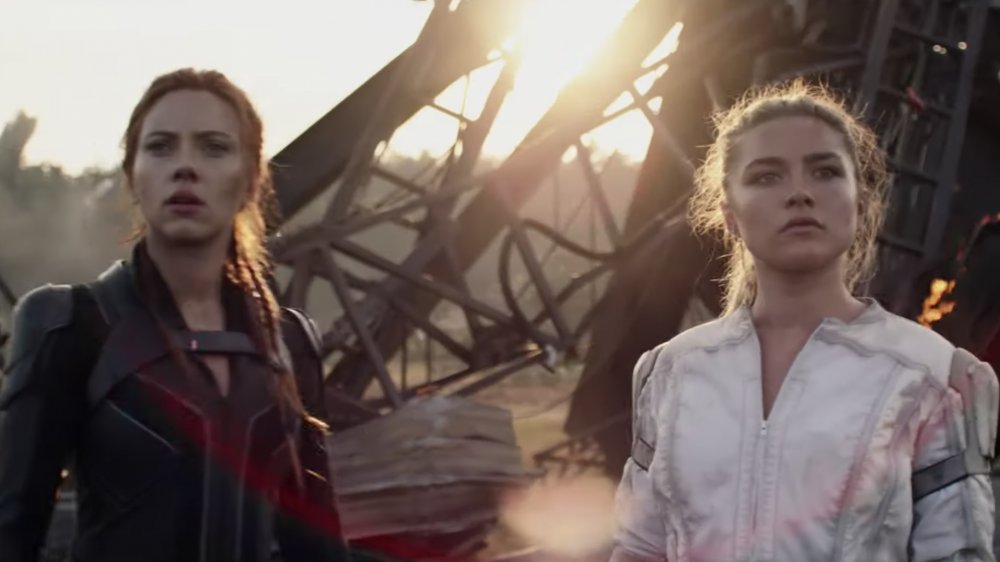 Disney/Marvel Studios
Black Widow, the long-awaited standalone film for Marvel's lone female avenger, put its lead actresses through the wringer.
Portraying some of the world's deadliest assassins was never going to be easy, and everyone from The Eternals Kumail Nanjiani to the entire Avengers: Infinity War cast can attest to how physically taxing playing an MCU superhero can be. But according to a recent Marie Claire interview, Black Widow stars Scarlett Johansson and Florence Pugh found themselves pushed to their limits while filming a scene in the upcoming film.
The sequence in question involves Johansson's Natasha Romanoff and Pugh's Yelena Belova as they both race across a building rooftop in Budapest. For audiences, the scene's backdrop will be wintery bluster, but in actuality, it was a sweltering summer day that had both actresses sweating bullets as they moved through the intense motions of one of the film's biggest stunts. While Black Widow will be full of explosive sequences, this one will require Johansson's heroine and her sister-figure and fellow Red Room-trained assassin to leap from the side of a building — all while a helicopter hovers overhead.
As if that wasn't enough, the scene — which will reportedly be just a few seconds worth of footage in the film — required the actresses to perform hours worth of work under a blazing sun in less than ideal attire. Wearing what Marie Claire dubbed the "antithesis of weather-appropriate gear," Johansson and Pugh executed the stunt. Their wardrobe consisted of leather boots and jackets, with Johansson additionally donning a wig and fur hat, and both hooked up to their burdensome stunt gear. That included borderline strangulating safety harnesses and "little stunt gel pads" designed to cushion the actresses' falls. Worn under their costumes, the pads frequently slipped from their hips to their ankles due to excessive sweating.
The Black Widow scene was challenging on two levels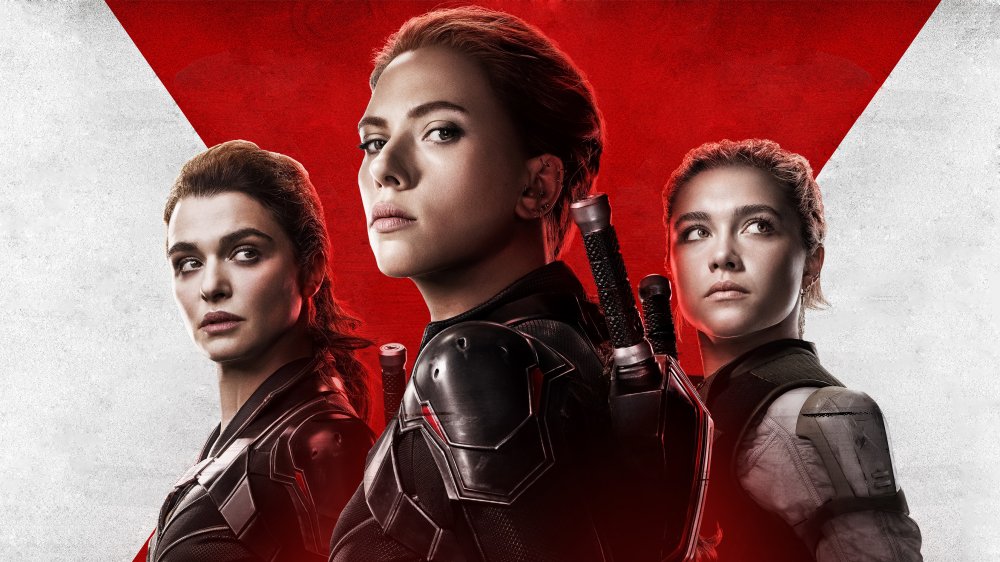 Disney/Marvel Studios
The sequence was demanding, and in light of temperatures, certainly uncomfortable — a reality made all the more clear by director Cate Shortland's drastically different get-up. According to Marie Claire, the day the cast shot this intensive scene, Shortland appeared on set donning a summer dress and brimmed hat, where she teased her broiling stars, "Oh, isn't it just lovely out today?"
On the surface it's just a cute quip, but it also points to how far the MCU has come. Before Captain Marvel, Black Widow was the go-to female character fans were clamoring to see head up Marvel's first female-led standalone. Then, following Natasha's death in Avengers: Infinity War, it seemed the character might not get a standalone at all. But Black Widow, which is set before the events of the game-changing fourth Avengers film, will see the great assassin not only top-lining her own film, but passing the baton to Pugh's potential MCU breakout in a film directed by a woman. 
The scene — and the level of commitment the director and both actresses put forth to do it — is emblematic of a movie that is putting in real work and a whole lot of sweat to increase gender representation in the MCU and Hollywood.
"I don't want to candy-coat anything because it's a challenge in a male-dominated industry to tell a woman's story from the perspective of a female director and focus on the heart of something that is inherently female," Johansson told Marie Claire about the film's significance and impact. 
Fans will get to see the fruits of Johnannson, Pugh, and Shortland's efforts on this stunt and more when the film arrives in theaters in May 2021.