How Scarlett Johansson And Florence Pugh Really Felt About Black Widow Getting Delayed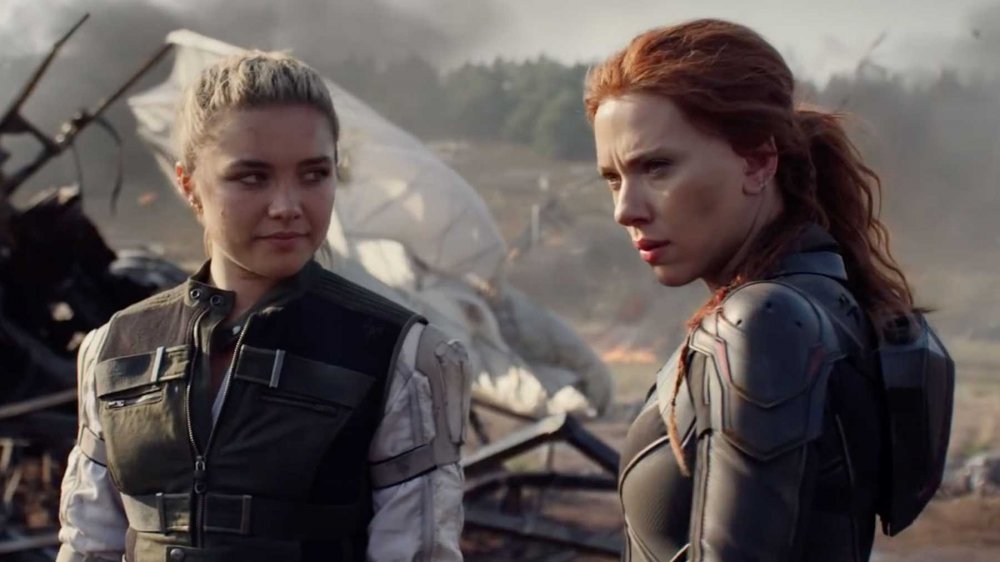 Disney/Marvel Studios
Marvel's Black Widow was originally set to premiere in U.S. theaters on May 1, 2020, but like so many films this year, the date was pushed back thanks to that pesky COVID pandemic. The first announcement pushed the film's release back to November of this year, but Disney recognized in September that they would have to delay it again to May 7, 2021, leaving fans with a full year to painfully anticipate seeing Scarlett Johansson's acrobatic butt-kicking in the character's first solo film.
Of course, fans weren't the only ones sweating the shift. Everyone who worked on the film, including stars Scarlet Johansson and Florence Pugh, has felt some sense of suspense about the film's future and eventual box office numbers. From a financial point of view, this especially makes sense for these two main actors. Scarlet Johansson was, according to Forbes, the highest-paid actress of 2019 thanks to her role in the Marvel Cinematic Universe, and Black Widow will only increase her popularity and wealth. As for Pugh, this marks her entry to the franchise, and depending on how fans receive the character, she could potentially score more screen time in future Marvel productions. But that's just the financial side of things. The real question is, how did these Black Widow actors feel when they heard about the delay?
How Johansson and Pugh really feel about the Black Widow delay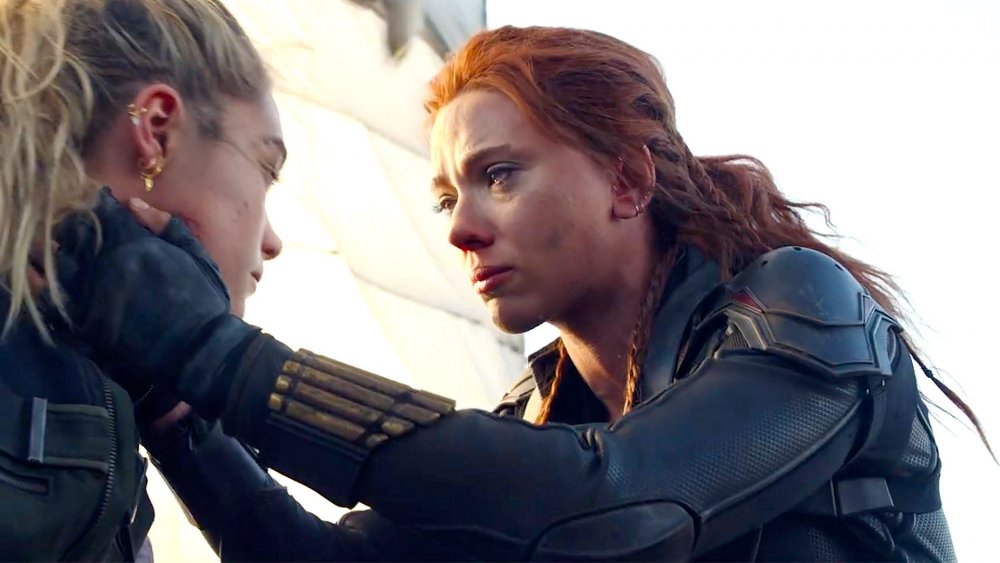 Disney/Marvel Studios
As it turns out, both Johansson and Pugh were pretty understanding about the whole ordeal and showed a wholesome concern for their fans, but that doesn't mean they liked having to wait for the film's release date. Referring to her fellow Black Widow producers, Johansson told Marie Claire, "We're all eager to get the movie out, but more important than anything, everybody wants the experience to feel safe, to have people be able to really feel confident about sitting in an enclosed theater."
Marvel newcomer Florence Pugh was on the conference call with the publication as well, ready to open up about her feelings on the subject. For Pugh, Black Widow's release postponement wasn't much of a shock. "I think I probably had a hunch," Pugh admitted. "It seemed to me all the fun of summer, and everybody being outside and finally having some relaxed rules, caught up with everyone, obviously, because of the virus. I'm sad that people don't get to watch it for another half year, but I wasn't majorly upset because it's important to look after people right now."
This Marvel production represents a much-needed step for representation in the MCU, revolving around complex women and with an equally strong woman at the helm in director Cate Shortland. It's a bummer for fans and stars alike that such a significant female-centric project has to be postponed, but we won't have to wait forever. And Johansson and Pugh's feelings about it — specifically their concern for moviegoers — can serve as a heartwarming reassurance to eager fans.