Trump Unloads On New Borat Movie And Sacha Baron Cohen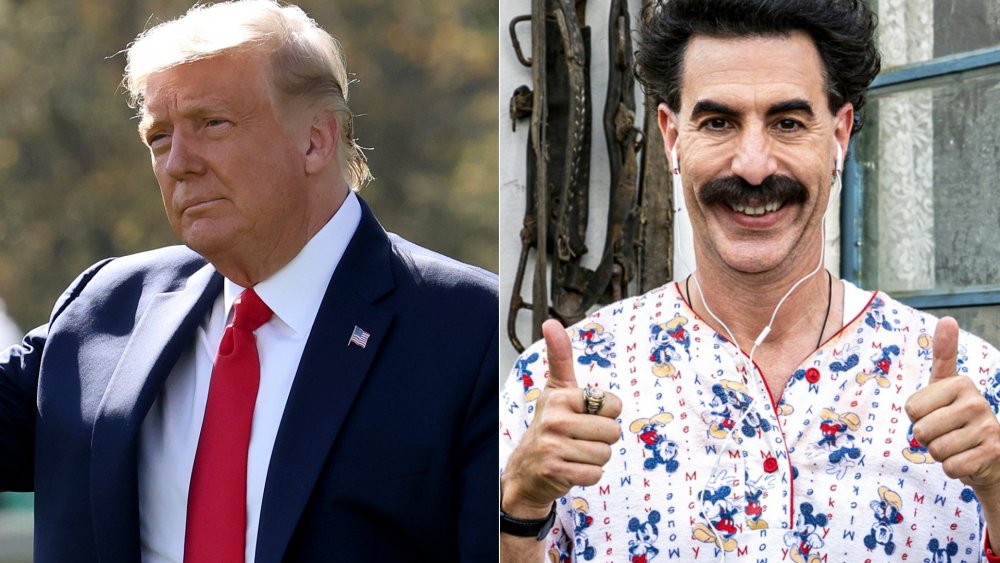 Win Mcnamee/Getty Images, Amazon Studios
President Donald Trump isn't impressed with the new Borat movie, or with its star, Sacha Baron Cohen.
As you're probably aware, Borat Subsequent Moviefilm: Delivery of Prodigious Bribe to American Regime for Make Benefit Once Glorious Nation of Kazakhstan features Trump's advisor Rudy Giuliani accompanying comedian Maria Bakalova, who stars as Borat's daughter, into a hotel bedroom after an interview. Giuliani is then seen lying on the bed and allegedly putting his hands down his pants. In an episode of his radio show, the former New York mayor blasted Cohen, and claimed that he was tucking his shirt in after having his mic removed, according to USA Today.
On Friday, Oct. 23, reporters asked Trump about the incident, and he made it clear that he has no patience for Cohen's brand of comedy. "I don't know what happened," Trump said, as reported by Deadline. "But years ago, you know, he tried to scam me. And I was the only one who said no way. That's a phony guy. And I don't find him funny. I don't know anything about him other than he tried to scam me. He came in as a BBC – British broadcasting anchor." Trump added that as he is concerned Cohen is a "creep."
It's not surprising that the president isn't a fan of Borat 2. After all, the movie takes aim at his supporters, and appears to demonstrate that there are lax security measures at the White House. At one point in the movie, Bakalova, who was pretending to shadow One America News Network's Chanel Rion, seems to enter the White House without either going through security or being tested for COVID-19.
Trump previously sat down with Cohen's Ali G for an uncomfortable interview in 2003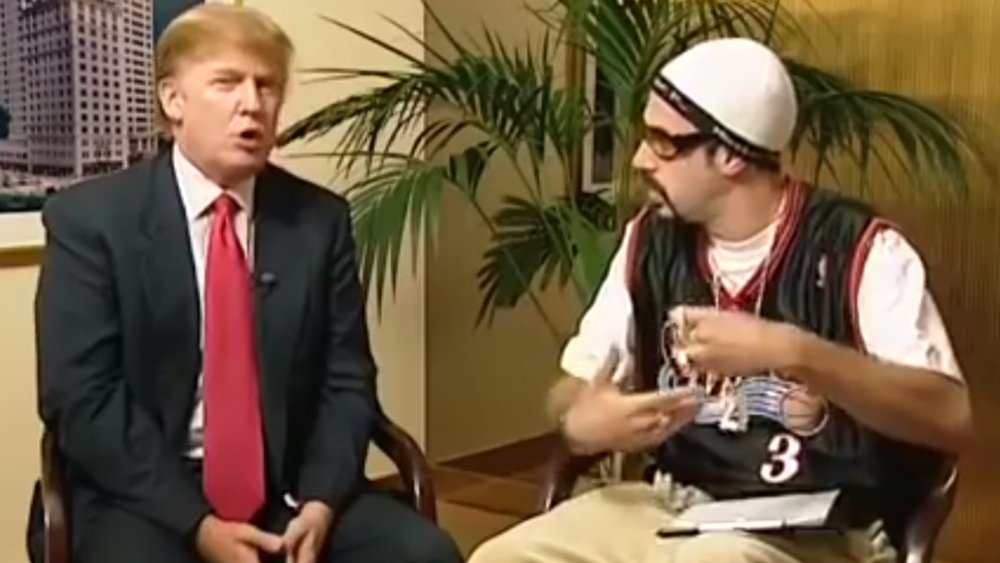 HBO
While Trump wasn't duped into appearing in Borat 2 by Cohen, the comedian and the future president did sit down for a brief, awkward interview in 2003. At the time, Cohen was playing one of his other characters, aspiring rapper Ali G on the HBO series Da Ali G Show, and he pitches a visibly annoyed Trump on his idea for ice cream gloves (they keep your hands from getting sticky!). The entire interview only lasts about a minute before Trump walks out, and he exhibits little patience for Ali G's pitch throughout.
It's unclear why Trump agreed to talk with Cohen at the time, even if it was only for a brief moment. Although, it's likely that the actor presented himself as a legitimate reporter. Over the years, Cohen has continued to find new and unexpected ways to dupe politicians, celebrities, and normal people alike, and at the time of his brief sit down with Trump, the businessman was reportedly at a low point in his career, according to Rolling Stone. That could explain how he ended up listening to a pitch on ice cream gloves.
One year later, Trump became the star of The Apprentice on NBC, a move that increased his celebrity and proved to be profitable. However, at the time, no one could have predicted he would one day become president, or that Cohen's second Borat film would largely be devoted to lampooning Trump supporters.
Trump's America doesn't come out looking good in Borat 2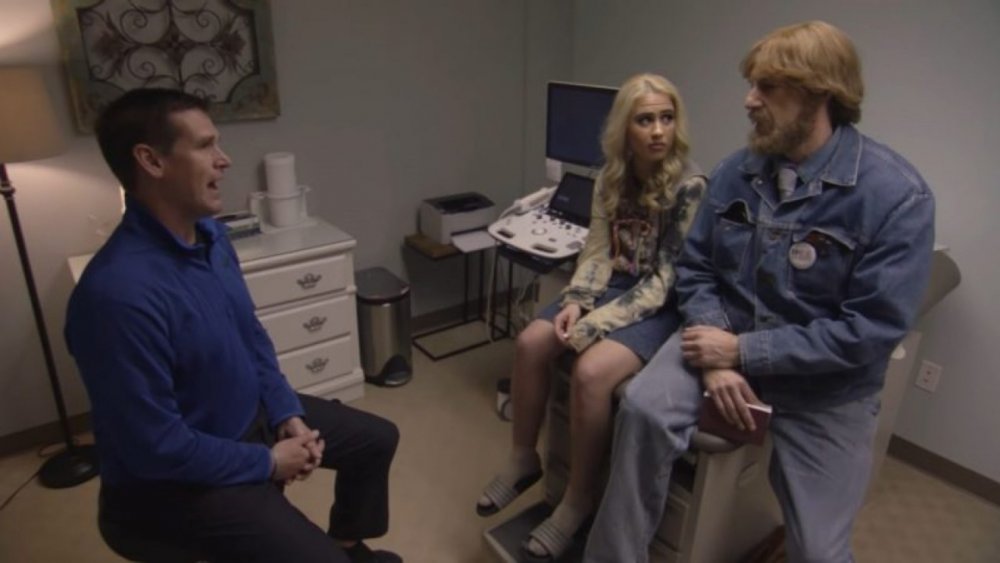 Amazon Studios
The plot of Borat 2 centers on Borat's quest to redeem himself in the eyes of his native Kazakhstan by gifting Vice President Mike Pence with Johnny the Monkey, his country's most famous porn star. Ultimately, Johnny doesn't survive the trip to America, leading Borat's 15-year-old daughter to take his place. That bit of absurdity frames Cohen's quest to reach Pence, and along the way he meets Trump supporters at rallies, debutante balls, and on the streets of America in the midst of the pandemic.
Despite the character of Borat being far more recognizable now than he was when the first film was released in 2006, Cohen still manages to disguise himself well enough to capture some shockingly racist, sexist, and disturbing moments on film. In one scene, a pro-life clinic ignores implications of incest between Borat and his daughter, and in another, Borat quarantines with two QAnon believers who are all too happy to discuss their conspiracy theories. Ultimately, the most unnerving moment comes when Borat encourages a sing-along at a white-nationalist rally that includes lyrics about "chopping up" journalists and infecting former President Barack Obama with COVID-19.
Cohen's mockumentary hits its target with very little effort, making the Trump supporters in the film, as well as people close to the president, like Giuliani, look foolish at best — and dangerous at worst. It's no wonder that Trump is eager to dismiss Cohen as a creep: There's no way around just how uncomfortable his portrait of modern America is.