Read This Before You See The Midnight Sky
This content was paid for by Netflix and created by Looper.
As the saying goes, adversity makes for strange bedfellows. Take The Midnight Sky, for instance. In the new movie, adapted from Lily Brooks-Dalton's novel Good Morning, Midnight, Augustine is an aging scientist in a remote Arctic research center. Sully is a young astronaut returning home from an outer space discovery mission. What could they possibly have in common?
As it turns out, quite a bit. Both Augustine and Sully turned their backs on traditional familial bliss in order to explore the great unknown. And when communication systems around the world mysteriously stop working, both must reckon with the knowledge that the world as we know it may be coming to a swift and definitive end.
But neither is going to take the apocalypse lying down. As Sully's ship rockets towards Earth, Augustine embarks on a journey across the unforgiving Arctic landscape with a young girl named Iris in tow, hoping to warn Sully and her crew about the catastrophe waiting for them on the ground.
While Augustine's adventure has life-or-death stakes, George Clooney's is surprisingly grounded. It's a movie about loneliness, sacrifice, and coming to grips with one's big decisions, be they good or bad, as the end draws nearer. But more than anything, The Midnight Sky is a movie about hope. People are the focus, not the end of the world. Trust us. You've never seen a post-apocalypse movie quite like this.
The latest adventure from critically-acclaimed director, George Clooney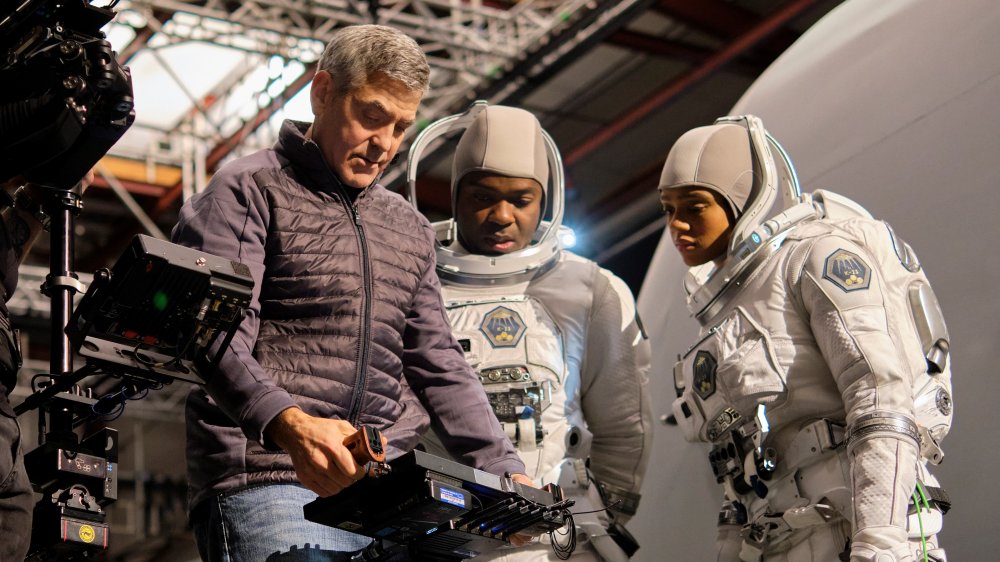 Philippe Antonello/NETFLIX
George Clooney, who stars in The Midnight Sky, needs no introduction. Since breaking through as a star of the long-running medical drama ER all the way back in 1994, Clooney has been one of the most popular, talented, and versatile actors in the entire world. He's not afraid to take on thoughtful and challenging parts, and he's able to bring out the innate humanity in any character he plays. Just look at his work in Syriana, which earned him an Oscar for Best Supporting Actor, legal thriller Michael Clayton, and comedy drama Up in the Air. Clooney has the range and the depth to give Augustine's journey through the cold the gravitas it deserves. Audiences are in for a real treat.
Of course, Clooney isn't just an actor. He's also a very talented director, and he brings his keen eye behind the camera to The Midnight Sky as well. Compared to the movies that Clooney has directed in the past, a thoughtful post-apocalyptic drama seems like a stretch, but look at the man's credits list. Clooney's first film, Confessions of a Dangerous Mind, is a zany mashup of biopic and over-the-top spy thriller. His next, Good Night, and Good Luck is a black-and-white drama about the McCarthy era. He's made a football comedy, a war film, and a racially fraught satire.
That's the filmography of a director who's drawn to one-of-a-kind scripts, and who pushes himself as a filmmaker with every project. The Midnight Sky may be new territory for Clooney, but that's only to be expected. The guy changes things up with every project that he does.
At least he has some help. Producer Grant Heslov has been working with Clooney for 15 years, and is an accomplished writer and director in his own right. Meanwhile, screenwriter Mark L. Smith, who adapted The Midnight Sky from Lily Brooks-Dalton's book, also co-wrote The Revenant, so he knows a little something about men fighting to survive in cold, inhospitable climates. Finally, the film features a score from French composer Alexandre Desplat, who's taken home Oscar gold for his scores to The Grand Budapest Hotel and The Shape of Water.
You don't have to witness the end alone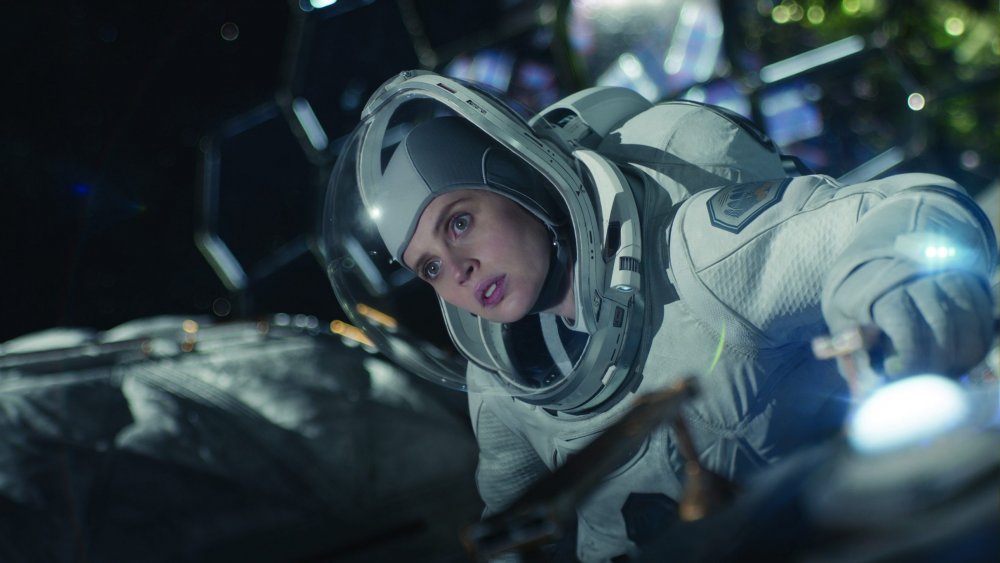 NETFLIX
Of course, George Clooney isn't the only big name on The Midnight Sky's cast list. Lots of other A-list talent helps him bring this unique take on the apocalypse to life.
First up is Felicity Jones, who plays Sully, and who you probably know as the lead of another, very different space-based adventure, Rogue One: A Star Wars Story. However, as far as Jones is concerned, Jyn Erso is really the tip of the iceberg. Jones' breakthrough role as a British exchange student who falls in love with an American in Like Crazy earned her a Special Jury Prize. Her performance in The Theory of Everything, in which she plays Stephen Hawking's wife Jane, scored her an Oscar nomination. In 2016, she co-starred in the Da Vinci Code sequel Inferno, and in 2018 she starred as legendary Supreme Court Justice Ruth Bader Ginsburg in On the Basis of Sex.
That's not all. The Midnight Sky also features Friday Night Lights, Argo, and Bloodline leading man Kyle Chandler, Selma's Golden Globe-nominated lead David Oyelowo, Academy Award nominee Demián Bichir, Hunters' Tiffany Boone, and Star Trek: Discovery's Spock, a.k.a. Ethan Peck, in major roles.
Finally, you haven't heard much about Clooney's youngest co-star, but you're about to. The Midnight Sky is Caoilinn Springall's very first film, but as Augustine's traveling companion Iris, the pint-sized actor more than holds her own, even when she's playing against one of Hollywood's biggest superstars. It's up to Iris to get through Augustine's prickly exterior and bring out the hero inside, and seeing Springall and Clooney face off is one of The Midnight Sky's biggest highlights.
If there's one thing you take away from The Midnight Sky it's this: It's always darkest before the dawn — and even during the end of the world, there's still hope to be found.