Three Frontrunners For The Female Lead In Han Solo Prequel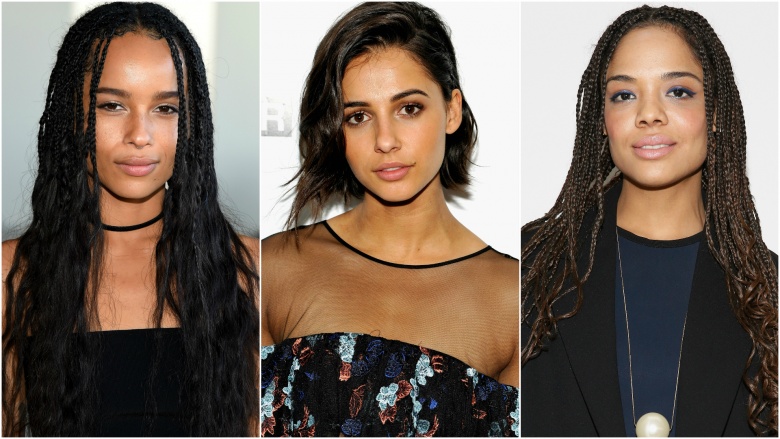 Getty Images
It takes a strong woman to put up with Han Solo, but producers of the upcoming Star Wars anthology flick centered around a young version of Harrison Ford's iconic character are reportedly close to finding her.
According to Variety, three actresses recently tested for the role in London to star opposite Alden Ehrenreich in the prequel: Zoe Kravitz (Mad Max: Fury Road), Naomi Scott (Power Rangers), and Tessa Thompson (Creed). Of course, there's always a chance the part will go to someone else, but sources said they're the frontrunners.
While details about the character remain highly guarded, ScreenRant reports that there's a theory it could be Star Wars comic book character Sana Starros. First appearing in 2015's Star Wars 4: Skywalker Strikes, Part IV, Starros claims to be Solo's wife, but she actually isn't. Their "marriage" was part of a con they pulled off while working together.
It wouldn't be the first time Star Wars film writers drew from the comics for inspiration. That's where we were first introduced to Snap Wexley (Greg Grunberg) from The Force Awakens and Saw Gerrera (Forest Whitaker) from the upcoming Rogue One.
Since production doesn't begin until early next year, Variety said directors Phil Lord and Chris Miller have "taken their time" with the casting process. The search for Solo was one of the longest since Universal went looking for Fifty Shades of Grey's Christian Grey, and this latest round of tests follows an initial set of tests for the female lead early last summer.
Meanwhile, Donald Glover (Atlanta) is rumored to be high on producers' list to play a young Lando Calrissian, the character portrayed in the original trilogy by Billy Dee Williams.
Han Solo (that's just a working title) is slated for release May 25, 2018. Check out things we'd like to see in the flick and why one insider said it has "the best script ever."