Get A Jaw-Dropping Look At Kate Winslet Performing Underwater For Avatar 2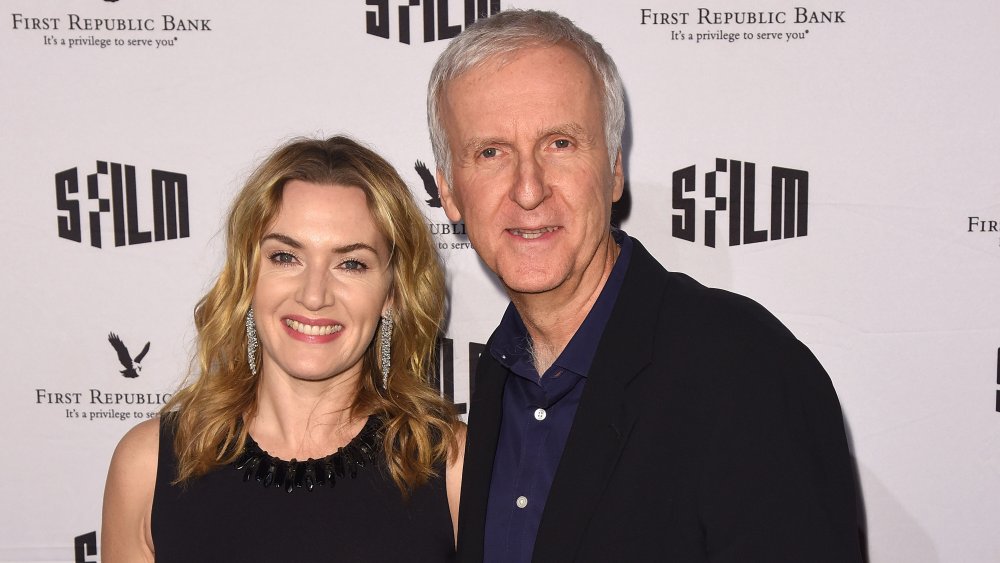 C Flanigan/Getty Images
Over 20 years after she followed James Cameron into the middle of the ocean, Titanic star Kate Winslet is once again taking the plunge with the acclaimed director. For the Avatar sequels, Winslet is going all the way to the bottom.
Our latest window into the mega-production that is the sequels to Cameron's smash-hit Avatar comes courtesy of producer Jon Landau, who has been dropping behind-the-scenes teases for fans on his Instagram. His latest shows Winslet on the set of one of the sequels, in which Cameron previously revealed she will be playing a member of a race of "Sea People" named Ronal. Of course, this being a Cameron production, "on the set" here means fully underwater.
In the image, Winslet can be seen submerged at the bottom of a massive pool in what appears to be a wet suit and weights, waving a large cape of some sort behind her. We already heard that Cameron is doing extensive underwater shoots for the sequels, which is in line with this latest look at the massive production.
One thing you'll notice is missing from the photo of Winslet is an oxygen tank. As the actress revealed in a recent interview, that's because she and the rest of the cast took their underwater training to the extreme.
What Kate Winslet has said about her role in the Avatar sequels
In his instagram post, Landau alluded to an interview Winslet did with The Hollywood Reporter in August in which she touched on her part in the sequels. In it, Winslet reveals, "I had to learn how to free-dive to play that role in Avatar, and that was just incredible. My longest breath hold was seven minutes and 14 seconds, like crazy, crazy stuff."
Cameron has previously spoken about the intensive training the actors on the Avatar sequels underwent to complete the extensive underwater shoots. The films will mark the first time Winslet has appeared in one of Cameron's films since she starred in Titanic, and the actor didn't shy away from noting what felt different to her this time around: "It was so wonderful to work with Jim again ... Time has changed him. Jim has become a father a few more times over. He is a calmer person. Chilled. You can just feel him enjoying it more this time."
As for the role she's playing, Winslet has had to remain tight-lipped. She did say, "Yeah, I play a water person. I am a water person." While we might not yet know the specifics of the part, in a 2017 interview, she revealed that her part is, "a pivotal role."