News Of The World Trailer Unravels The Tom Hanks Drama You Won't Want To Miss
Reliable as ever, Oscar-winning actor Tom Hanks is returning to the silver screen this Christmas for what's sure to be a moving, heart-tugging feature: News of the World, the full-length trailer for which has just dropped.
Hanks, who last appeared as Commander Ernest Krause in the Apple TV+ war film Greyhound, top-lines Universal Pictures' News of the World as three-time war veteran and widower Captain Jefferson Kyle Kidd. The film, a Western drama set five years after the Civil War and based on Paulette Jiles' best-selling novel of the same name, begins with Captain Kidd working as a non-fiction storyteller, traveling across towns to inform the people of everything from "glorious feuds" and "devastating catastrophes" to new royals who've claimed thrones and "gripping adventures from the far reaches of the globe."
Captain Kidd's life forever changes when he meets in the Texas plains a 10-year-old girl named Johanna (Helena Zengel), who's been brought up since the age of four by the Native American Kiowa tribe. Due to the laws that dictates where Johanna legally belongs, she's being forced to return to her biological aunt and uncle, and Captain Kidd agrees to deliver her there. 
Together, they embark on a journey that spans hundreds of miles across the Great Plains and through the American wilderness, teeming with forces and dangers beyond their control. Captain Kidd and Johanna will make memories to last a lifetime and overcome great challenges to find their true places in the world.
News of the World is a tale of redemption, bolstered by an incredible lead duo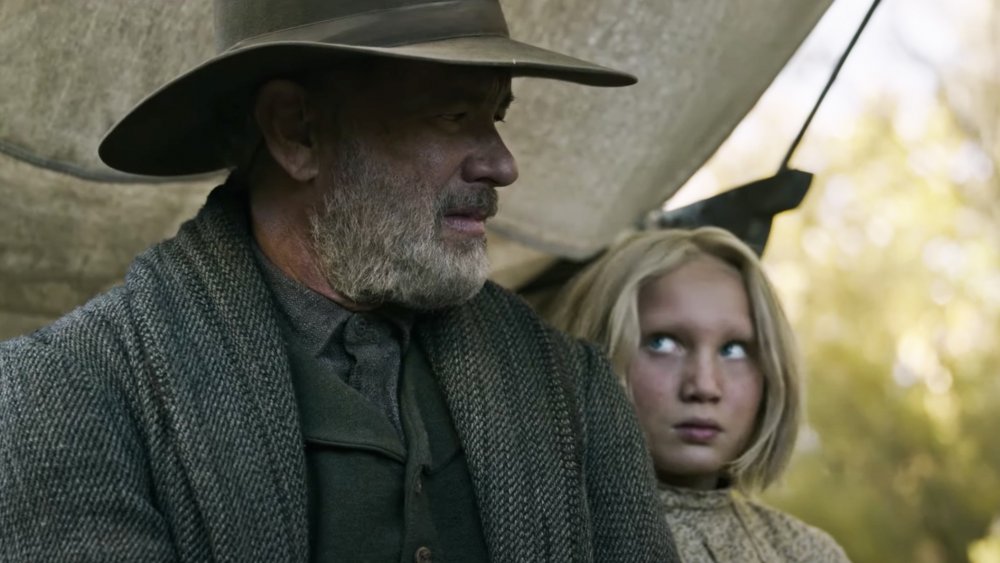 Universal Pictures
News of the World reunites Hanks with co-writer and director Paul Greengrass, who directed the 2013 biographical drama-thriller Captain Phillips – the feature that earned six Oscar nominations, including one for Hanks for his performance as Richard "Rich" Phillips. (It's also one of the best pirate movies ever made.) Based on the trailer alone, it's clear to see that Greengrass has crafted something special with News of the World. This story of redemption, as Greengrass describes it, is brilliantly brought to life by Hanks and Zengel, a pair that have great respect for each other.
"Both characters are lost in different ways and are searching for belonging. That is what gives the journey tremendous emotional power," Greengrass said in a statement accompanying the trailer's release. "Kidd and Johanna have great adventures whilst overcoming great dangers, and ultimately, the film is about a journey towards redemption."
For his part, Hanks opened up about why he was drawn to the role of Captain Kidd, and what makes his 12-year-old News of the World co-star so powerful.
"I love listening to a great story as much as I like telling one, and that's why I was so excited about playing Captain Jefferson Kyle Kidd. He is a storyteller, he is driven, emotional, he is noble, and he is moved by the pursuit of the truth. Kidd wanted to communicate an authentic worldview to his audiences because he knew that, along with education and entertainment, the powers of enlightenment could be exchanged in the news readings that he gave," said Hanks. "I cannot stress enough the incredible power of young Helena Zengel. I believe actors are born. You can't learn how to be an actor, you just are. Her silences, her eyes, her instincts — she may have no sense of what the rules of acting are, yet she already knows them implicitly."
Fans can catch News of the World when it debuts on Christmas Day — December 25, 2020.