The '90s Halloween Movie Hubie Halloween Fans Need To Watch Next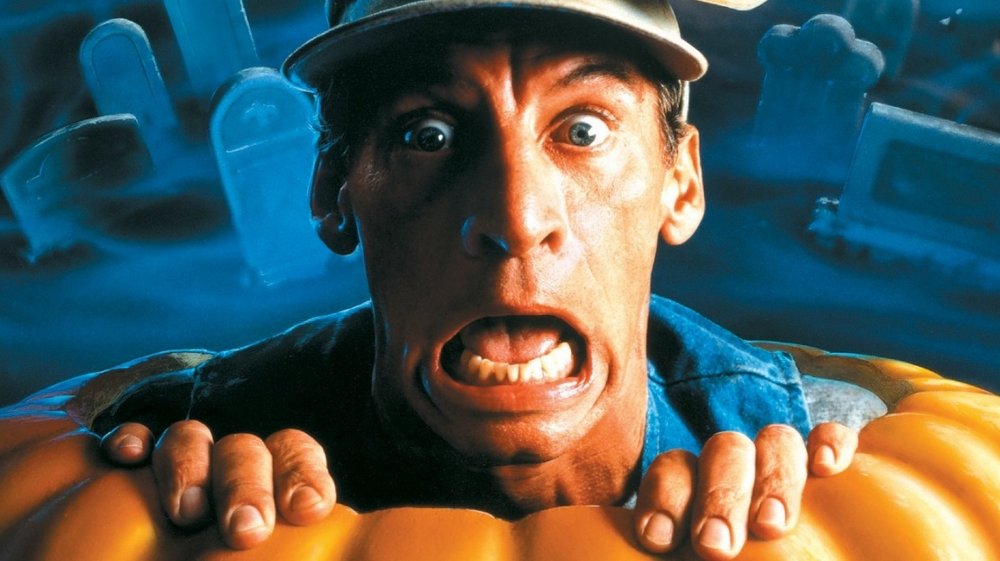 Disney/Touchstone Pictures
As part of his major Netflix deal, comedian and actor Adam Sandler managed to scare up yet another movie just in time for Halloween — Hubie Halloween. 
The horror-comedy follows Sandler's bumbling Hubie, an eccentric yet devoted member of the Salem, Massachusetts community. Despite frequently being at the center of his neighbors' awful pranks and ridicule, Hubie diligently shows up each year as a community volunteer to ensure that Halloween — the town's biggest night — goes off without any major hitch. But this October 31, the antics escalate from mean to deadly when people begin disappearing, causing Hubie and eventually Salem's police to consider foul play. The film is full of frequent Adam Sandler collaborators — including Julie Bowen, Steve Buscemi, Rob Schneider, Tim Meadows, and Kevin James, who stars as the town's police chief — and just as many small tributes and Easter eggs celebrating cinema's Halloween classics. 
With Hubie Halloween debuting on Netflix on October 7, so far ahead of the holiday around which it's centered, fans of the film might find themselves looking for something similar to follow-up Sandler's spookiest and latest Happy Madison chapter. The answer to that is a 1991 horror comedy that also goes lighter on scares in favor of more down-home comedy and a few endearing moments: Ernest Scared Stupid. 
Co-written by Charlie Gale and Coke Sams, directed by John Cherry, and with stand-up comedian and actor Jim Varney in his memorable role of the annoyingly earnest Ernest P. Worrell, the final Disney-Touchstone-backed installment in the long-running franchise sees Varney's rubber-faced, Gomer Pyle-esque character fighting a demonic troll army after accidentally unleashing it on his town. 
Ernest Scared Stupid sees a small-town dunce investigating a series of disappearances around Halloween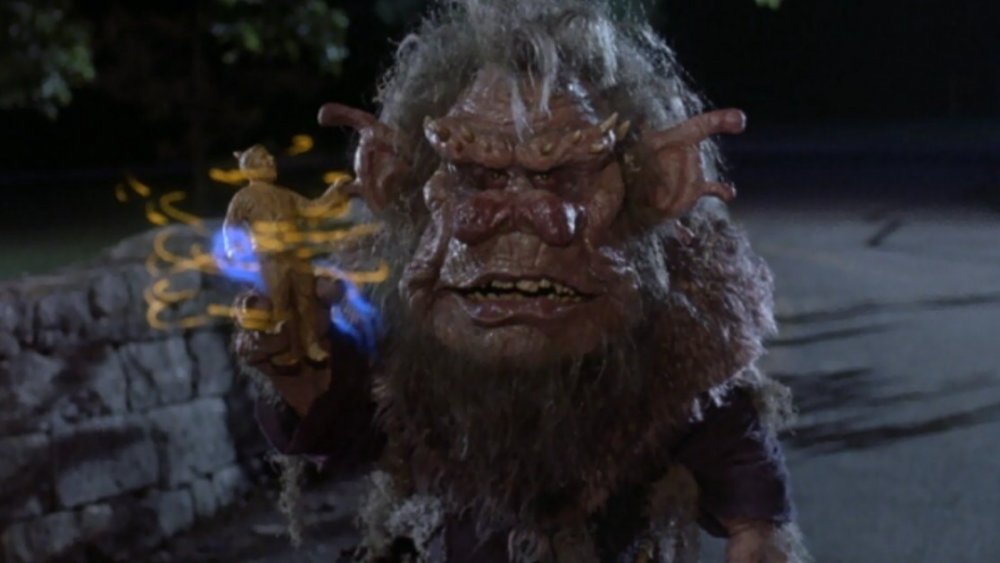 Disney/Touchstone Pictures
When Ernest's great ancestor binds a monster known as Trantor the Terrible Troll to the roots of a local oak tree in the pastoral town of Briarville, Missouri, it puts a curse on the Worrell family line. Every new generation will be "dumber and dumber and dumber" until one eventually releases the troll from his prison. Following a warning from the town's local eccentric Francis "Old Lady" Hackmore (Eartha Kitt) that a Worell descendent will break the spell that has bound the monster for 200 years, Ernest accidentally — yet unsurprisingly — steps up. After building a treehouse in the same tree housing the dormant troll for a handful of middle school kids and sharing the troll story with them, Ernest unknowingly unleashes the demonic entity on the town and its children. 
As the hairy, snot-nosed monster travels around town, turning children into wooden dolls to feast on their energy, Ernest goes to the police (much like Hubie does in Hubie Halloween) to warn them of what's happening. But the townspeople are more concerned with their Halloween festivities, leaving Ernest and his doggy companion to take on the troll. With Halloween approaching, more children begin to disappear, and the town's anxieties rise. As Trantor accumulates more children and power, he eventually unleashes a troll army on Briarville. Soon, the town finds itself in a battle with the demonic trolls, with Ernest and several other local kids serving as their last defense against an evil troll takeover. 
A family-friendly horror comedy that was derided by critics about as much as Hubie Halloween, Ernest Scared Stupid is a fitting complement to the Sandler flick for those looking for something silly to watch during the year's spookiest season.