Kevin James Dishes On The Worst Part Of Shooting Hubie Halloween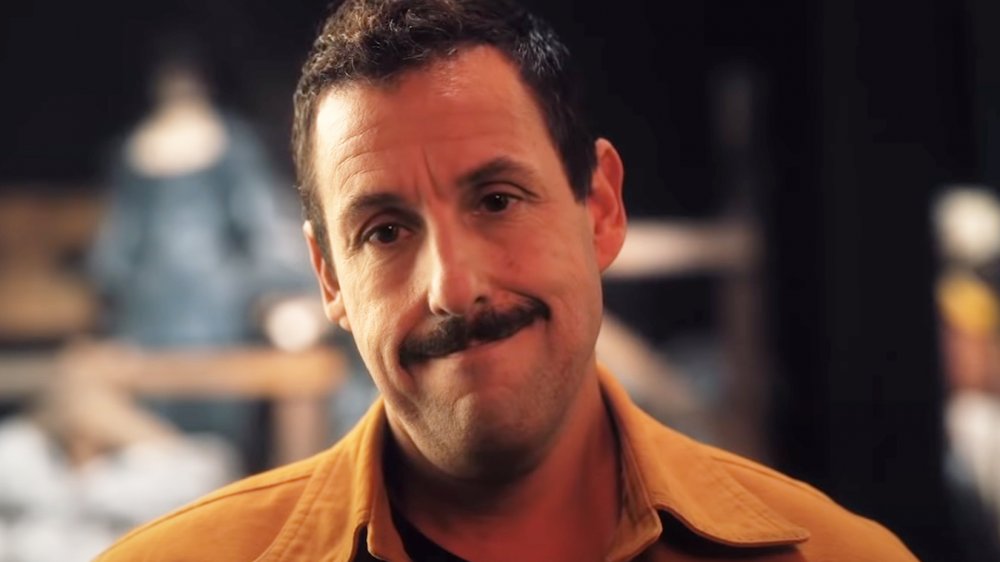 Netflix
It is probably fair to say that Kevin James and Adam Sandler are good friends, or, at the very least, that they are incredibly good collaborators. The two have been sharing a marquee for a long time now, with movies like I Now Pronounce You Chuck & Larry, Pixels, and Grown Ups. Their newest collaboration, on Netflix, is Hubie Halloween, a comedic horror tale directed by Steven Brill, with a script by Adam Sandler and Tim Herlihy.
This isn't the first time the two comic actors have done spooky stuff — James previously offered a helping hand for the Hotel Transylvania franchise. Hubie Halloween, though, is a movie where Adam Sandler plays one of his classic down-and-out characters, Hubie, who is basically the town joke in Salem, Massachusetts. Hubie's one of those guys who means well, but he's constantly watching out for the neighborhood a little too much, and that's true especially around Halloween time. Kevin James, meanwhile, plays Sgt. Steve Downey, a local police officer. The film portrays the Halloween crisis that occurs when there's an escaped convict from a mental institution on the loose — meaning that Hubie, for once, is not just imagining danger around every corner.
Unfortunately for James, there's something this time around that Sandler expected him to do for the role, which was not as easy as he'd hoped.
Kevin James wears his sunglasses at night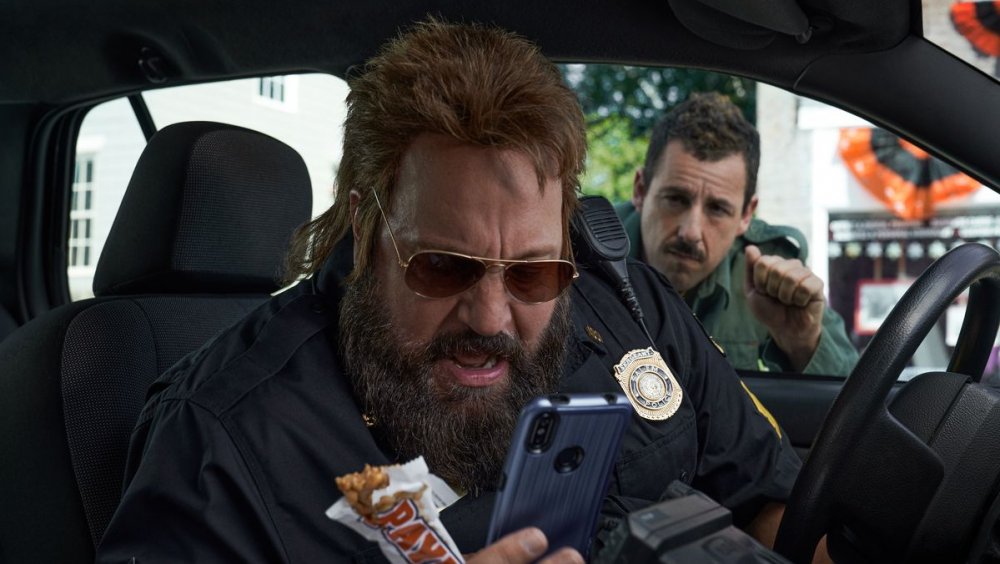 Netflix
Kevin James's character, Sgt. Downey, is the Salem cop who ultimately winds up investigating some of Hubie's claims on Halloween. James enjoyed working on the film, telling Access Hollywood that doing Hubie Halloween was "literally like going back to summer camp with all your friends." 
That doesn't mean he loved every part of filming, though. One of the defining character traits of the character, which was invented by Sandler himself, is that Downey — like Corey Hart — wears his sunglasses at night. It turns out that those sunglasses were real ... and real dark, too. "[It was] hard to get used to by the way, because a lot of the night shoots I couldn't see anything," James revealed in an interview with Cinema Blend. "I had to drive the squad car and I was like, are you kidding me? I can't do this, man."
Driving a car at night with sunglasses on certainly does not sound safe, but it seems like everyone survived. In the future, maybe Sandler should let Hubey's aggressively voluminous beard be enough of a visual character note for James, if there's ever a Hubie Halloween 2. 
For now, though, Hubie Halloween can be streamed on Netflix.