What Might Have Happened To Ed Sheeran's Character On Game Of Thrones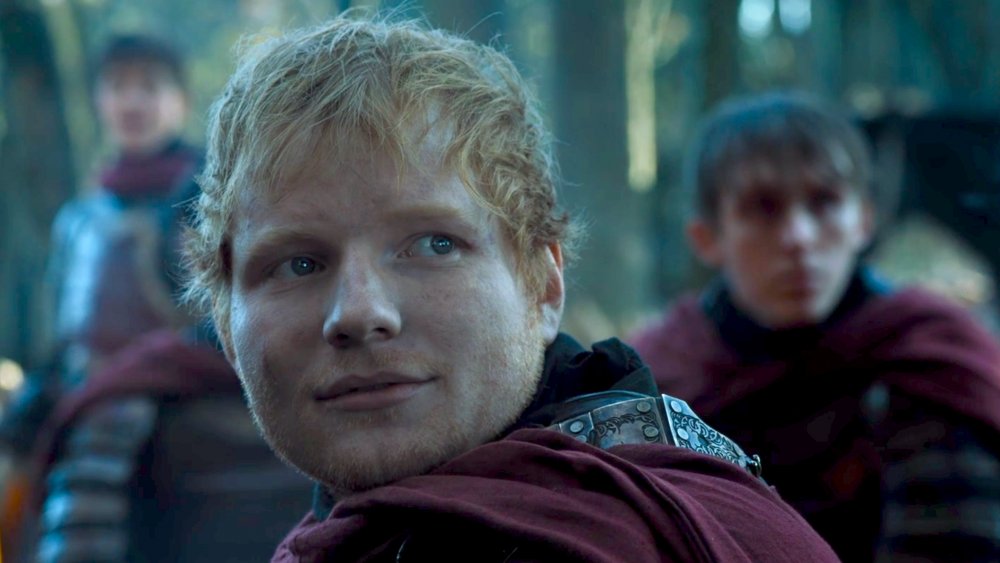 HBO
Cameos on huge TV shows are nothing new, but in an epic fantasy series like HBO's Game of Thrones, they can feel extremely out of place. When British singer Ed Sheeran popped up out of nowhere in Thrones' seventh season, his appearance made waves, with fans upset at this obvious piece of stunt casting. Now, in James Hibberd's extensive oral history of Game of Thrones entitled Fire Cannot Kill a Dragon, the Entertainment Weekly editor at large delves into Sheeran's cameo, how he ended up on the show, and the apparent throwaway line that actually explains what happened to this one-off character.
Hibberd spent years on the Game of Thrones set interviewing the show's cast and crew, and he came away with plenty of incredible tidbits, including the full story of Sheeran's cameo... and the character's potentially grisly aftermath. Whether you're a huge fan of Sheeran or were totally distracted by his random trip to Westeros, here's the full story of what may have happened to Ed Sheeran's character in Game of Thrones after the fact.
Here's how Ed Sheeran ended up on Game of Thrones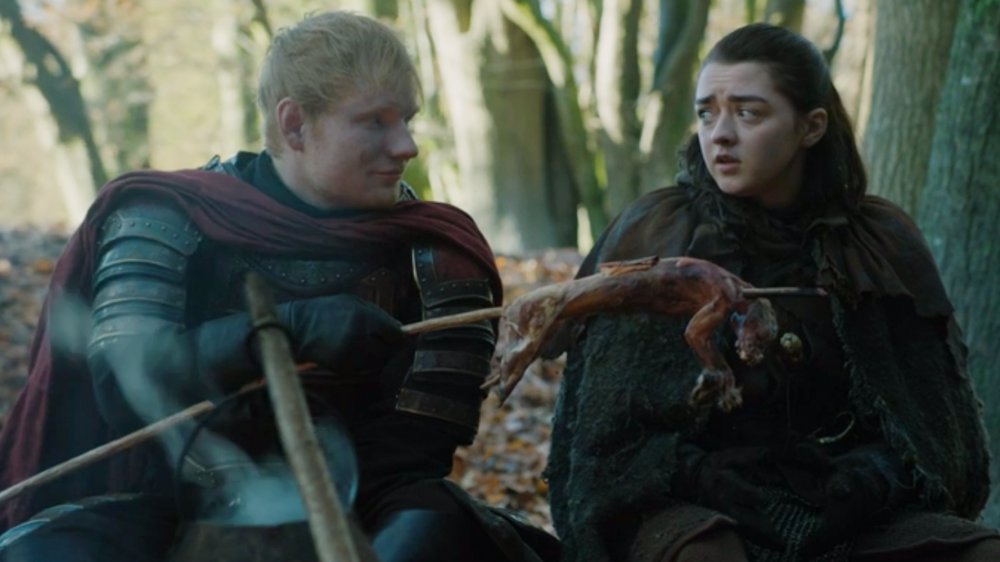 HBO
Sheeran's cameo caused considerable discord amongst Game of Thrones fans, leaving director Jeremy Podeswa utterly puzzled. "One thing that Game of Thrones never did was stunt casting," Podeswa said. "Everybody in the world wanted to be on Game of Thrones, and [showrunners] Dan [Weiss] and David [Benioff] never rose to that bait. With Ed Sheeran, it didn't feel like a weird thing to anybody on the show because Maisie [Williams, who plays Arya Stark] knew him, he's in the UK, we needed somebody who could sing, it was a small part, and he had acted before."
According to Podeswa, Sheeran was also a delight on set: "Then when he got there he was the loveliest, most grounded guy you could ever meet. It was really cold, and we were out in the wilderness all day long. He didn't run back to his trailer. He sat down with all the extras playing the Lannister army and was happy to be there. And he did a lovely job. If he wasn't Ed Sheeran, pop star, nobody would have ever batted an eye at the person playing that role."
Producers never explicitly confirmed what happened to Sheeran's character, who was a Lannister soldier, but fans have some ideas after the show later references a "ginger" Lannister named "Eddie" who returns from a battle against Daenerys Targaryen (Emilia Clarke) with his face "burnt right off." Though the character's fate remains unconfirmed, Hibberd indicates showrunners threw fans a bone about Sheeran's grisly ending with this line.
Ed Sheeran wasn't the only major star with a brief Game of Thrones cameo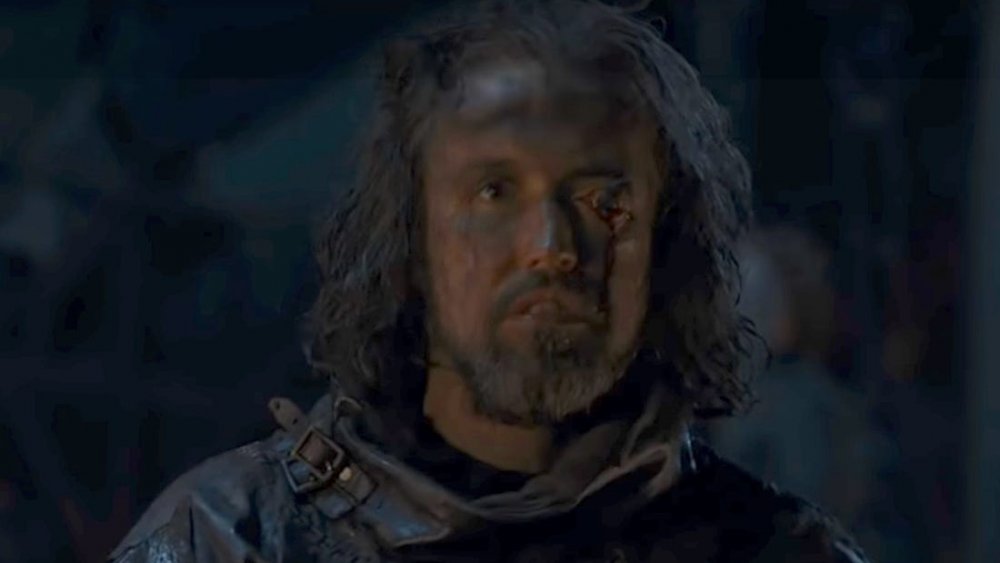 HBO
Sheeran's cameo, which was largely derided by fans, was probably because it felt so obvious; instead of being a small easter egg, the show simply showed audiences several full minutes of Sheeran's face. However, he wasn't the only star to show up in Westeros unexpectedly. Aside from stars like Ian McShane, who rejoined the HBO family after Deadwood to appear prominently in a single episode, there weren't very many famous cameos on Game of Thrones... unless you were paying close attention.
Tons of other musicians, including Sigur Rós, members of Coldplay, and a few performers from Mastodon popped up throughout the series, and some of Benioff and Weiss' famous friends even got to die on screen. During the season eight premiere, It's Always Sunny in Philadelphia and Silicon Valley stars Rob McElhenney and Martin Starr played two unfortunate Greyjoy soldiers, though their appearance was so brief that you would miss it if you blinked at the wrong moment. (Benioff and Weiss, conversely, popped up on Always Sunny during the comedy series' twelfth season.) Country star Chris Stapleton joined the series briefly during the Battle of Winterfell as a wight, and in the series' last confirmed cameo, football star Aaron Rodgers showed up during the siege of King's Landing.
All of Game of Thrones, including its cameos — whether they're subtle or extremely obvious — is available to stream on HBO Max now.