Exclusive: Trailer For ALTER's 'Two Weeks Of Halloween Hell' Event Will Have Horror Fans Hyped
What's creepy, kooky, mysterious, and spooky? While years past would point to the answer being the Addams Family, ALTER — the horror brand under independent entertainment company Gunpowder & Sky — is here to switch up the status quo. 
Right in time for the Halloween season, ALTER is holding a fright-filled short film event aptly known as "Two Weeks of Halloween Hell," packed with content that will keep even the most steel-hearted and iron-nerved of horror fans up at night. 
The company behind films like Summer of 84, The Blue Door, CAM, and Villains (the comedy-horror starring Bill Skarsgård of It fame and Maika Monroe of It Follows notoriety) as well as Quibi's horror anthology 50 States of Fright, ALTER routinely releases to its YouTube channel and Facebook page three short films each week. What makes the upcoming "Two Weeks of Halloween Hell" event extra-special is that ALTER is rolling out a whopping 11 short films between Monday, October 19 and Halloween Day — Saturday, October 31.
Ahead of the event's premiere, Looper is excited to exclusively share the trailer for ALTER's "Two Weeks of Halloween Hell." One look at the footage promises chills, thrills, and eye-widening terrors are ahead. 
The line-up for ALTER's Two Weeks of Halloween Hell is incredible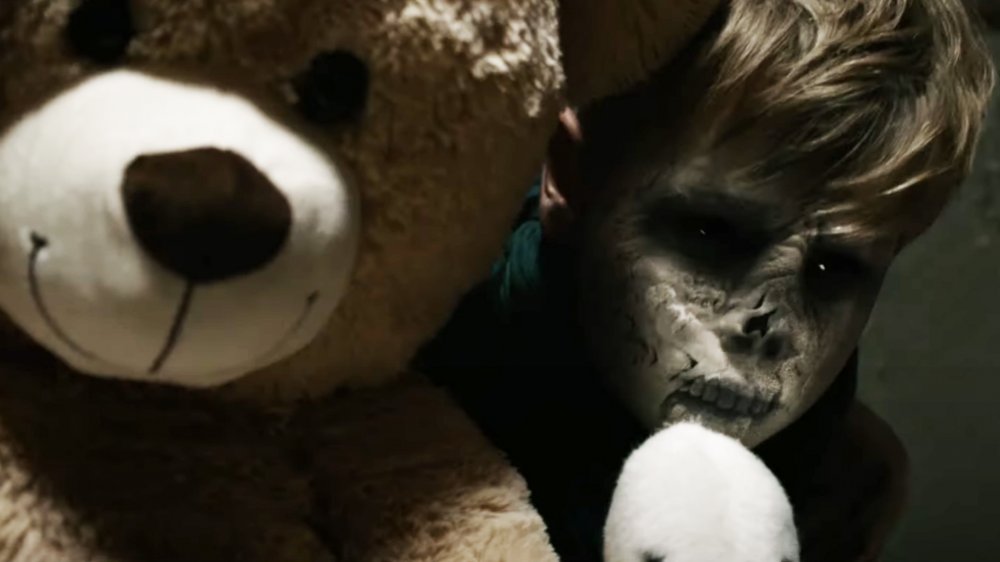 ALTER
There's something for everyone on ALTER's "Two Weeks of Halloween Hell" schedule. Starting things off on October 19 is Boo, a short film that follows a recovering addict after a traumatic event pushes her to confront her demons — all while trying to keep her fiancé from finding out what's really going on. The following day, ALTER will release Deep Breaths, in which an anxiety-riddled psychologist's mental state deteriorates when she begins hearing a "sinister voice through her headphones." 
On October 21, tune into The Three Men You Meet at Night, about a young woman named Jess who embarks on a "never-ending walk home" after she leaves a party alone. Along the way, Jess meets three men, each of whom "poses a unique threat to her safety and complicates her journey home." Then, load up Mateo, which follows the titular character who's been zombie-fied ... but still thinks like a human and remembers his old life. Lane is the short film that will be released on October 23 — a week before Halloween, when spooky season really gets going. The film focuses on a "transient evil" that touches down in the ninth lane of a small town's local bowling alley. 
After a brief break for the weekend, ALTER will debut One Last Meal on Monday, October 26. It centers around a "Missouri madman" named Otis Boyle, who's about to be executed. The moment has been a long time coming, but when Boyle makes one final request (as is "tradition" and "protocol"), the Warden's Captain of the Guards, York, is pushed to the absolute brink in his efforts to fulfill Boyle's "twisted demand." Next up is Curse of the Crying Boy, which sees a young mother believing that a possessed painting might be out to kill her child; check it out on October 27. The next day will see the release of the Moscow-set PYOTR495, about a young man named Pyotr, who's "baited by an ultranationalist group known for their violent abductions and anti-gay attacks bolstered by Russia's LGBT propaganda law." However, what Pyotr's attackers don't know is the dangerous secret he harbors. Dun-dun-duuun!
In the final stretch before Halloween, Wet Willy, about a school-kid who teams up with a new friend to exact revenge on his bully, will debut on October 29; that's followed by Couples Therapy, which will be much darker than its title suggests, on October 30. Finally, rounding out the "Two Weeks of Halloween Hell" event is Gwilliam's Tips for Turning Tricks into Treats, a short that sees the titular entity from 2015's Gwilliam returning to share "some tips for getting special treats this Halloween." Expect to be throughly freaked out. 
Horror movie fans, mark your calendars for ALTER's Two Weeks of Halloween Hell event, kicking off on Monday, October 19 and wrapping up on Saturday, October 31.