The Real Reason Why Maika Monroe Was Cast In The Stranger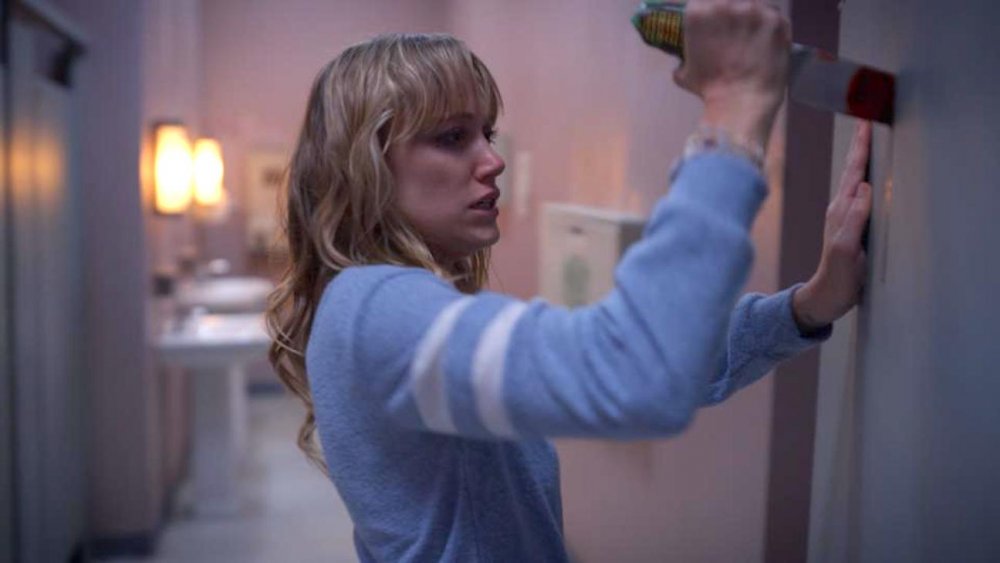 Quibi
This content was paid for by Quibi and created by Looper.

When it comes to actress Maika Monroe, the past truly is prologue: Her killer performance in an underrated 2014 horror film was behind her casting on Quibi's stomach-turning slasher show The Stranger. 
One of the first offerings from the short-form streaming service, The Stranger is a pulse-pounding, break-neck horror-thriller that takes viewers on a terrifying ride through the dark side of modern tech in the city of angels. Created, written, and directed by Veena Sud — the Emmy-nominated mind behind AMC's The Killing and Netflix's Seven Seconds– the streaming series stars Maika Monroe as Clare, a ride-share driver living in Los Angeles. When Clare answers a pick-up request at a lavish Hollywood hillside residence, she thinks she's embarking on a simple trip with her rider Carl E., played by The Amazing Spider-Man 2 and Valerian and the City of a Thousand Planets star Dane DeHaan. But Clare quickly finds herself in a fight for her life as she runs from a rider-turned-psychotic killer. 
Told over 13 episodes, each representing a single hour of Clare's desperate escape, the Quibi thriller's early tension quickly pushes it into horror territory as it exposes the vulnerabilities and dangers of Silicon Valley creations, from social media apps to surveillance systems. Because so much of The Stranger plays on the invasive nature of technology and shadowy serial killers, it makes sense that Sud would want to cast actors familiar with playing to creeping, unseen terrors. In an April 2020 interview with Syfy Wire, Sud revealed that Monroe's performance in It Follows actually turned her on to the burgeoning actress. 
"It Follows was just mind-blowing to me and [Monroe's] performance just — she's such a remarkable young actress," Sud said. "I knew after seeing her in It Follows that she could embody something in a very real way and in a very elevated way."
How Maika Monroe redefined the scream queen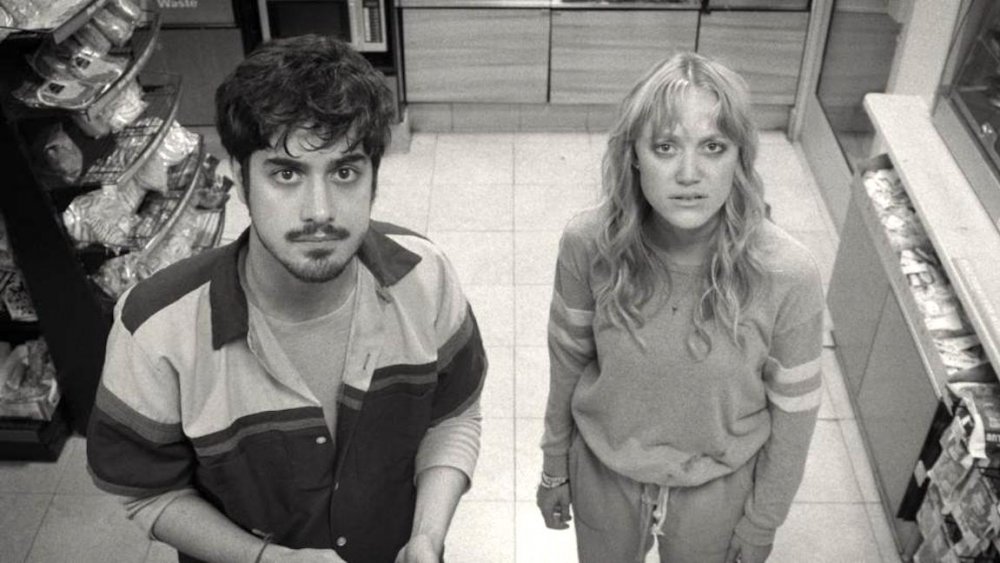 Quibi
While DeeHan's sinister portrayal on The Stranger fuels the fear, Monroe gives due diligence to the show's chilling stakes. It's a performance that, in some ways, mirrors Monroe's previous paranoia-fueled It Follows role as a teen who flees and eventually fights a sexually transmitted fatal curse. In both projects, Monroe bucks gendered horror tropes about female victimization — and, in the process, reimagines the classic scream queen into a role that's neither sexy, cute, superficial, nor light, according to Sud. 
"Every emotion that she feels is so grounded in truth that the terror and the fear and the sadness and the despair brings you on that journey with her," Sud said of Monroe's work on The Stranger. "As the story progresses, [Clare] gets to take back her own power and the way Maika stepped into that was a thing of beauty."
Having someone who could be the horror girl and still subvert expectations was fundamental to Sud casting her leading woman, and is part of the writer-director's broader approach to storytelling. "I really wanted my heroine in my horror film to be a different kind of heroine," explained Sud. "I tried to take a genre, like I did with The Killing, and infuse it with emotionality and with other things that we don't maybe associate with the genre."
As a female horror fan, that meant finding an actress who could help audiences confront the real and fictional way women have historically been disempowered — living in societies where the threat of being attacked constantly looms and the silencing or disbelief of victims is common. 
"One thing as a horror fan, and thankfully this has been changing in newer horrors, is that I never felt female empowerment," Sud told Syfy Wire. "You feel female victimization and/or sexualization, and it was always disturbing as a young woman for me to see that, so this is my opportunity to flip it on its head."
Bringing "the most honest performance" to the screen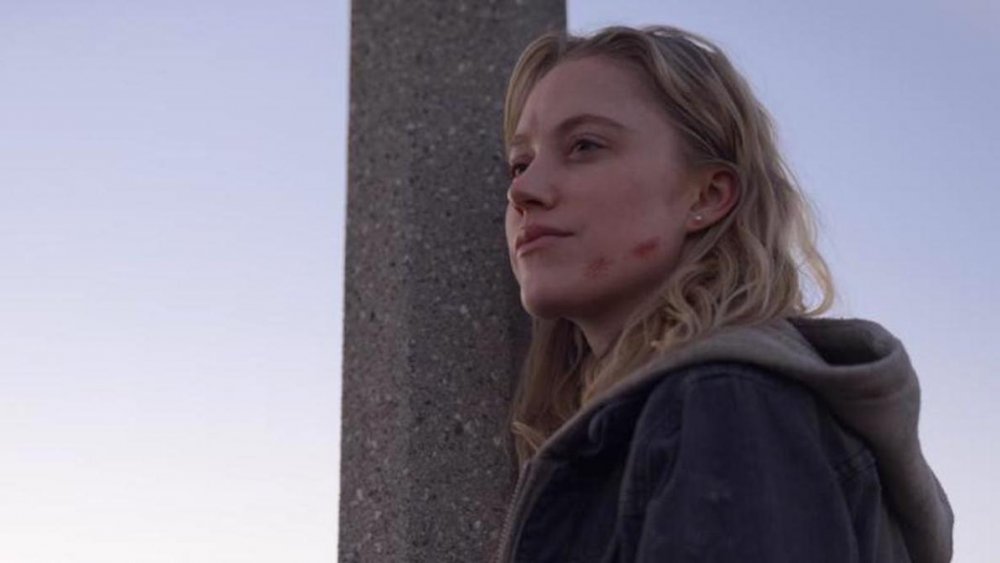 Quibi
There are certainly comparisons to be made between Monroe's performances in It Follows and on The Stranger, but in an interview with ComicBook.com, the actress revealed that it's not only her characters' archetypes or the genre that feel the same. Her approach to the role also largely remained unchanged, with the exception of one thing related to Sud's shooting style. The Stranger director and co-creator took into account that Quibi users would be watching her horror-thriller unfold vertically versus horizontally, which meant sometimes takes went for much longer than they otherwise might have. 
"I would say it overall felt very similar to any other project," Monroe said. "The only thing with this was... that there were a lot of shots moving, and for some scenes, there were a lot of setups, and so I, as an actor, had to be prepared to be doing a very intense scene several times. It can be challenging, but it's what's so brilliant about Veena and the DP making this show work for a platform like Quibi." 
Stepping into both her trope-defying roles may have just been a regular day on set for Monroe, but the impact of her performance in both — which Sud attributes to her relatable performances and ability to stoke empathy from viewers — is not lost on her. 
"There [are] so many movies that have changed the horror genre, but I know that It Follows is such a massive influence and... was so cool to be a part of," Monroe said. "With these projects, all I can do is give the most honest performance — and, to me, I don't look at it necessarily as a horror film or thriller or this or that. It's just me really falling into this character and bringing as much truth as I can so that people can really fall into the story." 
The Stranger is streaming on Quibi now.