What It Was Really Like Working With Robert De Niro On The War With Grandpa - Exclusive
101 Studios
Screen great Robert De Niro's new film The War with Grandpa is loaded with talent — featuring such veteran actors as Uma Thurman, Christopher Walken, Jane Seymour, Cheech Marin, and Rob Riggle, as well as younger stars Oakes Fegley and Laura Marano. A true ensemble piece, The War with Grandpa sees all of the performers getting a chance to share the screen with De Niro — an opportunity that very few actors get in the film industry.
The War with Grandpa stars De Niro as Ed, a recent widower who gets into a battle of pranks with his grandson Peter (Fegley) when Ed moves into the boy's room at his daughter Sally (Thurman) and son-in-law Arthur's (Riggle) home. Directed by Tim Hill (The SpongeBob Movie: Sponge on the Run), the film is billed as a family comedy, but it's actually more than that. Hill told Looper in an exclusive interview that he was impressed with the wide range of emotions De Niro brought to the character — something you don't normally get in a movie played mainly for laughs.
"He got to play a guy forced to move in with the family. He has this conflict with a little kid. Then he becomes a kid and is drawn down to the kid's level in the fight that they have, which transforms him in some way because he's a dreary, unhappy guy at the beginning of the movie, and the last scene he's skipping out the door on a date with Jane Seymour," Hill said. "He has moved over time. It's really cause and effect here. It's what happens when you go through a thing like a fight, and he learned, subconsciously, that he became young again."
Jane Seymour says Robert De Niro has 'such a twinkle in his eye'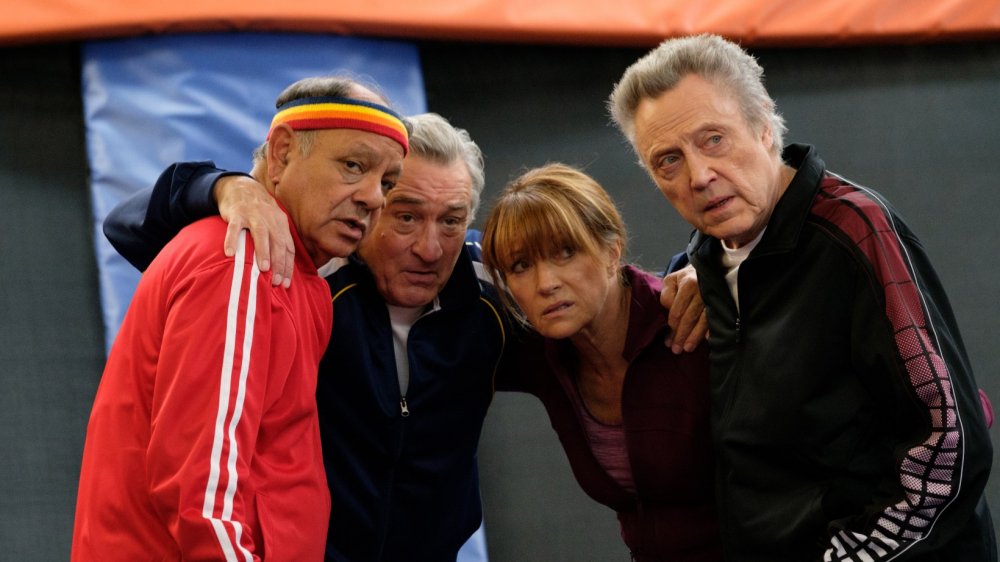 101 Studios
Naturally, Hill also tapped into De Niro's comedic gifts for The War with Grandpa, and Riggle, who has a pair of especially memorable scenes opposite the two-time Oscar-winner, was giddy to see De Niro's talents on full display. "He doesn't get nearly the credit he deserves for his comedy skills — comedy chops if you will," Riggle shared with Looper. "He knows comedy. He knows why things are funny and he knows how to execute. He's fearless and obviously is one of the most iconic actors of all time. He knows what he knows what he's doing."
In a separate exclusive interview with Looper, Seymour, who plays Ed's friend-turned-love-interest Diane, called working with De Niro "a dream come true." She also shared that she's excited for the possibility of some romance between her character and De Niro's Ed, should there be another War with Grandpa movie.
"I'm hoping for a Part 2 so that we can really continue that relationship, because I think it'd be a really fun relationship to have. And obviously, it was just wonderful working with him," Seymour said. "He's got such a twinkle in his eye as well as being an extraordinary actor. He really engages you. You really feel he's there and he cares, and he listens to you and hears you. To me, that's a mark of great acting."
The War with Grandpa is in theaters now.