The Trailer For Nicolas Cage's New Movie Jiu Jitsu Has Everyone Talking
Nicolas Cage, whose cinematic legacy has become increasingly controversial, has starred in many movies, and their critical success has varied. Cage's newest film finally has a trailer, and viewers are buzzing about this first look at Jiu Jitsu. 
Based on a comic book of the same name by Dimitri Logothetis (who also directs the film) and Jim McGrath, Jiu Jitsu marks a surprising turn for Cage. Since Cage's role was announced back in March 2019, fans have been anxiously waiting for this first peek at Logothetis' adaptation, and the movie seems like it will be as wildly violent and fantastic as its source material.
In the trailer, Cage describes a comet that opens a portal that brings "the Space Man," an alien from a distant galaxy, to Earth. Like any classic martial arts film, Jiu Jitsu centers around a fight between the protagonist and a mysterious enemy. In this case, Jake Barnes (Alain Moussi) is the hero, and Cage calls him the chosen Jiu Jitsu. As Wylie, Cage seemingly plays the Mr. Miyagi to Moussi's Daniel LaRusso. Logothetis' film takes the typical action movie formula, like his pair of Kickboxer films that Moussi starred in, and puts it in the wrappings of a fantasy adventure. 
The star-studded cast also includes Tony Jaa (an acclaimed martial artist), Frank Grillo, and Juju Chan, who play the other chosen Jiu Jitsu fighters that must protect the Earth from the alien invader.
Jiu Jitsu presents Nicolas Cage at his Wylie-est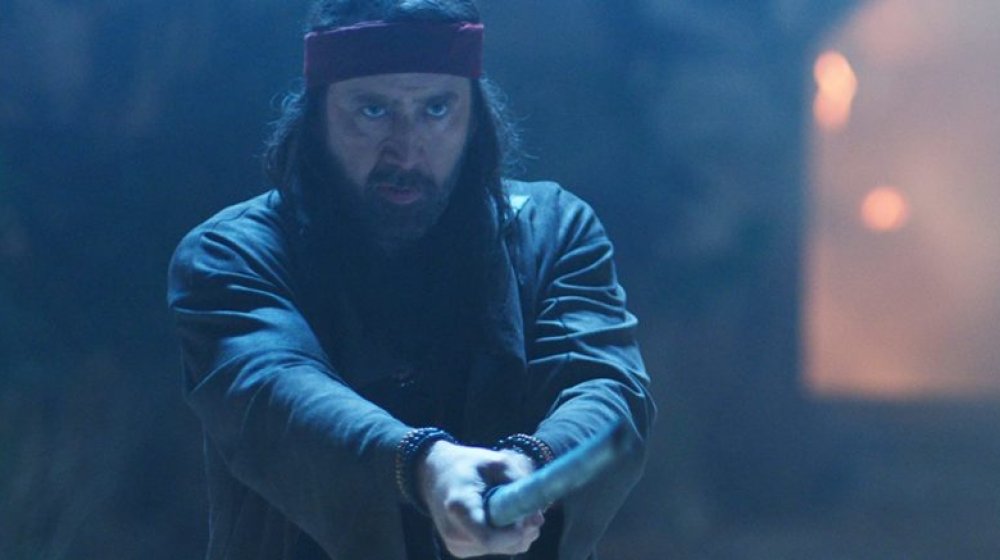 Paramount Pictures/The Avenue Entertainment
The trailer shows that Cage's Wylie will play a vital role in the plot of this film. In addition to mentoring McCall, Wylie will take on the Space Man in at least one scene, as teased by the first-look footage. Fans of the legendary actor (who has produced some pretty pause-worthy moments) are especially excited about this film because it lets Cage, as zany as ever, deliver some wonderful jokes. 
"He's crazy, like me," Cage says during one moment in the trailer. "I can fly, too," he quips in another. Clearly, the movie will offer viewers the chance to see Cage at his wackiest.
Tonally speaking, the trailer bounces between a legitimate action movie in which the fate of the world is at stake, and a silly, self-aware satire that doesn't take itself too seriously. From Cage's jokes and Moussi's fight scenes to the plot's focus on extraordinary elements like alien ninjas from distant galaxies, it's hard to get a read on Jiu Jitsu, but it's clear that the film features some impressive fight choreography, special effects that maximize the fantasy elements of the story, and classic Cage one-liners in an eclectic mixture. In other words, the Jiu Jitsu trailer is nothing if not intriguing.
People have a lot to say about Jiu Jitsu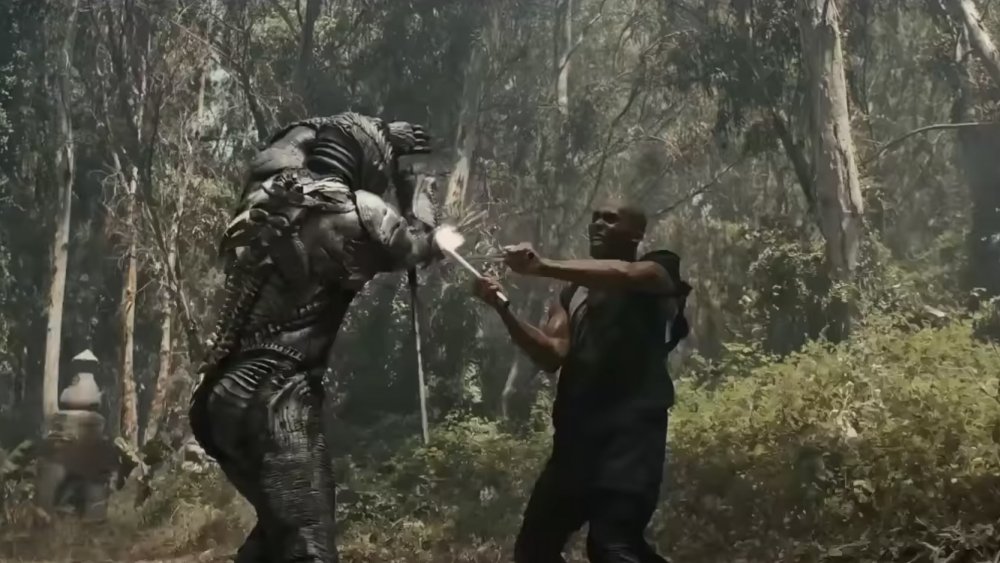 Paramount Pictures/The Avenue Entertainment
When the trailer for Jiu Jitsu hit the web, it caught the attention of everyone from diehard Nicolas Cage fans to casual movie-lovers to the average Joe whose curiosity is easily piqued. The comments section of the movie's trailer, uploaded exclusively to the IGN YouTube channel, is filled with colorful reactions to the footage that evoke an odd sense of excitement for Jiu Jitsu's release — largely based on the fact that it appears to be the kind of movie you have to see to believe, or a so-bad-it's-good film.
"Honestly at this point why not?" one commenter wrote. "Might as well embrace Nic Cage's madness." Another added, "All I have to say is this looks so stupidly ridiculous that it looks like pure cinema gold. I'm gonna watch it. Nick Cage is a national treasure, we must protect him."
Many pointed out that there aren't any jiu jitsu moves within the film's trailer, but admitted that there's a certain quality to it that makes people want to watch the movie when comes out in November. As one commenter put it, "It's not the movie 2020 asked for. It's the movie 2020 deserves."
Jiu Jitsu is set for release on November 20, 2020.