Kill Bill Vol. 3 - Will It Ever Happen?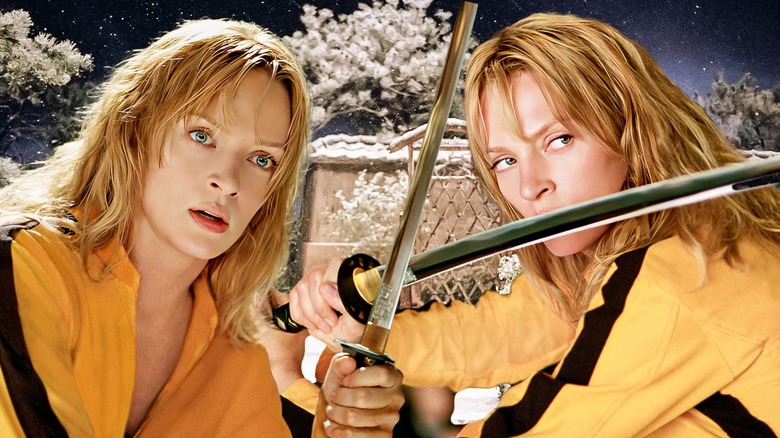 Static Media
Beginning his career with "Reservoir Dogs," "Pulp Fiction," and "Jackie Brown," writer-director Quentin Tarantino remade American independent cinema in his own movie-obsessed image — and inspired a whole subgenre of hyperverbal, ultraviolent copycats. But Tarantino's own follow-up to that unofficial trilogy wouldn't come for another six years, with 2003's "Kill Bill." 
The film — officially titled "Kill Bill: Vol. 1" — features Uma Thurman as an assassin on a roaring rampage of revenge against her former lover and the killers who left her for dead. Tarantino fills the screen with a non-stop barrage of midcentury pop culture references, from the East Asian martial arts films that provide the film's overall aesthetic to bits of ephemera like the Raymond Burr series "Ironside." Fortunately, audiences didn't have to wait another six years for a sequel, and the Spaghetti Western-inspired "Kill Bill: Vol. 2" premiered just six months later in April 2004.
With volumes one and two out in the world, people naturally began to wonder if we would ever see volume three. Tarantino — ever the showman and salesman — fanned those flames himself, claiming that a third film was in the works but couldn't be made for at least 15 years. These 15 years have come and gone, however, and it appears that the film is no closer to being made than it was two decades ago. Let's take a look at the long history of "Kill Bill: Vol. 3" and explore if it will ever happen.
Why isn't Kill Bill Vol. 3 happening yet?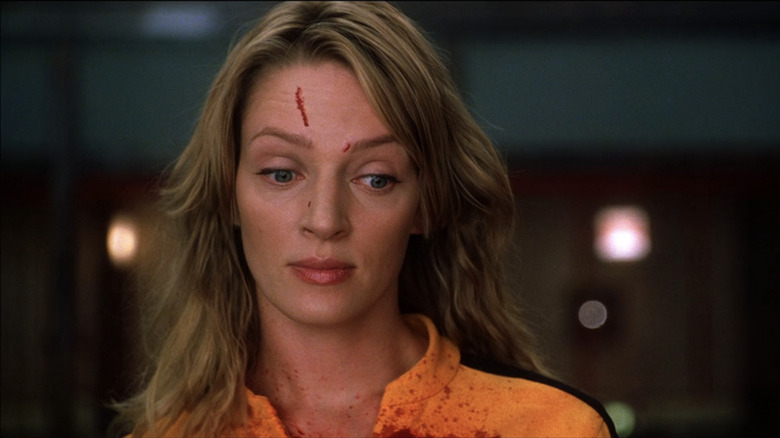 Miramax
The short answer to this question is that Quentin Tarantino is waiting for his stars to get older. From the very beginning, Tarantino has said that his plan for a potential "Vol. 3" requires the actors from the original films to be at least 15 years older — not just the adult actors like Uma Thurman and Daryl Hannah, but also child actors Perla Haney-Jardine and Ambrosia Kelley.
The longer and more complicated answer is that Tarantino's style has evolved over the last two decades, and the films he makes today look very different to "Kill Bill." 2007's "Death Proof" — part of the double-feature experiment "Grindhouse" — has a certain "Kill Bill" vibe, mostly due to the featured performance of Thurman's stunt double Zoe Bell as a fictionalized version of herself. But from 2009, he moved forward with a very different series of revenge films,  rewriting historical atrocities both large scale ("Inglourious Basterds," "Django Unchained") and small ("Once Upon a Time... in Hollywood"). This focus on the literary rather than the visionary has consumed his output in the last decade — from the drawing room drama of "The Hateful Eight" to the fact that he wrote his own novelization of "Once Upon a Time... in Hollywood." And as his self-imposed career clock is ticking down, it's a strong possibility that another "Kill Bill" sequel just doesn't interest him anymore.
What Quentin Tarantino has said about Kill Bill: Vol. 3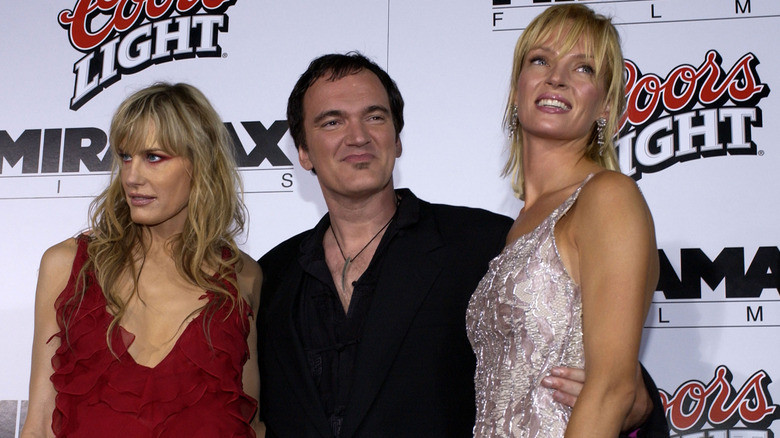 L. Cohen/Getty Images
Journalists have been asking Quentin Tarantino about a possible threequel for nearly two decades, and the famously gabby director has happily obliged and gleefully fueled the rumors. In 2004, he referred to the possible series as his take on Sergio Leone's "Dollars" trilogy and that his initial plan was to make a sequel every ten years. However, nearly every time a new film of his has been released, he's been asked about the status of "Kill Bill: Vol. 3," and his responses veer from excitement to ambivalence — often at the same time. In December 2015 — upon the release of "The Hateful Eight" — Tarantino told Variety that while "I felt I said what I have to say" with the first two films, "I wouldn't be surprised if The Bride made one more appearance before the whole thing is said and done."
But Tarantino has also repeatedly stated that he will direct only 10 films and that once he completes that tenth film, he will retire from making movies. With every new release in the last few years, he gets closer to that self-imposed cut-off point, and unless he breaks his vow or finds a loophole, it looks less and less likely that "Kill Bill: Vol. 3" will be included in that filmography.
What could be explored in Kill Bill Vol. 3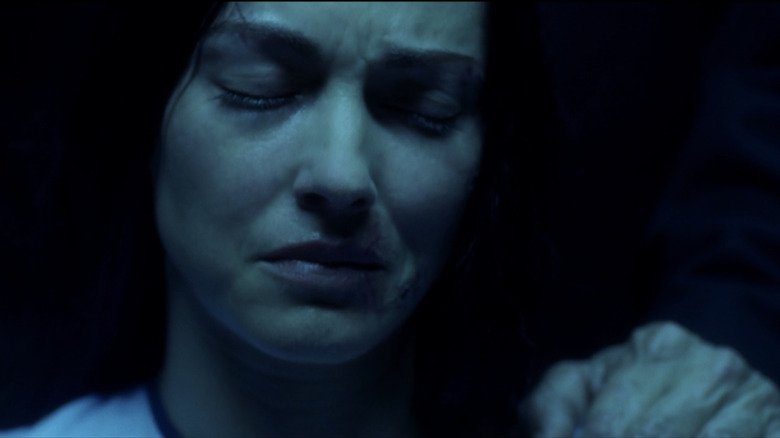 Miramax
At its heart the "Kill Bill" films are about revenge, and whether the desire to seek retribution — or finish unfinished business as The Bride puts it — is ever justified, or merely a justification. Beatrix Kiddo sets out to destroy the people who destroyed her life but kills an awful lot of other people along the way, and in her final confrontation with Bill (David Carradine) in "Kill Bill: Vol. 2," he calls her out on it. She sliced through dozens of O-ren Ishii's (Lucy Liu) bodyguards — not for some high-minded act of cosmic balance, but because it felt good to do so.
A third volume, per Quentin Tarantino, would pick up that revenge theme for a new generation, with Nikki Bell (Ambrosia Kelley) – daughter of former Deadly Viper Assassination Squad member Vernita Green (Vivica A. Fox) — seeking revenge against The Bride for the death of her mother. Raised and trained by the treacherous Sofie Fatale (Julie Dreyfus) — whom Beatrix left maimed but alive — Nikki would set out for her own righteous vengeance, facing not just The Bride but her now-grown daughter B.B. Kiddo (Perla Haney-Jardine). Back in 2007, series producer E. Bennett Walsh told the audience at the Shanghai Film Festival that the third (and potentially fourth) film might also feature a pair of former henchmen from the first movie seeking their own revenge against The Bride.
Who would star in Kill Bill Vol. 3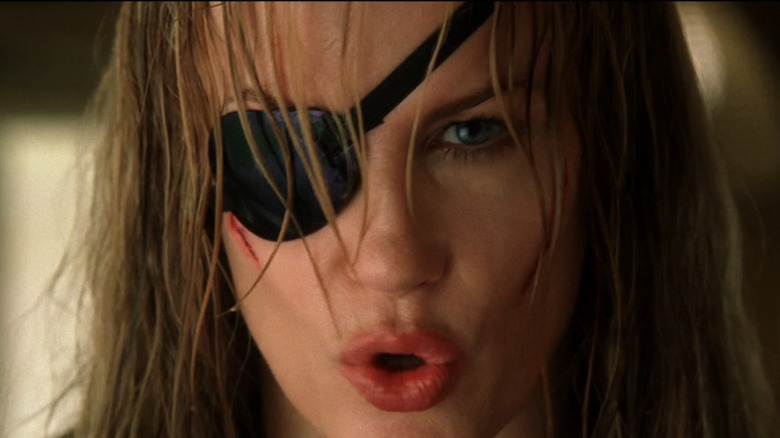 Miramax
The first two "Kill Bill" films leave precious few characters alive by the end, but there are a few actors we would expect to return. First and foremost, of course, is Beatrix Kiddo herself, Uma Thurman. Julie Dreyfus could also return, as well as Daryl Hannah as The Bride's nemesis Elle Driver, who was left blinded but alive at the end of "Kill Bill: Vol. 2." Several actors from the films have died in the last two decades, such as David Carradine, Sonny Chiba (as swordmaker Hattori Hanzo), and Michael Parks (pulling double duty as a Texas sheriff and a Mexican pimp).
The real question is who might play the now-grown Nikki and B.B. Part of Quentin Tarantino's plan to wait 15 years was to give actor Ambrosia Kelley time to grow up. "It's exciting to know that somewhere there's a little girl who'll grow up to be my leading lady," he told Entertainment Weekly in 2004. But Kelley has not acted on screen since 2012, and in 2023 Vivica A. Fox said in an interview with Variety that her dream casting for the role of Nikki would be Zendaya. As for B.B., Perla Haney-Jardine remains active in the business, and in 2019 had a small role in "Once Upon a Time... in Hollywood." However, in recent years a different candidate has emerged, Thurman's daughter Maya Hawke, who has become a star in her own right thanks to her role in "Stranger Things."
Uma Thurman's on-set accident strained her relationship with Tarantino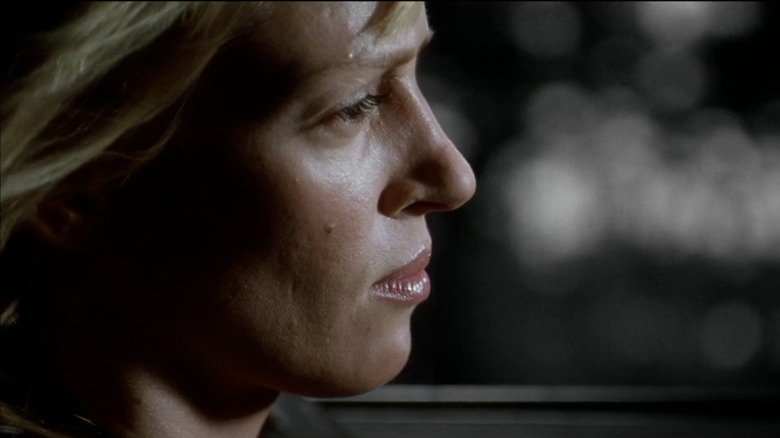 Miramax
Over the years Quentin Tarantino has developed a repertory company of sorts, and for a while, Uma Thurman was not just a Tarantino company player but a muse and collaborator. The two of them developed the character of The Bride while working together on "Pulp Fiction," and the Deadly Viper Assassination Squad that Bill commands are not a million miles away from the plot of "Fox Force Five," the television pilot that Thurman's "Pulp Fiction" character starred in. 
However, Thurman and Tarantino have not worked together since "Kill Bill: Vol. 2" came out in 2004, and more than a decade later, one of the reasons why has come to light. In a 2018 profile in The New York Times, Thurman stated that Tarantino had coerced her into doing an unauthorized automobile stunt during the filming of "Vol. 2." Instructed to drive a convertible down a winding road in Mexico at 40 miles per hour, Thurman lost control of the car and ran off the side of the road, resulting in a concussion and damage to her knees. Footage of the accident was released online after the story dropped — footage which, according to Thurman, Tarantino had fought for years to keep private (per The Hollywood Reporter). In an Instagram post accompanying the profile, Thurman acknowledged that Tarantino finally allowed her to release the footage and said that he feels remorseful about the incident. Even after making amends personally, the two have yet to collaborate again.
The Weinstein of it all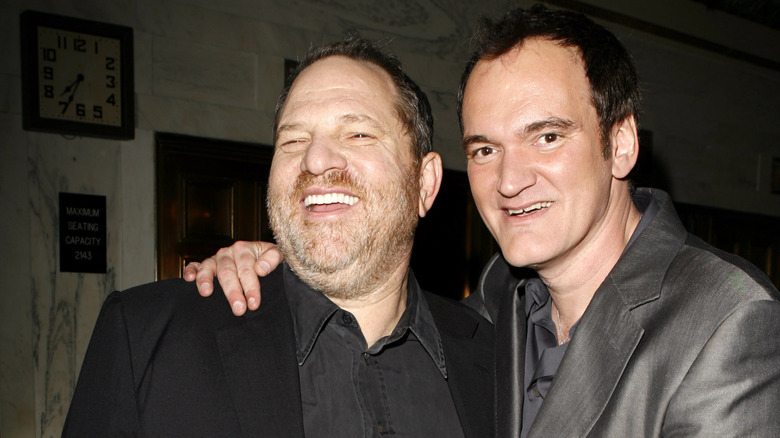 Jeff Vespa/Getty Images
In the Instagram post featuring footage of Uma Thurman's wreck, she wrote that while she feels the negligent stunt itself was not done with malicious intent, the 15-year cover-up of the accident very much was an act of malice. And Thurman laid the blame squarely at the feet of producers Lawrence Bender, E. Bennett Walsh, and Harvey Weinstein. However, that is not all she accused Weinstein of, and in the 2018 New York Times profile, Thurman claimed that Weinstein sexually assaulted her on two different occasions in the '90s — once at a hotel in London and again at a hotel room in Paris — and threatened to end her career when she confronted him over his actions. This came out in the thick of the #MeToo movement when dozens of women came forward with accusations of sexual misconduct at the hands of Weinstein, including other high-profile stars like Mira Sorvino and Salma Hayek.
Weinstein ran the Disney-affiliated indie distributor Miramax and not only produced both "Kill Bill" movies but championed and nurtured Quentin Tarantino's career from the very beginning. In return, Tarantino's zeitgeist-capturing works helped turn Miramax (and Weinstein) into a Hollywood power player and a household name. Tarantino worked with Weinstein on every one of his films from "Reservoir Dogs" to "The Hateful Eight" in 2015, and though he has since distanced himself from the disgraced executive, their longtime friendship casts a pall over much of Tarantino's work.
If you or anyone you know has been a victim of sexual assault, help is available. Visit the Rape, Abuse & Incest National Network website or contact RAINN's National Helpline at 1-800-656-HOPE (4673).
Will we ever see The Whole Bloody Affair?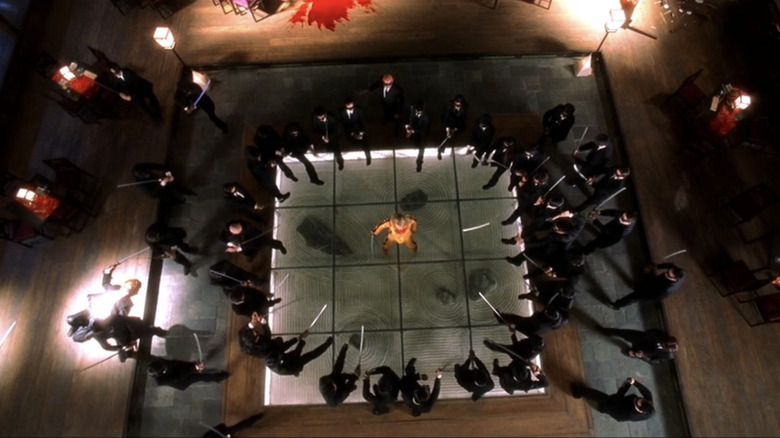 Miramax
"Kill Bill: Vol. 3" is not the only long-awaited "Kill Bill" project that may not ever see the light of day. Even before the first film premiered, the official narrative from Miramax and Quentin Tarantino was that it was intended to be one four-hour movie and that the split into two volumes was made in order to improve its chances at the box office. That may or may not be true. The two films are very different from each other in style, and other than Uma Thurman, have largely different casts. The idea that they were ever meant to form one coherent film is slightly dubious, but nevertheless, Tarantino has dangled the possibility of a combined feature — subtitled "The Whole Bloody Affair" — for years.
As of 2023, there have been two confirmed public screenings, one at the Cannes Film Festival in 2004, and the other was a two-week run in 2011 at the New Beverly Cinema — the Los Angeles theater owned by Tarantino. Reports from those screenings confirm that the combined feature runs mostly the same as what we already saw, but with a few differences: The epic fight between The Bride and the Crazy 88 gang is presented entirely in color, and certain key scenes and lines have been cut. Despite these tantalizing details, there appear to be no plans to release it publicly again or on Blu-Ray or streaming.
What does The Movie Critic mean for Kill Bill: Vol. 3?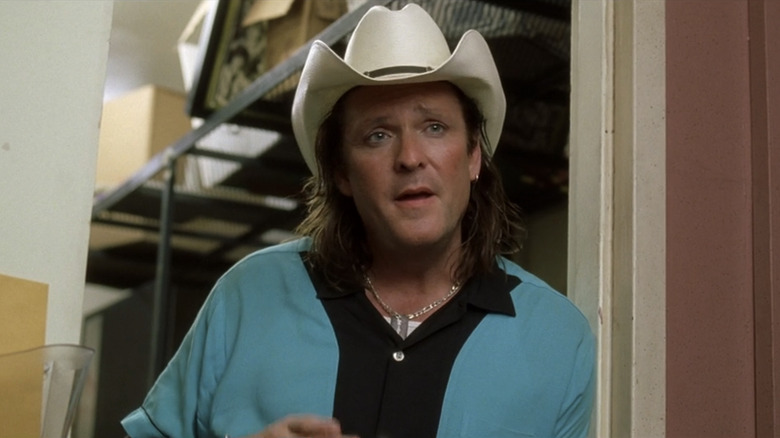 Miramax
In March 2023, Quentin Tarantino announced his next — and presumably final — film, "The Movie Critic," a '70s-set drama about a film critic. The official word is that "The Movie Critic" will be Tarantino's tenth film, after which he will retire from the movies. If the director keeps to his word, that would seemingly be the final nail in the coffin for "Kill Bill: Vol. 3. 
Tarantino reinforced this idea in July 2023 while doing an interview with the Flemish newspaper DeMorgen (via Deadline). When asked if Maya Hawke could play The Bride's daughter in a third "Kill Bill" film, the auteur replied, "I don't see that. My last film is about a film critic, a male critic. And he plays in the '70s." If you're looking for the last word on the subject, that seems pretty final.
However, don't give up hope just yet. Uma Thurman has raised an intriguing possibility when asked about it in 2022. "All I know is he's always said he's going to make 10," she said in an interview with Fox 5 New York, "but then when I have heard from him, it doesn't include if he does television." Therefore, could "Vol. 3" show up as a streaming series at some point, à la Tarantino's expansion of "The Hateful Eight" for Netflix in 2019? Or if Tarantino's stated desire to write plays is any indication of his post-retirement plans, perhaps "Vol. 3" will come to life on the page or even the stage.
Could Vol. 3 join the ranks of Tarantino's other phantom projects?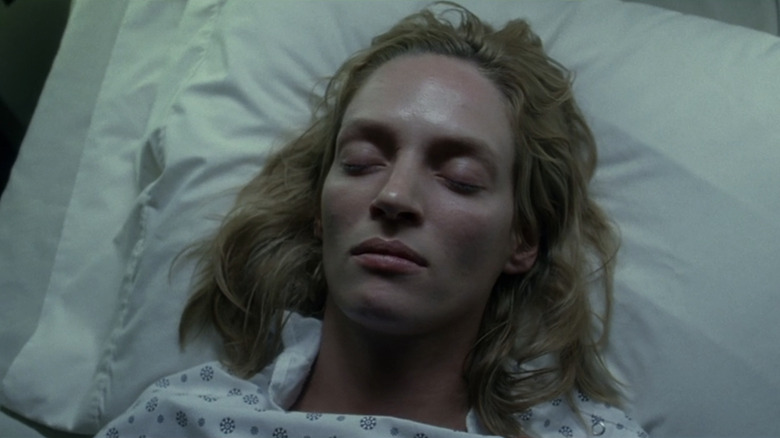 Miramax
While rumors have circulated since 2004, it has been years since "Kill Bill: Vol. 3" has had any significant movement. Maybe we will see it on the big or small screen at some point, with aged-up stars Perla Haney-Jardine and Ambrosia Kelley — or maybe Maya Hawke and Zendaya — at each other's throats on behalf of Uma Thurman, Julie Dreyfus, and Daryl Hannah? Will Vivica A. Fox and Michael Madsen cameo with digital youth serum pasted on their faces?
Only time will tell at this point, but if the project never comes to pass, at least it will be in good company. Quentin Tarantino seems to enjoy talking about films he will never make as much as actually making films, and the last three decades are littered with would-be Tarantino joints that never grew beyond his addled imagination. For every "Inglourious Basterds," there is a "Double V Vega," which would have brought together Madsen and John Travolta as their black-suited "Reservoir Dogs" and "Pulp Fiction" characters. For every "Once Upon a Time... in Hollywood" there is a '60s-set "Casino Royale" or an R-rated "Star Trek" sequel that sparks speculation and excitement, only to fizzle and fade away as he chases his muse in a new direction. "Kill Bill: Vol. 3" may only ever exist in our imaginations, but if it does happen against all odds, we know it'll be a bloody good time.