Every Adam Sandler Movie On Netflix Ranked Worst To Best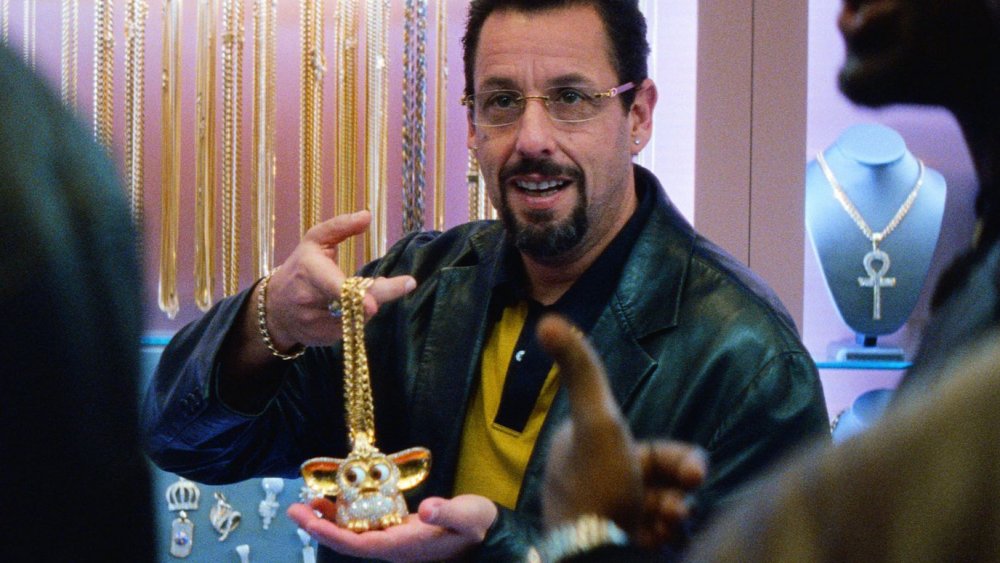 A24
Once in a generation, a talent emerges in Hollywood that captivates pop culture unlike anyone before or since. Whether they're a regular on television or the big screen, they manage to garner a cult following that fuels their ascent to the top of Tinseltown. A prime example of this is Adam Sandler, a man who has starred in so many productions over the years that his highest highs outshine his lowest lows.
Sandler's big break came in 1991 when he joined the cast of Saturday Night Live, a spot which brought his comedic talents to the world stage. Audiences took notice, and so did the industry. It wasn't long before the rising star hit the big screen. This was the catalyst for classics such as Happy Gilmore, Big Daddy, and Billy Madison, among other hilarious outings.
In recent years, Sandler has picked more dramatic films to work on, diversifying his filmography and occasionally stepping away from comedy altogether. Even though his career changes have often been met with harsh skepticism, he's proven his worth across multiple genres. Of course, Sandler's body of work is far from perfect and contains the occasional bomb now and again — many of which you can find right alongside his best on Netflix. For your convenience, here's every Sandler vehicle you'll find on the streamer, ranked from worst to best.
The Do-Over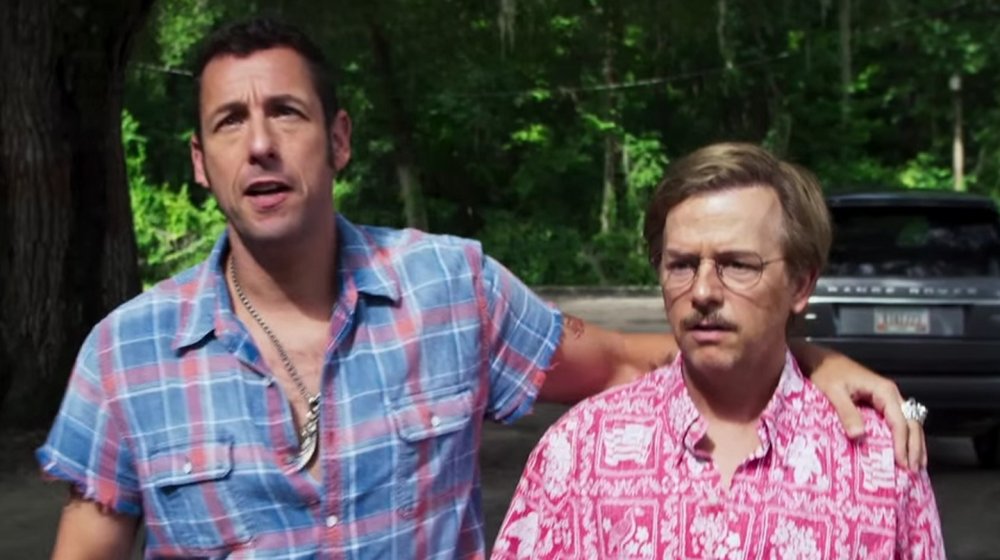 Netflix
The lowest spot on this list goes to 2016's The Do-Over, the weakest of Sandler's Netflix-exclusive offerings. Overall, the film does nothing special by way of humor, plot, or character development. Its the typical Sandler and David Spade production, but it doesn't quite reignite the spark of their previous work together. A couple decades ago, The Do-Over might have held up, but it's nothing more than old news. The plot is predictable, the jokes generally don't land, and it doesn't break any new ground.
I Now Pronounce You Chuck and Larry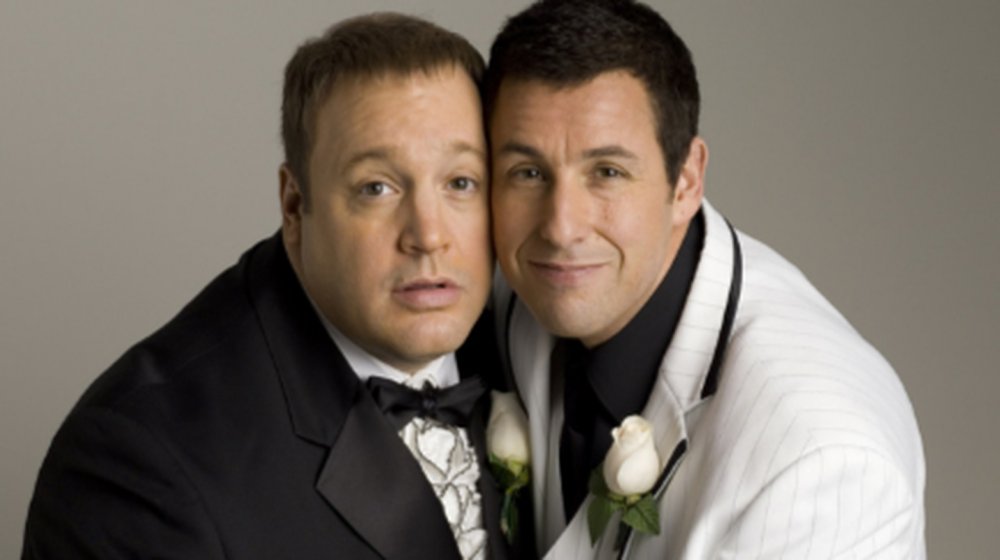 Universal Pictures
The world was a very different place back in 2007, especially regarding gay representation on screen. The entire premise of I Now Pronounce You Chuck and Larry is basically saying "Hey! These guys have to pretend to be gay! Isn't that hilarious?" It wasn't a popular sentiment back then, and it definitely isn't in 2020. Sandler and frequent comedy partner Kevin James tried to make the material work, but it certainly hasn't aged well over the past 13 years. I Now Pronounce You Chuck & Larry is best left to the sands of time.
The Week Of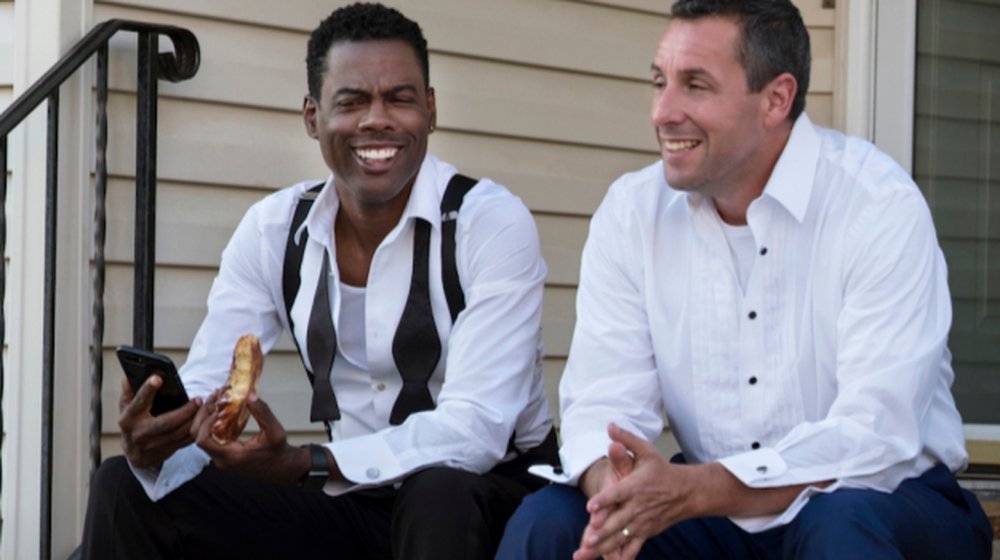 Netflix
When discussing Adam Sandler's films, The Week Of tends to fall by the wayside, due to its fairly boilerplate story and seemingly less-than-invested performers. For as many projects Sandler and Chris Rock have worked on together over the years, this is by far their most dull collaboration. Its as if neither of them wants to be there, and as a result neither do viewers, who are destined to slog their way through the bloated runtime. The Week Of showed such promise in both its plot and its cast, but ultimately left much to be desired.
Just Go with It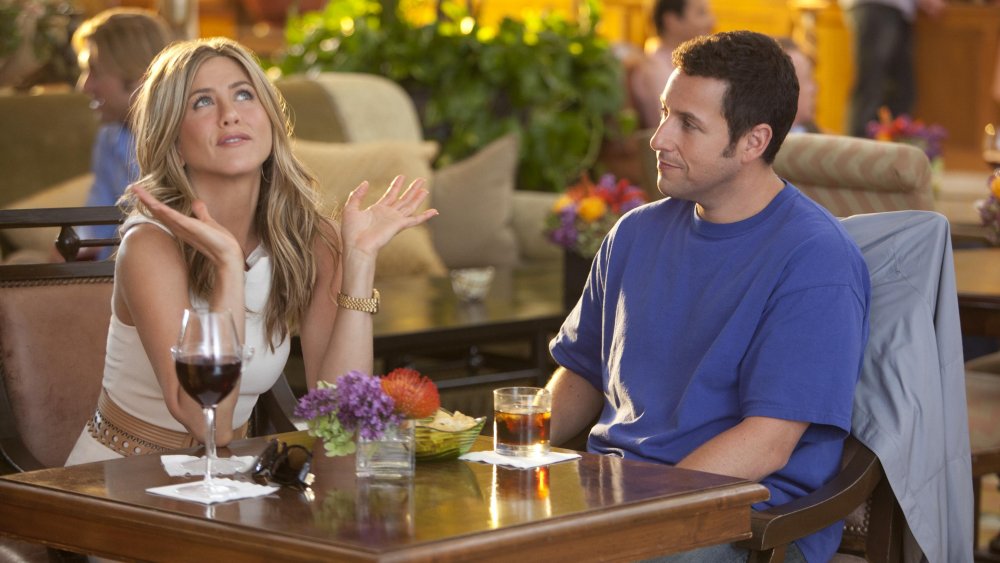 Sony Pictures
2011's Just Go with It ranks on the lower end of the list, without even trying — really, the film doesn't do or say much of anything. This uninspired attempt at a rom-com hits every cliche in the book before its muddled story finally wraps up. It has a few giggle-worthy jokes, but they tend to be few and far between. The only saving grace for the film is the chemistry between Adam Sandler and Jennifer Aniston, who from time to time show viewers glimpses of what Just Go with It could have been.
The Ridiculous 6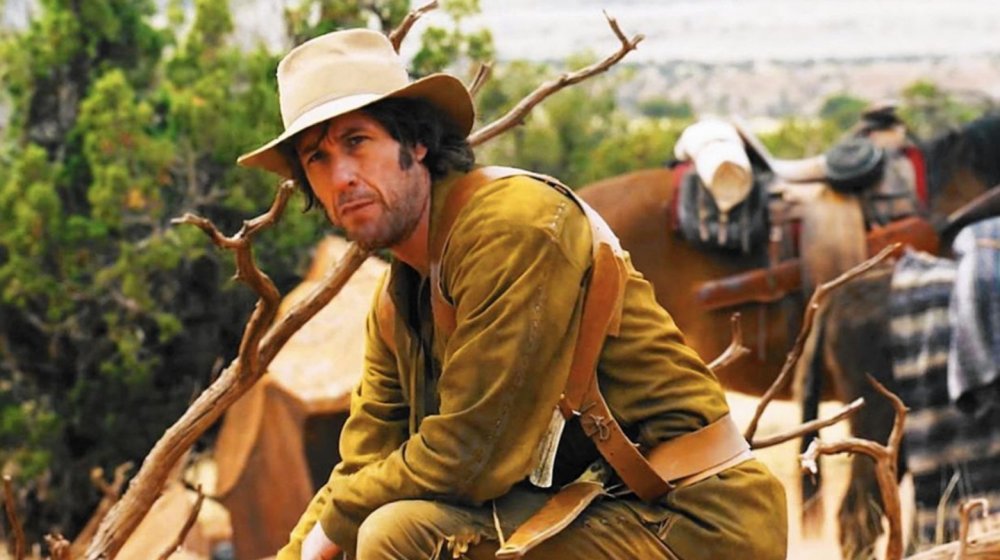 Netflix
Adam Sandler's working relationship with Netflix began in 2016 with the western satire The Ridiculous 6. While the film was riddled with controversy, specifically regarding its portrayal of Native Americans, it went on to massive success on the streaming platform. When it's not borrowing on old racist tropes, the movie itself is a tolerable popcorn comedy. Still, it isn't particularly memorable looking back, making broad statements toward outdated western formulas but ultimately doing nothing with them. The cast is stacked and the premise is goofy, but overall it misses the mark when compared to Sandler's older works.
Sandy Wexler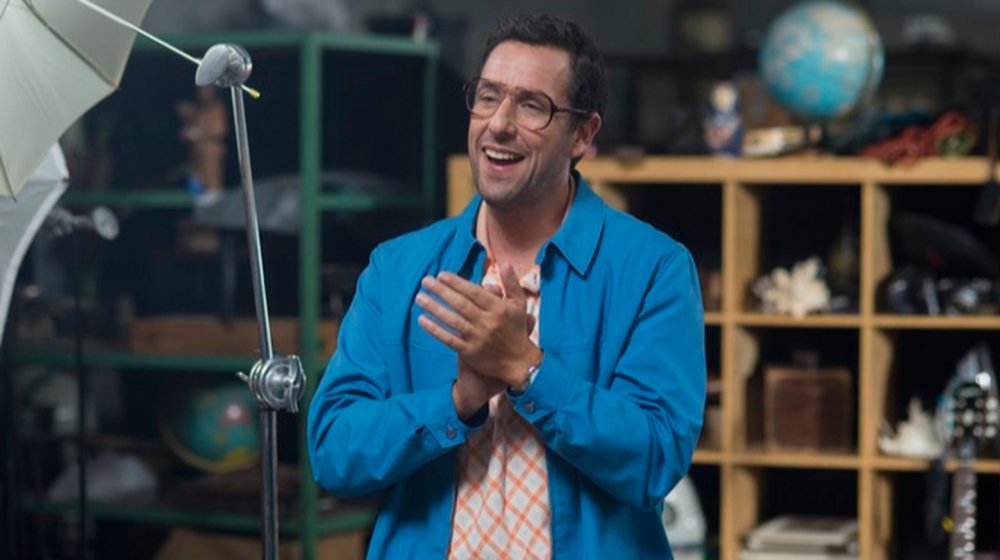 Netflix
Sandy Wexler is an anomaly of a film, masquerading as a comedy yet refusing to lean heavily into the genre. It boasts a packed cast — including the likes of Terry Crews, Kevin James, and Jennifer Hudson, just to name a few — but everyone feels underutilized all the same. Sandler's performance as the titular talent scout is decent, but borders on confused at best, leaving a lot on the table in the end. Viewers might walk away trying to sort out what exactly they just witnessed once the credits roll, and not necessarily in the best way.
Murder Mystery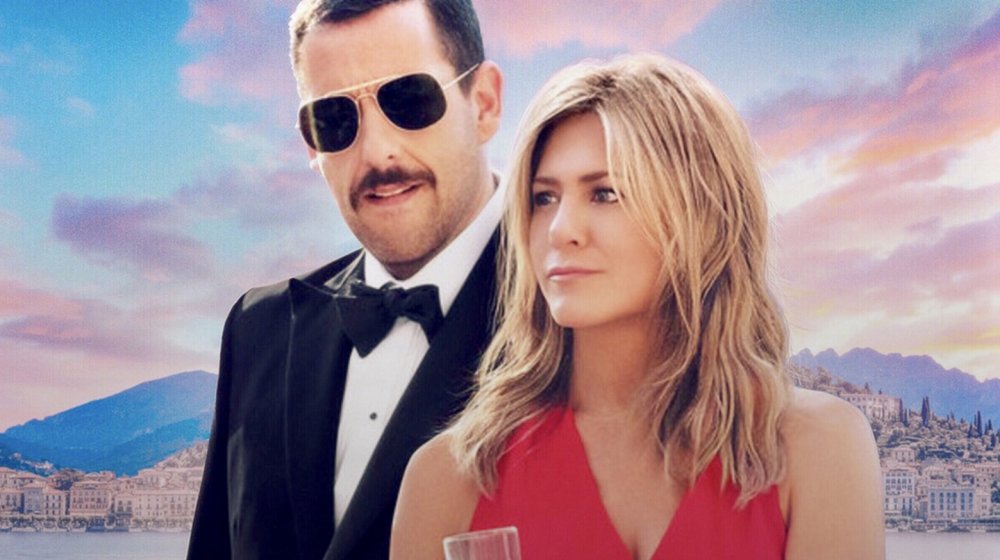 Netflix
Adam Sandler and Jennifer Aniston teamed up yet again for 2019's Murder Mystery, a film that did very well on Netflix for some time. It's by-the-numbers by all accounts, hitting every note in the murder mystery genre with a comedic twist, but its familiarity never feels dull. Still, it's a little disappointing that Aniston and Sandler couldn't improve upon their chemistry in Just Go with It. The performances here are passable and their work together is lukewarm at best, making Murder Mystery a decent watch, but by no means anything to write home about.
You Don't Mess with the Zohan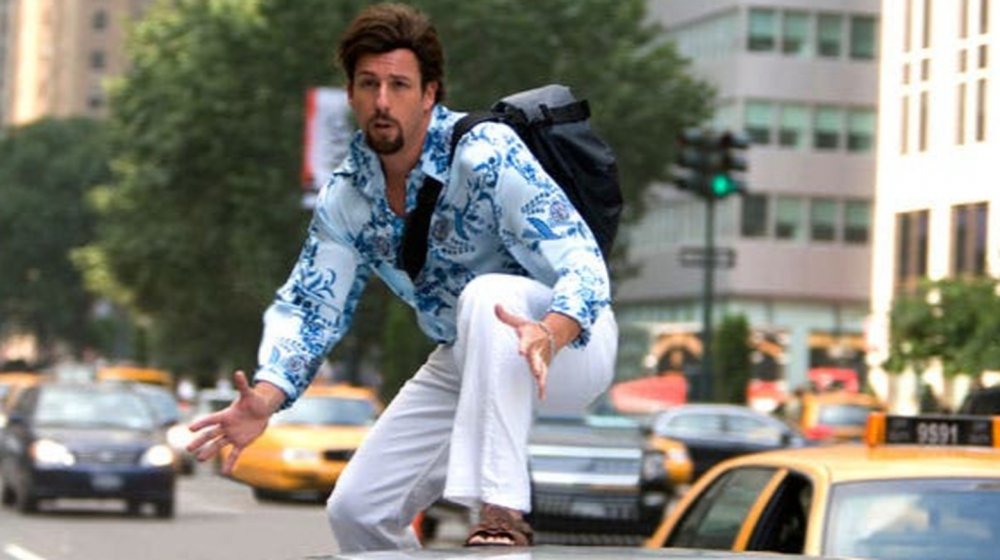 Sony Pictures
One of Sandler's most widely discussed films on this list is You Don't Mess with the Zohan, thanks largely to the fact that it's the oldest. First released in 2008, it hasn't aged horribly, but it hasn't exactly gained any esteem as the years have gone by. It's trapped in a state of limbo, not being revered as one of Sandler's masterworks yet not bad enough to warrant serious slander. You Don't Mess with the Zohan is packed with just enough sophomoric humor and absurdity to warrant watching at least once, just for the fun of it.
Hotel Transylvania 3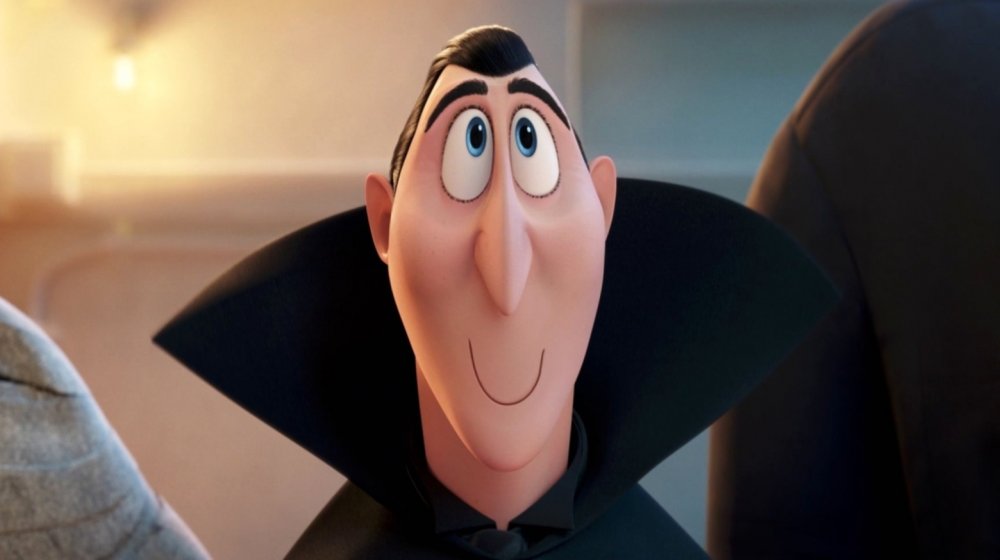 Sony Pictures
In 2018, Adam Sandler returned to one of his most prolific roles, that of Dracula in the Hotel Transylvania franchise. The first two installments were hugely successful, and the third was no different. While it does little to shake up the formula of the kid-friendly franchise, it's at least a fun excursion for a family movie night. It contains all of the strong familial subtext and plain old fun that the previous movies have in droves. If you enjoyed those, you'll certainly find it worth your time to round out the Hotel Transylvania trilogy.
Adam Sandler: 100% Fresh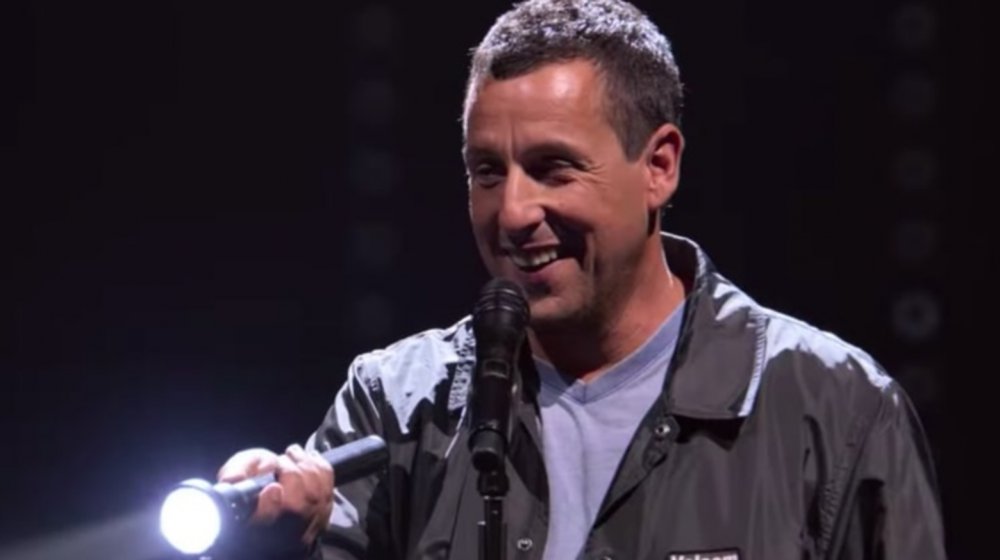 Netflix
Despite being called 100% Fresh, (in an effort to curtail/poke fun at negative Rotten Tomatoes scores) Adam Sandler's latest stand-up comedy special doesn't quite take the top spot. While it does have its share of vintage Sandler wackiness, this stage performance gives fans a totally different perspective on the man. It humanizes his larger-than-life personality while offering up a series of entertaining stories and songs to keep viewers engaged. It's Sandler at his undisputed down-to-earth best, as a comedian and as a person, and breathes new life into his comedy career.
The Meyerowitz Stories (New and Selected)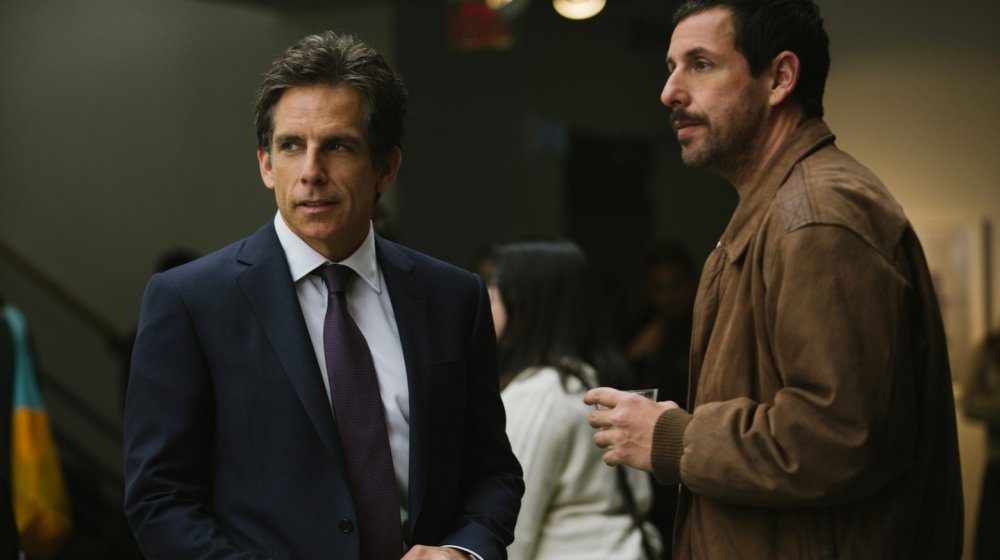 Netflix
The Meyerowitz Stories may not have gotten a lot of mainstream attention when it debuted on Netflix in 2017, but it marked a turning point for Sandler. His performance as Danny Meyerowitz, the unemployed and divorced son of former Bard art professor and sculptor Harold Meyerowitz (Dustin Hoffman), reached levels of dramatic nuance he'd rarely gotten to explore. The film tackles the complex nature of family and success, and the troubles that arise between siblings when those issues collide. It's a beautiful, comedic, and deeply thoughtful piece, and is one of Adam Sandler's finest entries in his filmography.
Uncut Gems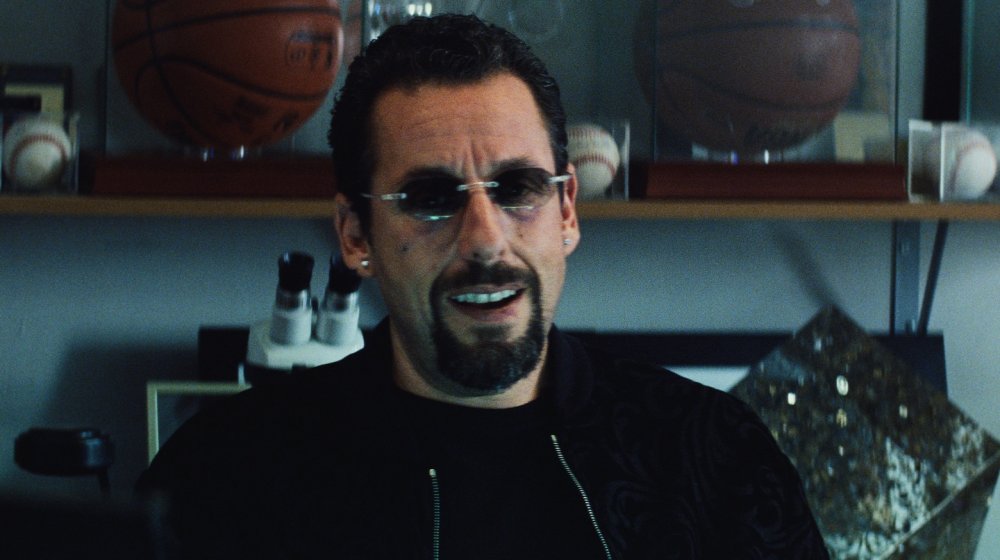 A24
You'd be hard-pressed to find someone who wasn't impressed with Adam Sandler's performance in 2019's Uncut Gems. Here he broke away from the traditional goofy comedy he's become known, celebrated, and often maligned for, and dove headfirst into the art house world of A24. It paid off, allowing Sandler to show the world he has more range than he's typically given credit for. He was snubbed come Oscar time, but the fact that his performance generated that kind of buzz perfectly illustrates what a transformative moment Uncut Gems was for the oft-derided funnyman. Writer-directors Josh and Benny Safdie crafted a suspenseful, entertaining watch on every level, but Sandler's work as jeweler Howard Ratner was the icing on the cake.