The James Bond Legend You Never Realized Was In Batman Beyond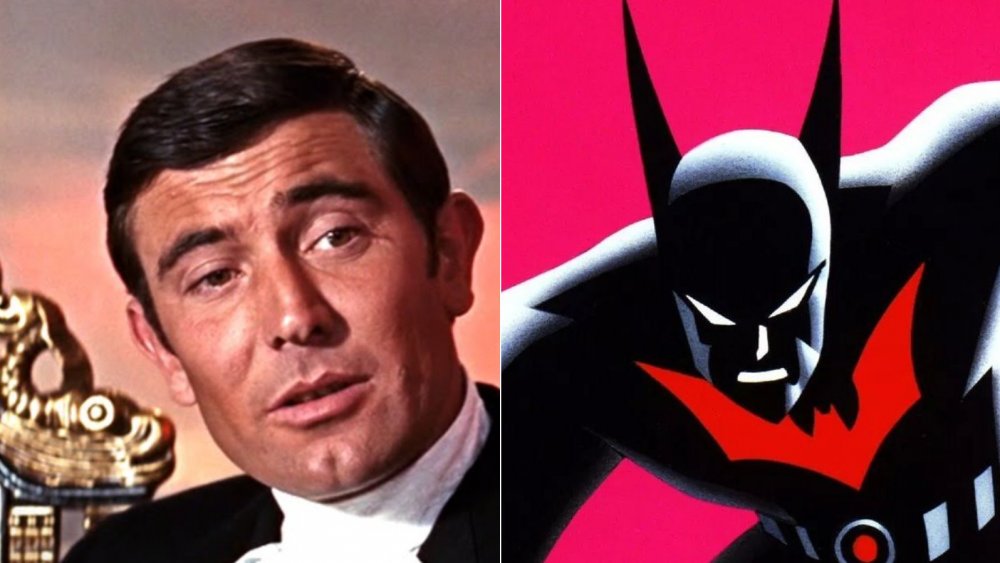 MGM, Warner Bros./DC Entertainment
Voice acting is the land of second chances, and it's kept your favorite pop culture icons financially solvent since before you upgraded to Pull-Ups. Check out the cast list for Justice League Unlimited and you'll find a bevy of familiar names: Powers Boothe, Jeffrey Combs, J.K. Simmons, Jeremy Piven, Virginia Madsen, and just shy of the entire cast of Firefly showed up at one point or another. Ever wonder where Freddy Krueger actor Robert Englund has been since the teenage dream well ran dry? Check out the voice credits for The Spectacular Spider-Man, The Super Hero Squad Show, Regular Show, and Injustice 2. Can't wait for a Star Trek: The Next Generation reunion when Picard returns for a second season? Pick up the War of the Chosen DLC for XCom 2.
From 1999 to 2001, Batman Beyond was the team to beat, celebrity voice cameo-wise, not to mention one of the best superhero shows on television. Staples of nerdery like George Takei, Linda Hamilton, and Clancy Brown all contributed to the show's cast. In a particularly on-the-nose piece of casting, Jodi Benson, the voice of Ariel in Disney's The Little Mermaid, played Aquagirl for two episodes.
And in a select few stories, Batman Beyond was graced with the presence of a former James Bond. A brief James Bond. A James Bond who, ironically, didn't even voice James Bond the whole time that he was James Bond: Australian actor George Lazenby.
007 goes Beyond the call of duty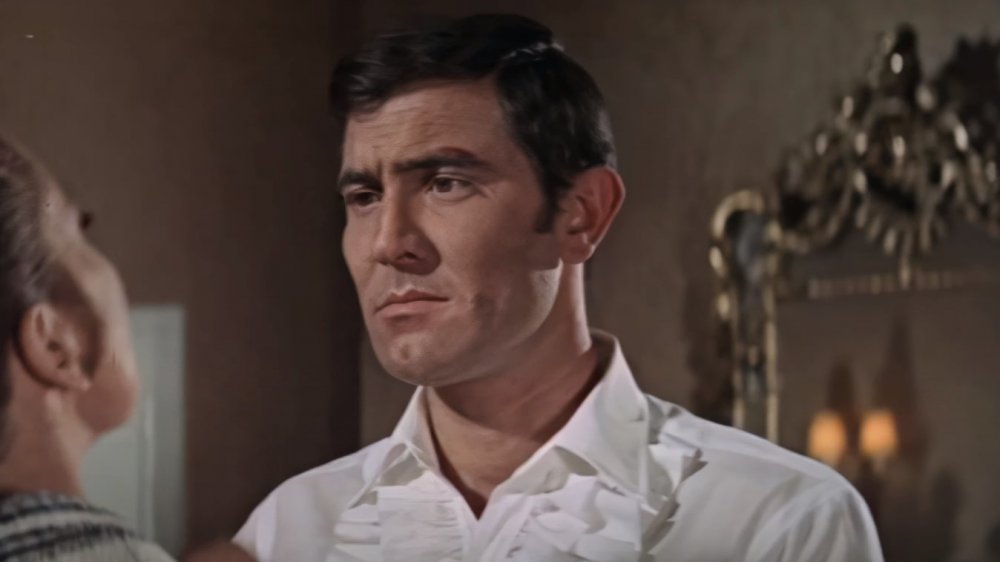 MGM
Lazenby appeared on Batman Beyond as the King, leader of the Royal Flush Gang. Utilizing themed accoutrements like playing card-shaped hovercrafts, the cadre of criminal ne'er-do-wells plague the new Batman over the course of three episodes.
To this day, Lazenby is best known for his astonishingly short tenure as 007, sticking around for just one film, 1969's On Her Majesty's Secret Service. Batman Beyond wouldn't be his only venture into comic book roles — he also appeared on the 1990 Superboy live action series, playing the Boy of Steel's space dad Jor-El. Since then, the now 81-year-old actor has largely stuck to television, showing up on The Pretender and the short-lived '90s Knight Rider spin-off Team Knight Rider.
During a virtual panel for 2020's New York Comic Con, the original stars of Batman Beyond, Kevin Conroy and Will Friedle, chatted with the show's casting director Andrea Romano about some of the remarkable talent that she brought to the series. The moderator, pointing out that the show would occasionally see runs of actors from shows like L.A. Law and Hill Street Blues, prompting Romano to ask, "Can you tell what we were watching at the time?" 
Expanding on the reason that so many soap opera stars appeared on the show, Romano continued, "I can tell you that the soap opera fan was [producer] Bruce Timm, and it's very sweet how that came about, because Bruce and his mom, the time that they had together was them watching soap operas together. So he knew all the General Hospital actors." On a related note, George Lazenby appeared on General Hospital for five episodes in the '80s. Maybe somebody remembered him for something besides James Bond after all.