Aimee Garcia Discusses Her Roles On Lucifer, Marvel's M.O.D.O.K., And More - Exclusive Interview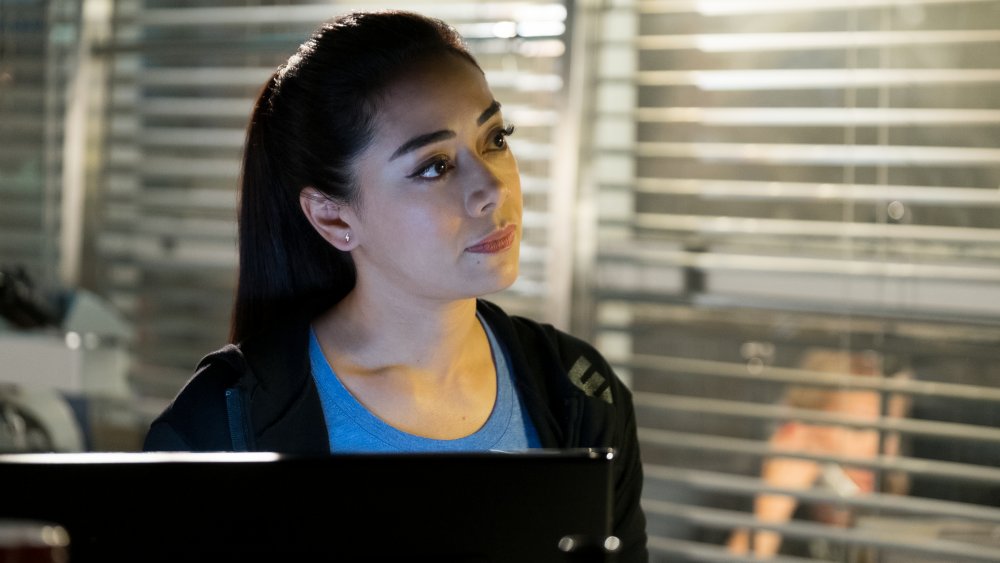 As forensic scientist Ella Lopez on the cult hit Netflix series Lucifer, Aimee Garcia brings a certain kind of dorky charm to the black comedy about the Devil himself living a mortal life and solving crimes in modern-day Los Angeles. With a spiritual outlook on life and a perky personality, Ella is often comic relief while also providing unpretentiously astute observations about the situations she finds herself in.
But Lucifer isn't the only series you may know Garcia from — she's also appeared on George Lopez's self-titled sitcom, the period drama Vegas, and Dexter, as the nanny of the vigilante serial killer. Additionally, she has starred in such films as the 2014 RoboCop reboot, and she narrated the Adam Sandler film Spanglish.
In an exclusive interview with Looper, Garcia chatted about what has made Lucifer such a staple among fans, what her role as Ella has taught her, and why she's so excited about her upcoming role in Marvel's M.O.D.O.K. animated series. Here's what she had to say.
Aimee Garcia sees her Lucifer character Ella as very vulnerable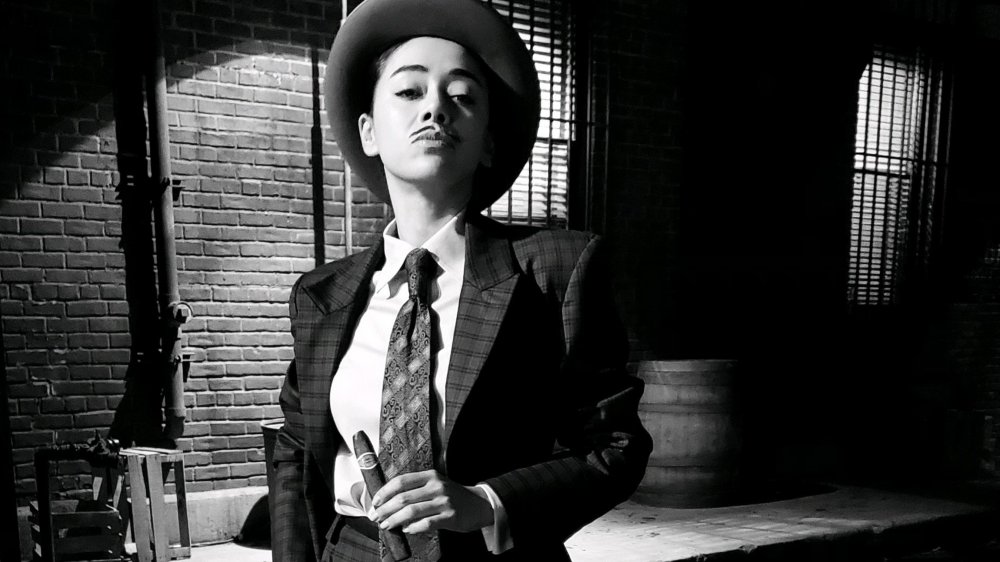 Netflix
Lucifer was canceled by Fox and picked up by Netflix, and season 5 was supposed to be its last — but then it got a surprise season 6. What do you think the appeal of the show is that keeps resurrecting it?
The fans, obviously. And I think that it's very relatable. We deal with family, love, sibling rivalry, acceptance, forgiveness, unrequited love, heartbreak, loss. These are all things that are universal. And so I think that really resonates globally, and that is one of the things I love most about our show — we have fans in Dubai, Canada, New Zealand, Africa, India, and Europe. It's so great to have something that brings people together in a time where there's so much divisiveness.
Plus, I think Tom [Ellis as Lucifer] is an incredible actor who's ridiculously handsome. Overall the cast is all-star — everyone is so great and amazing, including our writers. TV lives and dies by the writing, it's a writer's medium. I always say theater is an actor's medium, film is a director's medium, and TV is a writer's medium. And they're so talented and they're constantly throwing curveballs. They find ways to ground celestial characters, like by bringing in God as the dad character. And they're ripping our heartstrings out — will they? Won't they? And they make us laugh.
I think part of the appeal of the show is that you have these larger-than-life celestial characters dealing with everyday things, like getting stuck in traffic or having a crush. It humanizes them. I mean, we've all had crushes. So I think to have these characters that can fly and stop time and grant wishes, having them struggle with a guy or girl they have a crush on or being a dad. Amenadiel [played by D.B. Woodside] is this all-powerful angel, but he's such a helicopter parent. D.B. and I joke about this. It's so funny and fun to watch, because anyone who's a parent can relate to it. I think that is what makes the show so appealing; it's larger-than-life characters with these universal human struggles.
What can fans expect from season 5 and from Ella?
You can expect to laugh, cry, and gasp. Obviously we have a Big Bad played by Tom Ellis himself, and [his twin brother] Michael [also played by Ellis] who stirs up all sorts of ruckus. It's like having Thanksgiving dinner and that uncle or cousin shows up and you're like, "Oh, gosh, there's going to be some drama!" So expect a lot of family drama, which is really fun. And there will be some fun Deckerstar moments, which we all love.
And then for Ella personally, we will see her in the darkest place we've ever seen her, which will be really disheartening because she's such a bright light. There's a film noir episode, which is so fun and brings us back to the 1940s. And, yeah, that was out of my wheelhouse because, as an actor, I'm used to coming in, doing some dork dancing, cracking some jokes, and getting out. But this season the writers had her have a crisis of self, which is disheartening because she's such a cool little bean. She just wants to spread love and light and be optimistic and positive. But, yeah, we're going to see Ella in one of the darkest, most uncomfortable scenes of the series.
What's something fans don't know about Ella that they should?
Wow, that's a good question... because she is transparent and wears everything on her sleeve. But she's really sensitive. She's fun and smart and unapologetic and loud and not afraid to just say something inappropriate or goofy. And she seems, I think, like she's this confident woman in STEM and the smartest person in the room, but she's really very sensitive. We saw it a couple of seasons ago when Lieutenant Pierce [Tom Welling] made fun of her for talking so much, and that really affected her. So throughout that whole season she didn't say much, which is so heartbreaking because that's what makes her Ella — she is such a dork. And it's like, embrace your dork! And in season five we'll see Ella really struggle with that, with her sense of self and second-guessing herself.
We see how sensitive she is right off the bat in season five when she takes off her shoe and starts hitting Lucifer, because she feels he abandoned her. Everyone else takes it in stride, but she doesn't just get mad, she gets mad. She feels so abandoned that she literally hits him, takes off her shoe and hits him in the chest, which shows that she felt really bad that he didn't even tell her that he was leaving. So obviously she's very sensitive. And I think that a lot of fans probably don't know that. They probably think she's the most confident girl ever, because she [pulled herself out of] poverty and grew up with brothers and she's tough. But she's really very sensitive.
What's the biggest thing you've learned from her?
She has a lot of great qualities. I think probably the biggest thing I've learned from her is what she says about faith. Last season — and this seems to have also resonated with a lot of viewers as well — she said, "It's not God's job to stop bad things from happening. It's God's job to give us the strength to deal with the bad things that happen." So I feel like I have learned that from her, to just trust and have faith. I'm super Type A, I like to go above and beyond. I'm a bit of a control freak, and I like to be very organized. And I think she's probably taught me to just have faith that everything's going to be okay, and to just breathe and trust.
Aimee Garcia talks comics — and appearing in the upcoming M.O.D.O.K. animated series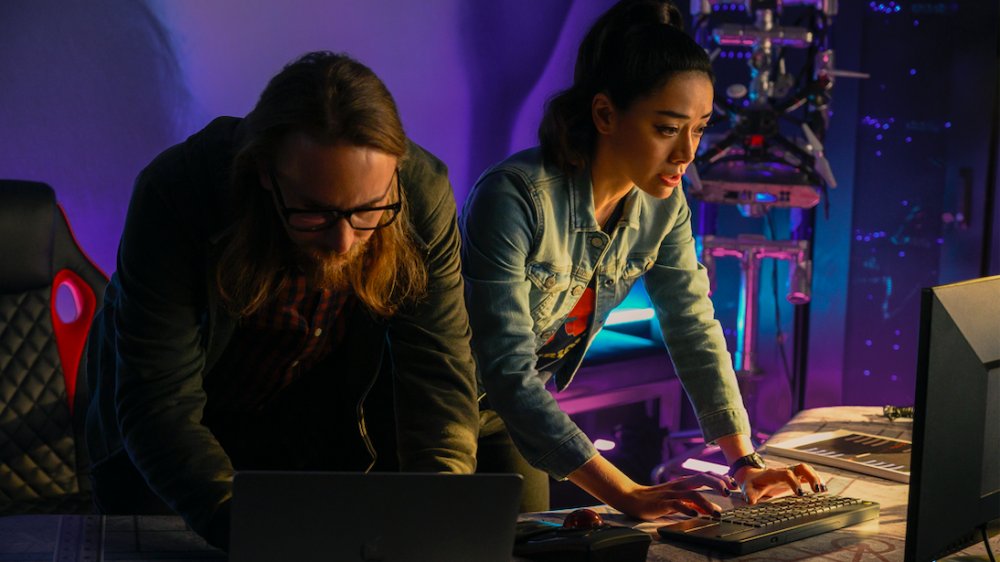 Were you a fan of the Lucifer comic before you appeared on the show?
I read Sandman and Lucifer and I liked them. I really liked the character Elaine Belloc, and I secretly thought that Ella was going to be Elaine and maybe become an angel. But, yeah, I read the comic and thought it was really cool. I really liked the banter. That's what I liked about Ella and Elaine and Lucifer. I was like, "Oh, he's funny." Who would have thought the devil would be funny? You know what I mean? And I feel like that translated to the show — and that's probably another reason that the show is still standing... because it's funny.
So, yes, I was a fan. But because I was a fan, I was misled. In my own brain, I was like, "Oh, I have it all figured out." If I didn't know about Elaine Belloc I would have never thought Ella could be her. But since I did know about her, I was like, "Oh, for sure. That's a code name." I was wrong.
Speaking of comics, you've written a couple. How did you get involved in that?
I work with AJ Mendez, who's a total badass. She was a wrestler and has her own action figures and is even a New York Times bestselling author, even though she grew up in total poverty and homeless. Her story is very inspiring. So we were asked to write the GLOW comic books based on the Netflix series and, full disclosure, we did not know what we were doing. We literally Googled "how do you write a comic book?" We had no idea how to write a comic book until we actually were offered the job to do it. And we ended up doing a good enough job that they asked us to write a Dungeons & Dragons. But it all started with GLOW, and then we decided to write our own original comic and start our own production company [Scrappy Heart Productions] and pay it forward and create the change we want to see in media that we didn't have growing up. We both loved Buffy the Vampire Slayer, it's one of our favorite shows. And so we thought, what if we get inspired by that and create a Buffy type of heroine for the next generation. So that's where our original comic was born [East Side Saints]. We're very excited. Anytime I have a minute on Lucifer, I'm writing on my computer.
Are you excited to be part of the upcoming Marvel's M.O.D.O.K. animated series, and what can you tell me about that?
I am so excited. They said officially that my character Jodie is part of the Marvel Universe, which I'm very excited about. They said that it's one of the first biracial relationships in Marvel's vault, which is really cool. And Patton Oswalt is an incredible voice as M.O.D.O.K. And what I love about this show is he is a supervillain. All M.O.D.O.K. wants to do is destroy the world, but he can't because he's like, "How can I destroy the world if my torture chamber is replaced by yoga studios? I can't work like this!" And he's also dealing with an overbearing wife; he's got kids and a family life. It's such a fun character, and I love when underdogs get their moment in the sun. Lucifer was an underdog show from the beginning, too. Like, crime-solving devil? That's never going to happen!
But, yeah, I love when underdogs just get their moment. And who would have thought that a supervillain would feel like a fish out of water and can't do his supervillain things? He's so upset, and that's where the show is born. And it's so great that Iron Man is part of the series. It's so fun and I can't wait for people to see it — completely irreverent. You're going to probably shake your head and think, "I can't believe that they just did that!" It will blow your mind. It has no boundaries and is really funny. And I'm really excited to officially be part of the Marvel Universe.