Why The New Ren From The Goldbergs Looks So Familiar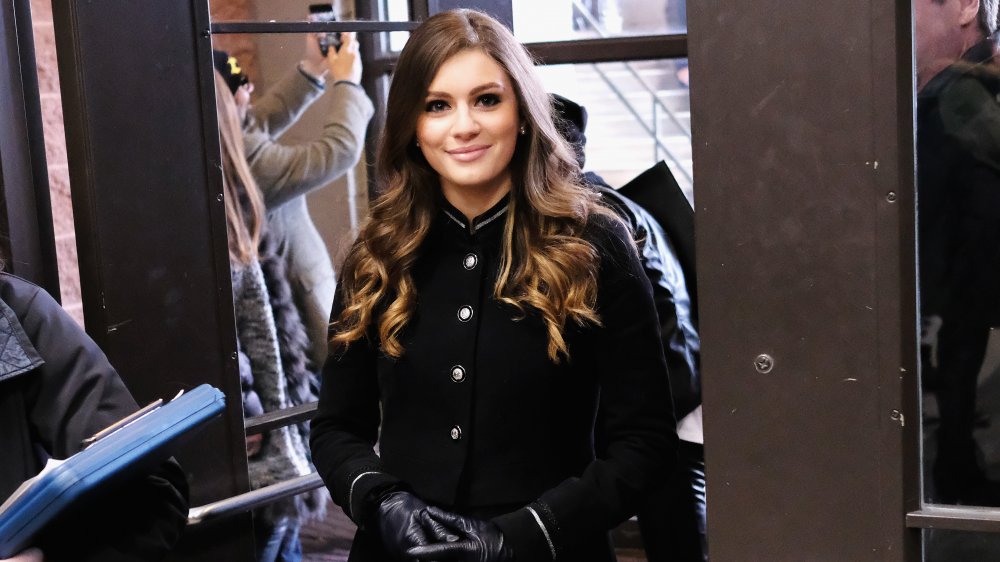 Nicholas Hunt/Getty Images
The Goldbergs, an eighties-era sitcom with roots in showrunner Adam F. Goldberg's childhood, is set for an eighth season in late October 2020. That sort of news is always a relief for fans, doubly so in a world where COVID-19 throws Hollywood production schedules for a loop more often than not. With such a strong main cast that's been around since the beginning, it's sure to be another great season.
As far as the supporting cast goes, though, not everything is set in stone. In season 7, Kelli Berglund was introduced as Erica's (Hayley Orrantia) college friend and Barry's (Troy Gentile) love interest Loren, AKA Ren. She won't be reprising the role come season 8, due to a more demanding commitment: a starring role in Heels, an upcoming wrestling drama which will air on Starz. Rather than write her out of The Goldbergs, the showrunners decided to fill the role of Ren in with another actress: Carrie Wampler. 
This isn't the first time an actor's been replaced and won't be the last, but it certainly helps that Wampler is no stranger to the screen. Here's where you may have seen her before.
Wampler played a nightmare girlfriend on the Disney Channel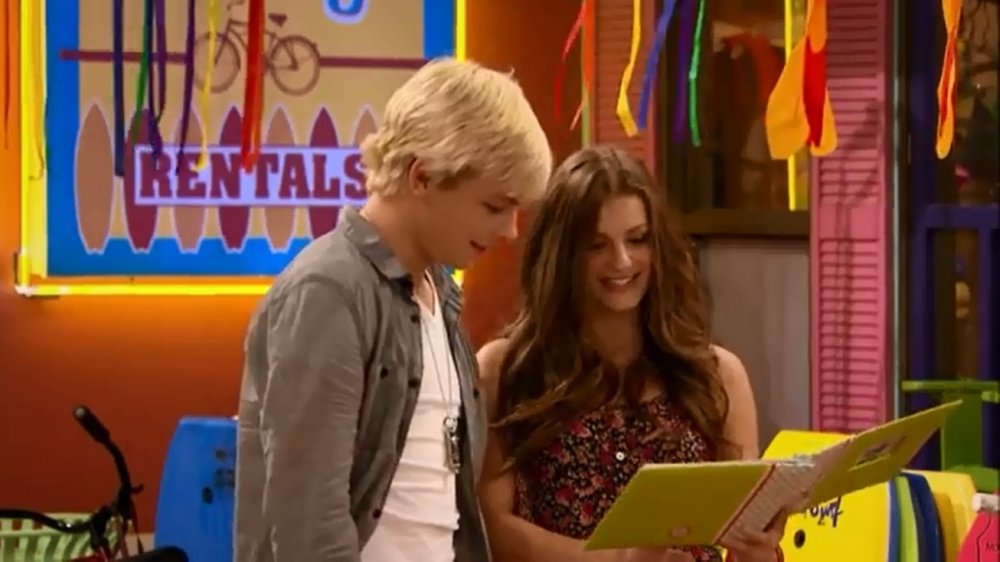 Disney
The Disney Channel's Austin & Ally covers a surprising amount of ground over the course of its four seasons: what it means to be a musician, where music and business intersect, and of course, relationships. The titular characters are teenagers, a time when romance can blossom unexpectedly — and sometimes unfortunately. Such is the case with Wampler's Brooke, who hits it off with Austin (Ross Lynch) for a thankfully short amount of time.
Her love for Austin surpasses mere obsession. They only go on a handful of dates, but Brooke keeps items from each outing to remember them by — and is exceedingly proud of that fact. Even after Austin zooms right out of there, Brooke brags that she went on a total of 37 dates with him in her dreams, chronicling them in a scrapbook of hers. She doesn't let the fact that she and Austin aren't together anymore deter her one bit, retaining her jealousy of other girls in his life and doing everything in her power to stay in his orbit.
Annoying though her behavior may be, it's at least excusable— until she takes her obsession to the next level, that is. It's played for laughs (remember, this is a Disney Channel show), but Brooke eventually kidnaps Austin and tries to force him into writing her a love song. Lesson not learned, she later kidnaps Ally (Laura Marano) as well, locking her in a photo booth. Wampler surely treats her real life love interests better, but the fact that she plays Brooke so well is a little scary.
Wampler was a professional gamer in a web series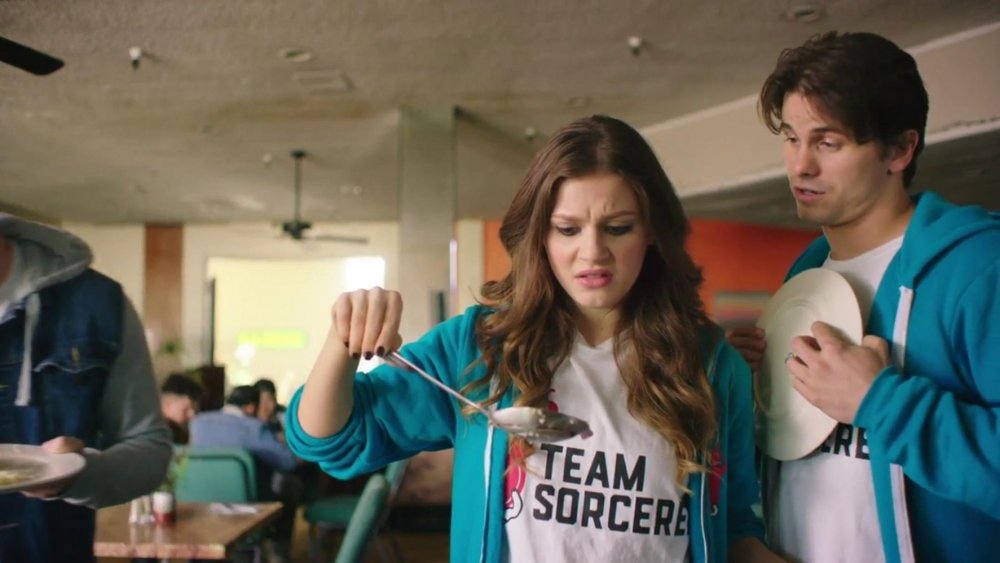 Funny or Die
With gaming being as popular as it is these days, it's only natural that it spills over into other forms of media. As it's still a relatively new sensation, however, it isn't always handled with aplomb. Those few series that tackle the topic with confidence are to be applauded, especially when also juggling a unique premise. Tales of Titans (a riff on League of Legends) is one such show — a web series, actually. Lead actor Jason Ritter was even nominated for a Primetime Emmy for Outstanding Actor in a Short Form Comedy or Drama Series.
Wampler stars alongside him as Becca, known to the in-show gamer world as Ant Girl. She and her eSports team Sorcerer lose an important tournament, forcing them to recruit Greg (Ritter) after their star player rage quits. He's considered a bit old for the professional gaming world, a point that the show explores in depth by showing how he deals with a community of people younger than him, Becca included.
She helps to show him the ropes, but she has problems of her own to deal with as well. Episode 5 of the series, "Foul Temptations," is listed with the all-too-apt subtitle "The Problem with Being a Woman in Gaming." Calling it a complicated issue is the understatement of the year. Though Tales of Titans broaches the topic with its standard comedic approach, witnessing Becca's trials and tribulations is hard to watch in the most informative way possible, thanks in no small part to Wampler's performance.
Wampler's had small roles on big shows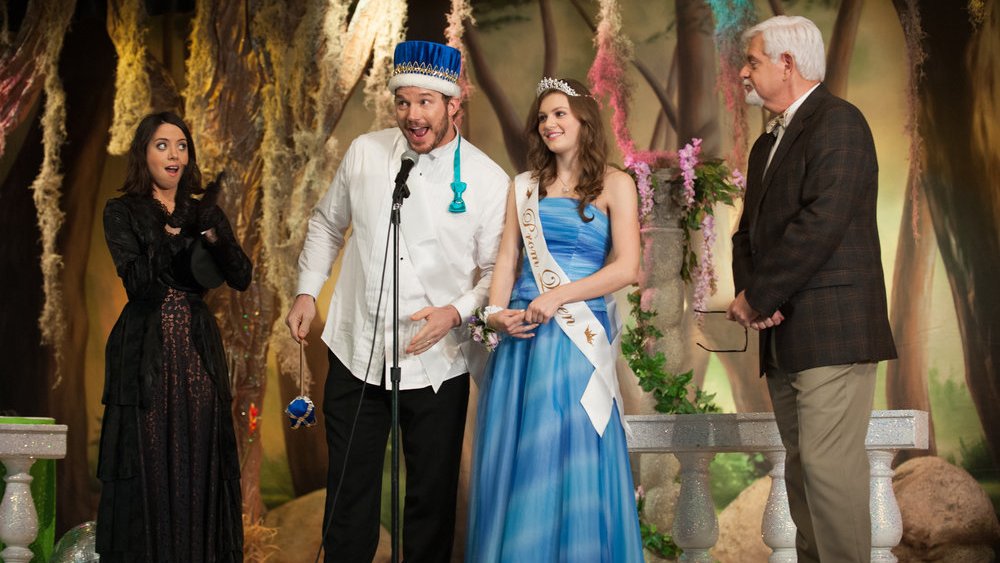 NBC
A slew of minor appearances on big-name shows are sprinkled in with Wampler's more prominent roles, which is a great way for any thespian to get their name out there. Parks and Recreation stands as one of her earliest gigs, her appearance in the episode "Prom" filmed around the same time as her Austin & Ally days. Sharing the stage with Chris Pratt and Aubrey Plaza is a memory she's sure to hold dear no matter how far she goes in Hollywood, even though Pratt's character very rudely steals the prom queen crown from her head.
Wampler also appears in two episodes of Big Little Lies, the HBO hit based on Liane Moriarty's novel of the same name, and on 9-1-1, a show chronicling the dangers faced by Los Angeles' first responders. Her next role will see her transition from the small screen to the big, starring as Jessica in the psychological thriller Paper Tiger. Wampler's talent means she'll only continue to rack up performances like this, and that's definitely something to look forward to.