Arrow's Stephen Amell To Lead Starz Wrestling Drama Series Heels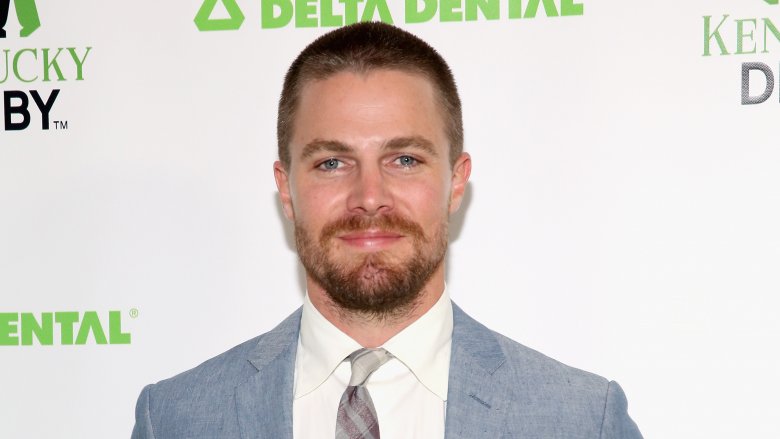 Robin Marchant/Getty Images
Stephen Amell, the Green Arrow himself, will soon be trading in his superhero garb for something even more form-fitting: wrestling spandex. 
Deadline has reported that Amell, fresh off filming the final season of CW's superhero drama Arrow, has signed on for the main role in upcoming Starz series Heels.
The show is a drama set in the wild world of independent professional wrestling, and has been in pre-production since 2017. With Amell officially signing on, the project has been greenlit with an order for an eight-episode season. 
Written by Michael Waldron, who has worked on comedies like Community and Rick and Morty as well as upcoming Disney+ series Loki, Heels is about those brave people who pursue their dreams of spandex glory in the realm of small-town wrestling. The show will follow a family-owned wrestling promotion crew, the Duffy Wrestling Association, in a small Georgia community as two rival brothers battle over their father's legacy. Veteran character actor and writer Mike O'Malley, known for starring on early 2000s CBS sitcom Yes, Dear and executive producing four seasons of Starz series Survivor's Remorse, has been brought on as showrunner.
Amell's Jack Spade plays the role of the villain, or "heel," of the DWA — the man the crowd just loves to hate. Outside of the ring, Spade is also the DWA's owner, not to mention a family man trying to provide for his household, which includes both organizing wrestling promotions as well as subjecting himself to various choke-holds and dropkicks. 
Heels is a natural fit for Amell, who has flexed his wrestling muscles in the past and even competed in Celebrity American Ninja Warrior in 2017. A good friend of professional wrestler Cody Rhodes, Amell has wrestled in three professional events: WWE's 2015 SummerSlam, Ring of Honor's 2017 Survival of the Fittest, and Rhodes' 2018 event All In. Amell apparently broke his hip during his last wrestling match at All In, though, so if you want to see him in the ring again, you'll have to tune in to Starz when the show airs.
Check back with Looper for updates on Heels as more information becomes available.