How Eddie Van Halen Influenced Bill & Ted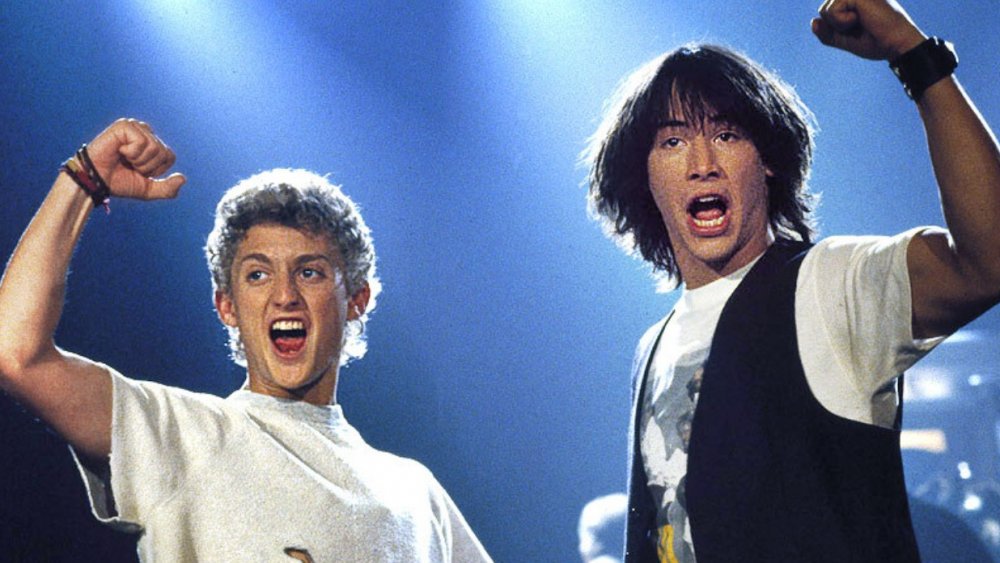 Orion Pictures
Bill and Ted are two super-chill, seemingly not-too-bright dudes who are the core of some wild adventures, including time travel and escaping the afterlife, within the Bill & Ted franchise — a franchise that the late Eddie Van Halen influenced in a big way.
Within the films' universe, Bill, played by Alex Winter, and Ted, played by Keanu Reeves, are the pieces of a two-part rock band known as the Wyld Stallyns, and share the same distinctively mellowed-out dispositions. Bill & Ted's Excellent Adventure was listed in Rolling Stone's "10 Best Stoner Movies of All Time" – but, according to Reeves, the protagonists just have a "nice outlook" and "like people" (via Associated Press). What the lovable dudes also like is rock music, specifically Van Halen.
The Van Halen love makes its first appearance in the opening minutes of Bill & Ted's Excellent Adventure. Bill and Ted are attempting to make a music video to convince the great Eddie Van Halen to the Wyld Stallyns so he can teach them how to actually play music so they can be a decent band. It's a whole thing. Eddie Van Halen was more than a name drop for the film, though — the musician had a serious impact on Winter in his younger years that followed him through to the Bill & Ted franchise.
Eddie Van Halen lives on in Bill and Ted's air guitars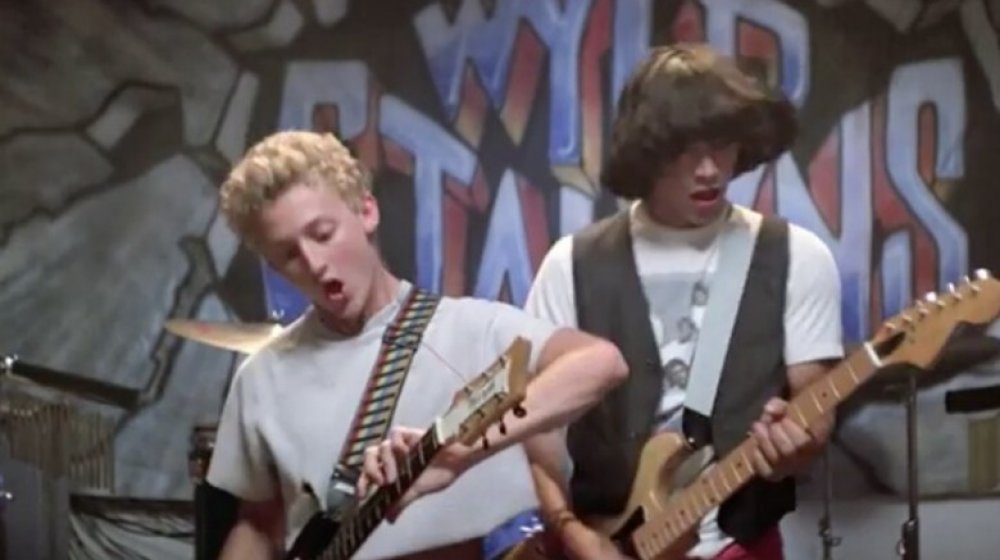 Orion Pictures
Winter was first exposed to Van Halen when he moved to New York in 1978, as he shared with Rolling Stone following the death of Eddie Van Halen in early October 2020. "There was a really beautiful quality to what he would play that I think really impacted people profoundly," Winter said about the musician. From there, Van Halen would become a part of Winter's life that he brought with him into the Bill & Ted movies.
Notably, Winter stated that Van Halen's infectious music aligned with Bill and Ted's personalities, and that Eddie Van Halen's legendary guitar skills influenced the two characters' signature air guitar move. 
"The image that Eddie had runs through all of our movies. Bill and Ted are supposed to be into hard rock. But were these sunny, optimistic California guys. And that's really embodied by Eddie Van Halen," Winter said. "I can't speak for Keanu, but speaking for myself, the air guitar came completely from Eddie's playing. [...] I always thought of Eddie's incredible physicality with the air guitar stuff, and just the way these guys would have seen him and how that would have impacted them."
The actors and production team behind the Bill & Ted franchise actually tried to get Eddie Van Halen to appear in each of the franchise's three films, but every time, Van Halen politely declined, and the films had to go on without him. Regardless, the rock icon lives on in Bill, Ted, and their masterfully replicated air guitars.