The Bill & Ted Face The Music Team Tried To Get Eddie Van Halen In The Movie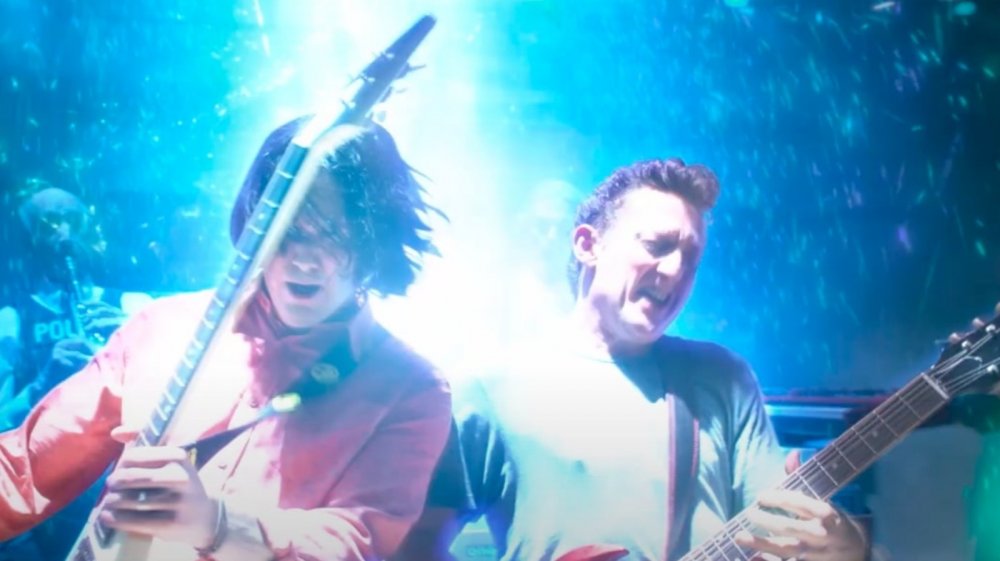 United Artists Releasing
On October 6, 2020, the music industry lost one of its biggest rock n' roll icons. Eddie Van Halen, the lead guitarist for the legendary group Van Halen, took his last breath after a lengthy battle with several different forms of cancer. At only 65 years old, he left the world far too soon, but he certainly made his mark on the world as a true guitar virtuoso. His work on hit songs like "Runnin' with the Devil" and "Eruption" helped make Van Halen one of the 1980s' defining groups, and ensured their legacy will endure for years to come.
In a world where '80's nostalgia remains as rife as ever, Eddie Van Halen's musical talents are as revered now as they were back in the day. His influence is still spread across pop culture, even inadvertently inspiring one of Hollywood's most popular franchises. The Bill & Ted series was especially motivated by Van Halen's musical sound and the fanbase the group cultivated, as Alex Winter, who plays Bill, recently told Rolling Stone. He even admitted that Bill and Ted's (Keanu Reeves) signature air-guitar playing came directly from the way Van Halen shredded his guitar when performing.
In fact, one of the writers behind 2020's Bill & Ted Face the Music, Ed Solomon, revealed that they tried to bring in Eddie Van Halen for an appearance alongside his matured fictional fanboys. Sadly, as evidenced by his absence in the finished film, this long-overdue cameo never came to pass.
Eddie Van Halen's declining health prevented his appearance in Bill & Ted Face the Music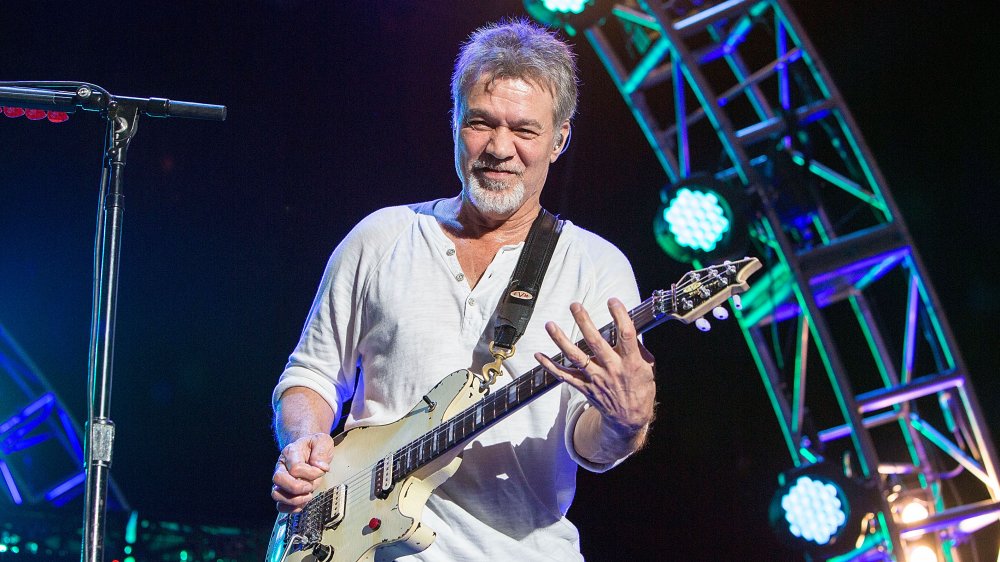 Daniel Knighton/Getty Images
According to Alex Winter, during the production of all three Bill & Ted movies, some attempt was made to get Eddie Van Halen involved. "We tried to get Van Halen into each one of the movies. [Laughs]. We asked him, but he said no." Winter goes on to say that the master guitarist was always kind when turning them down, and they understood that movies weren't exactly his thing. "He was a famously private person and he wasn't, you know, the frontman." 
On the topic of the most recent installment, Face the Music, he did mention that negotiations to include him made it further than before. "We spoke at length to the Van Halen people, and he declined and said it was for personal reasons. We didn't obviously have any idea what that was, but it was pretty clear now what it was." Obviously, Winter is referring to Eddie Van Halen's losing fight against cancer, and he mentions that his untimely passing is a "really sad, sad loss."
Ed Solomon echoed the same sentiment in a brief Twitter thread, mentioning that they "tried to get him to do something — anything — in Face the Music, but they said he was unavailable and wouldn't tell us why. Sadly, I think I know now." In the following post, he posted a clip from 1989's Bill & Ted's Excellent Adventure, where the two leads talk about how their band, the Wyld Stallyns, would "never be a super band" until they had Eddie Van Halen on lead guitar. 
Including the generation-defining musician in a Bill & Ted movie would've been a perfect fit in any era. Although, had he felt well enough to sign on for Face the Music, it would've been a perfect bookend to his incredible life.