Legendary Guitarist Eddie Van Halen Dies At 65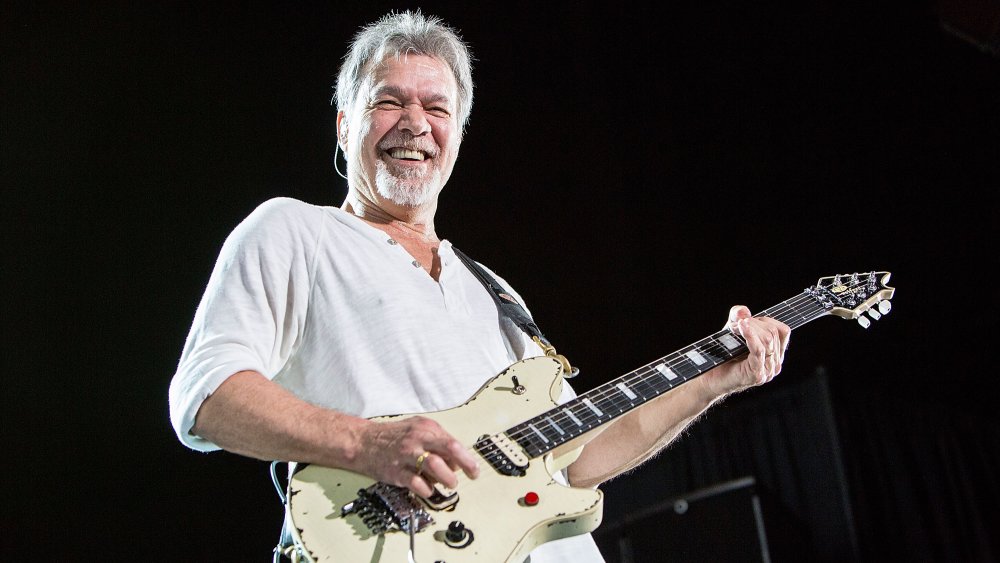 Daniel Knighton/Getty Images
Eddie Van Halen has gone to the great rock stage in the sky. 
The legendary musician, who fronted the '70s-formed rock band Van Halen as its lead guitarist, died on Tuesday, October 6, 2020 following a long battle with cancer. He was 65 years old.
Van Halen's son, 29-year-old Wolfgang Van Halen, confirmed the heartbreaking news in a statement posted to Twitter. Accompanying a black-and-white photograph of the elder Van Halen, Wolfgang wrote, "I can't believe I'm having to write this, but my father, Edward Lodewijk Van Halen, has lost his long and arduous battle with cancer this morning. He was the best father I could ever ask for. Every moment I've shared with him on and off stage was a gift. My heart is broken and I don't think I'll ever fully recover from this loss. I love you so much, Pop."
In 2000, Van Halen had a third of his tongue surgically removed due to cancer, which unfortunately spread to his esophagus (via Billboard). Two years later, Van Halen was cancer-free, but tragically, the disease took hold again. 
Van Halen's songs have been in numerous movies and TV shows over the years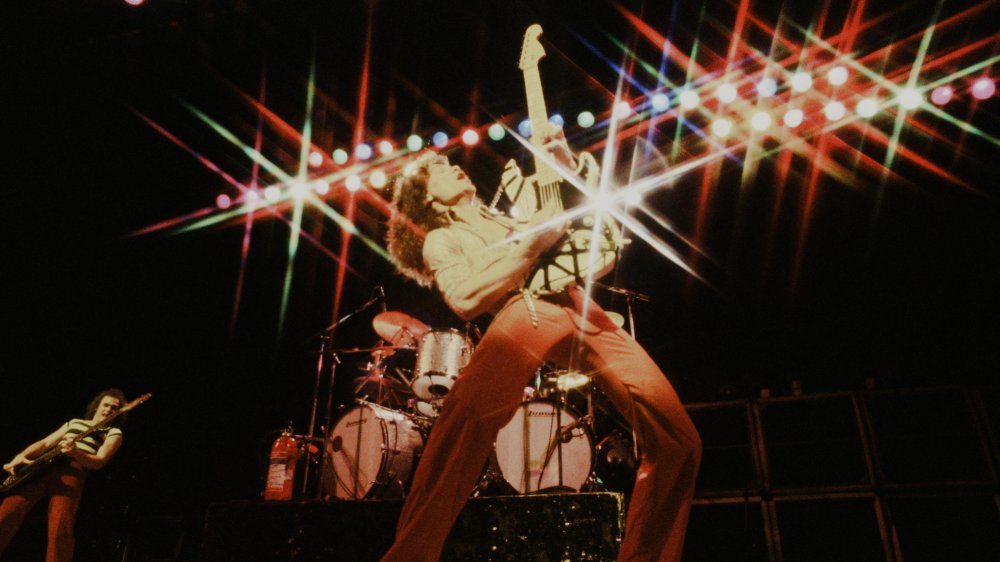 Koh Hasebe/shinko Music/Getty Images
With his expertly honed musical talents, magnetic stage presence, and ability to melt faces and shred strings with his insane guitar solos, Van Halen isn't someone who will soon — or ever — be forgotten. And, as it happens, his legacy stretches beyond the scope of the stage and onto the screen. 
In the decades since the band released its self-titled debut album in February 1978, six years after first forming in California in 1972 (under the original name Genesis), Van Halen has become just as much an icon of the hard rock scene as it has a true pop culture keystone. The band's infectious, amped-up tracks like "Jump," "Everybody Wants Some!!", "Panama," "Eruption," and more have not only roused music fans, but have also captivated filmmakers and composers, who've used the tunes in a number of projects dating back to the late '70s and early '80s. 
"Everybody Wants Some!!" appeared in 1985's Back to the Dead..., on an episode of the cult-classic TV series Freaks and Geeks, and in the 2009 undead comedy Zombieland, playing over a memorable scene in which Jesse Eisenberg's Columbus and Woody Harrelson's Tallahassee discover a bright yellow Hummer loaded with weapons. The track, released on the 1980 album Women and Children First, is even the namesake of Richard Linklater's 2016 teen comedy Everybody Wants Some!!, a spiritual successor to Dazed and Confused. 
One of Van Halen's most iconic tunes, "Jump," can be heard in everything from the classic Adam Sandler comedy Big Daddy to the sports biopic Eddie the Eagle to Glee, Despicable Me 3, and Ready Player One. Songs like "Panama" have graced projects including It's Always Sunny in Philadelphia, Superbad, and Family Guy, while "Eruption" made its way into a surprising film: the family-friendly animated comedy Minions. Who would've expected that from a hard rock band that restored a musical genre and inspired a generation?
Eddie Van Halen's memory will most certainly live on following his devastating passing. Our thoughts are with his loved ones during this time of grief.