Keanu Reeves And Alex Winter On How Bill And Ted Have Grown Up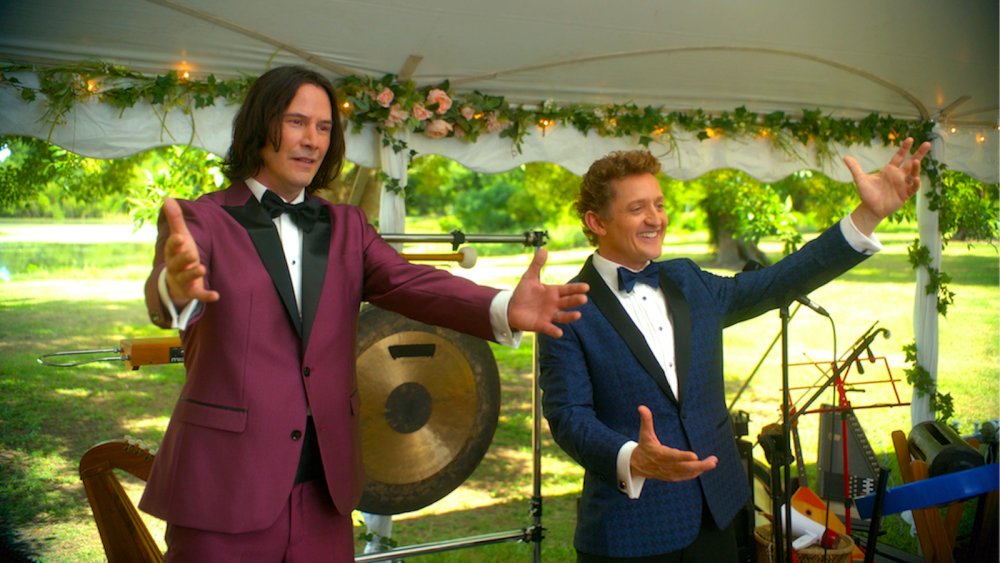 United Artists Releasing/Orion Pictures
Before the 2020 release of Bill & Ted Face the Music, the namesake characters weren't exactly known for their maturity. But after three decades out of the spotlight, they're a little older and a little wiser — sort of.
In the 1989 comedy classic Bill & Ted's Excellent Adventure, Keanu Reeves and Alex Winter play two high school slackers who are sent on a time-traveling journey to successfully complete their history presentation. If they don't pass the class, Ted (Reeves) will be shipped off to a military academy, effectively ending his and Bill's (Winter) band Wyld Stallyns, whose music inspires a utopian society in the future.
When we last saw Bill and Ted, in the 1991 sequel Bill & Ted's Bogus Journey, they had married the medieval princesses they saved in the original film. Each couple had a baby, "Little Bill" and "Little Ted," and things were going according to plan. But in Bill & Ted Face the Music, the now-middle-aged duo have failed to write the prophesied song that unites the world, leaving the universe on the verge of collapse. This time around, in addition to Bill and Ted criss-crossing through time to try to correct the problem, their daughters, Billie (Brigette Lundy-Paine) and Thea (Samara Weaving), attempt to help out by recruiting famous musicians from throughout history, taking us on both a silly and sentimental journey.
During a recent Zoom interview attended by Looper, Reeves and Winter delved into what it was like playing Bill and Ted as dads, as well as how the duo has matured over the years.
Keanu Reeves and Alex Winter really embraced their roles as husbands and fathers in Bill & Ted Face the Music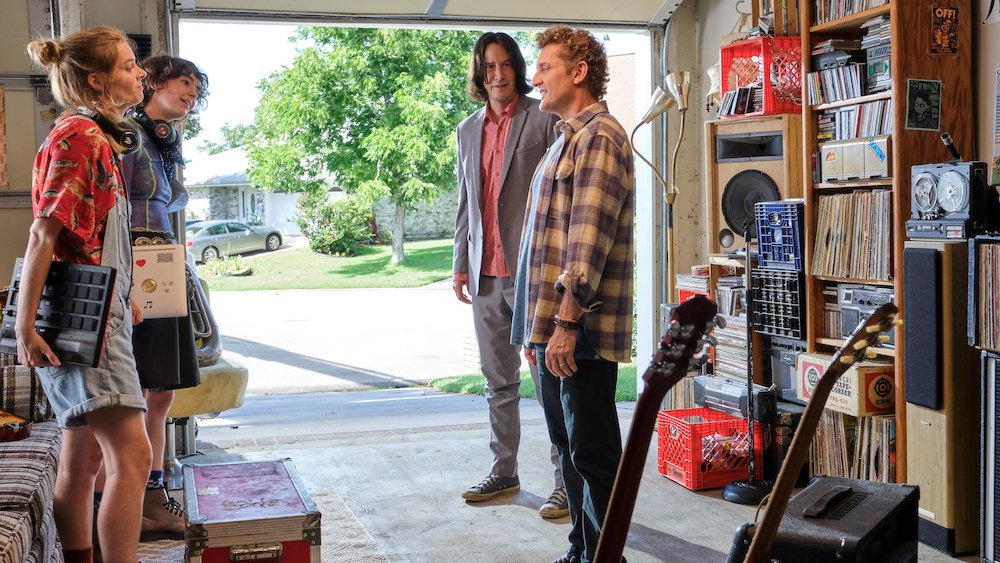 United Artists Releasing/Orion Pictures
So, just how have Bill and Ted grown up over the past 30 years?
"In one of the opening sequences, you see Bill and Ted [performing] at a wedding ceremony, and they're not playing Van Halen riffs — they've expanded their musical excellence and moved on," says Reeves. "There have been many years since we've seen them last, and during those years, they've lived life and they've gotten more mature, with daughters and wives. Then there's their friendship, and being together with this pressure of this destiny that they were given and responsibility of uniting the world through music, which they haven't been able to do."
Adds Winter, "The screenwriters gave us a lot of meat on the bone to work with, because we get to play so many different versions of ourselves. So we're really looking at many different facets of these characters, which is something that we didn't do before. This is really just Bill and Ted, who are in very painful, very traumatic periods of different iterations of their lives. And there's a lot of comic potential there, as well as emotional potential."
While fans had seen a glimmer of Bill and Ted as husbands and fathers at the tail end of Bogus Journey, those roles really took on a whole new meaning in Face the Music. At the heart of the wacky storyline are their relationships with their wives and daughters, and we see how fatherhood has changed them.
"It was fun to play Bill and Ted as dads; it changes you in terms of how you approach the role," says Winter. "They love their wives and kids, yet they're having challenges in their lives. They're having trouble with their wives; they're in marriage counseling. So all that's creating friction within the family. And in typical Bill and Ted fashion, they're very simple guys who are facing one gigantic challenge: They have not succeeded in writing a song that will save the world. But what's really impacting them is, how do they relate to their wives and daughters? And Keanu and I just leaned into the grounded stuff — it was very important to find a grounded foundation from which to launch into this completely insane narrative."
Bill & Ted Face the Music is available on video-on-demand platforms now.