The Reason Louis Partridge And Millie Bobby Brown Didn't Kiss In Enola Holmes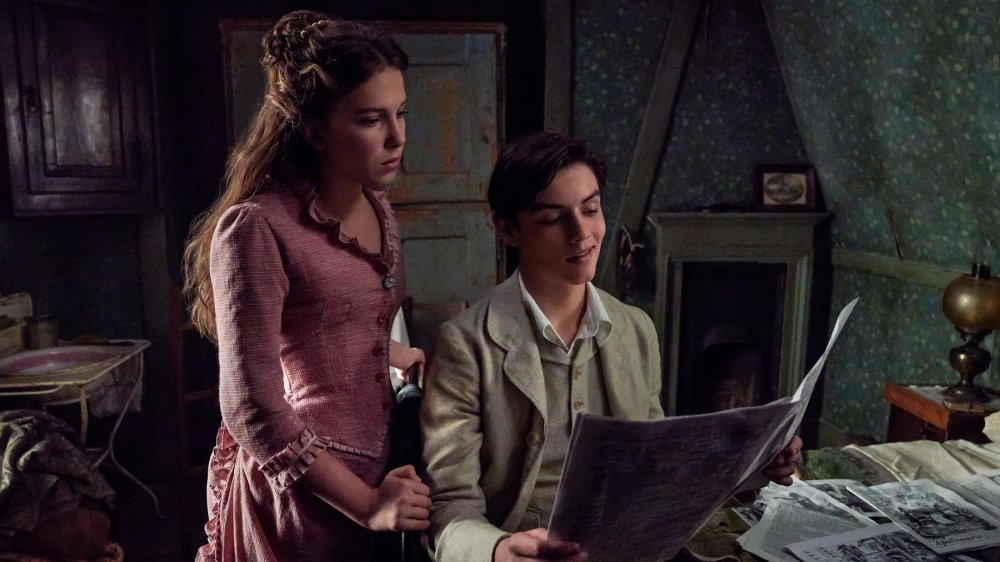 Netflix
There have been numerous adaptations of Sherlock Holmes over the years. However, 2020 has brought out a different side of the classic detective story by focusing on his younger sister, Enola, in the superb Netflix original film Enola Holmes.
Enola (Millie Bobby Brown) is a noteworthy detective in her own right, defying expectations of what women can do during the Victorian Era by trying to solve the mystery of what happened to her mother, Eudoria Holmes (Helena Bonham Carter). Of course, her brothers Sherlock (Henry Cavill) and Mycroft (Sam Claflin) appear as well — with the latter pushing to send the wild Enola away to finishing school so that she won't be as troublesome as he thinks she is. 
There are plenty of small details in the film you might have missed at first watch. For instance, you may have noticed that Enola and Viscount Tewkesbury (Louis Partridge) don't actually kiss, despite a romance seeming to develop between the two. In any other film, it seems like these two characters would share a smooch or two, but this moment never happens in Enola Holmes. 
As it turns out, a kiss between the two was, indeed, written into the script according to Partridge (via Girlfriend), but the cast and crew ultimately decided not to film it. Why is that?
Some relationships in film are better left open-ended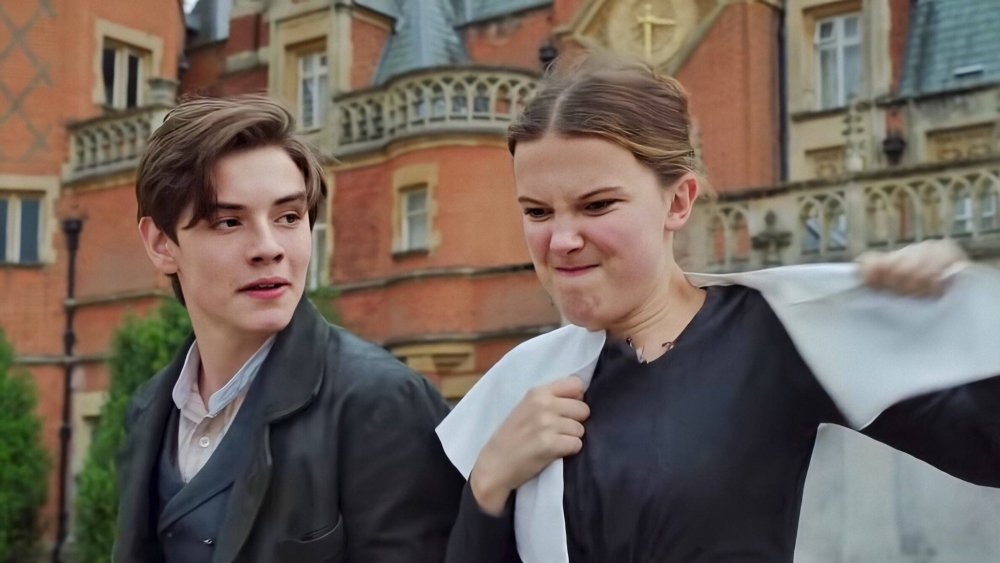 Netflix
In an interview with Girlfriend, Louis Partridge mentioned how a kiss was written into the script. It wasn't anything to write home about, just a kiss on the cheek or something, but it would've hinted at something deeper to their relationship. 
As Partridge said, "There was meant to be a kiss scene ... But we decided on the day to leave it sort of up in the air or leave it hanging, which I think was a really good call. Because it's sort of, you know, it's ambiguous, we don't really know."
It was likely the right call. In the event that a sequel to Enola Holmes gets picked up by Netflix, it gives the creative team more flexibility in how they can have these characters interact. Perhaps they'll fall deeper in love, or maybe Enola will find another beau she'll be head over heels about. 
Partridge went on to say, "It's not one thing, that relationship, there's elements of romance, obviously, but then they also get on really, really well. And so I really liked it. You know, they don't have to define sort of where they are and they just get on well together as people so I hope the internet received it like that, and not just like, 'oh my god, they're in love.'"
Millie Bobby Brown has undergone an impressive transformation from a child star to a leading lady. With the critical acclaim of Enola Holmes, she may have just made herself the star of a bona fide franchise. Enola Holmes is streaming on Netflix now.